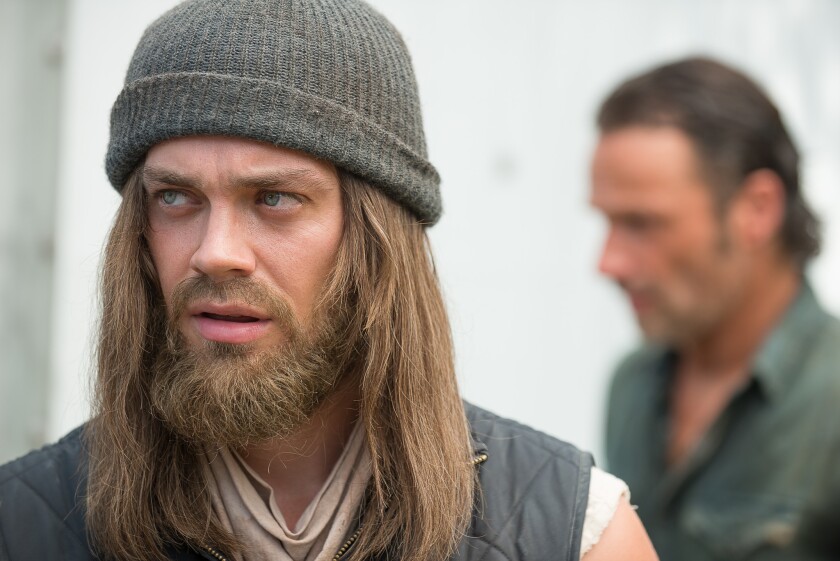 Food and medical supplies are in short supply at the Alexandria Safe-Zone. But the enclave's abundance of weapons, ammunition and seasoned fighters prove a powerful bargaining chip on "Knots Untie," Episode 611 of AMC's "The Walking Dead."
Paul, a.k.a. "Jesus" (Tom Payne), from the Hilltop Colony got off to a bad start with Rick Grimes (Andrew Lincoln) and Daryl Dixon (Norman Reedus) in the previous episode by hijacking their truck containing a precious load of provisions.
See more of Entertainment's top stories on Facebook >>
Jesus was knocked unconscious in an ensuing brawl as the truck slowly sank in a lake. Now he's playing nice.
"You're good people and this is a good place," says Jesus, whose duties include searching for settlements that could serve as trading partners during the zombie apocalypse. "I think our communities may be in a position to help each other."
"Wait," Maggie Greene (Lauren Cohan) interrupts. "You're looking for more settlements? You mean you're already trading with other groups?"
"Your world's about to get a whole lot bigger," Jesus says with a smile.
To prove he's telling the truth, Jesus leads Maggie, her husband, Glenn Rhee (Steven Yeun), Abraham Ford (Michael Cudlitz), Daryl, Rick and his new lover, Michonne (Danai Gurira), to the colony.
Near the end of the daylong journey, they come across an overturned vehicle with undead "walkers" trapped inside.
"If this is a trick," Rick warns Jesus, "it won't end well for you."
No trick, but it's an opportunity for the Alexandrians to demonstrate their zombie-whacking skills while rescuing Dr. Harlan Carson (R. Keith Harris) and three other crash survivors.
Since Harlan is an obstetrician with pre-natal vitamins and ultrasound equipment, Glenn and pregnant Maggie have a reason to celebrate.
"I'd say you two just hit the jackpot," Harlan exclaims.
When they arrive at the colony, the Alexandrians are amazed to see a "living history museum" highlighted by Barrington House, a colonial mansion with opulent furnishings and strategic 360-degree view of the surrounding terrain.
At Rick's insistence, Maggie attempts to negotiate a deal with Gregory (Xander Berkeley), Hilltop's prickly, lascivious leader. But he's only interested in Maggie as a sex partner, not a trading partner. Maggie sternly rejects Gregory's advances.
"We can help each other," Maggie offers.
"We're doing fine," Gregory haughtily replies. "Are you?"
Hilltop's peaceful façade is soon shattered when several residents return with a message from Negan (Jeffrey Dean Morgan), the brutal leader of the Saviors gang.
Negan will release a hostage, supposedly, if Gregory dies. And Gregory almost does die when he's stabbed in the gut by Ethan (Justin Kucsulain), the hostage's brother.
Now Rick jumps in to save Gregory by slitting Ethan's throat.
"You need to know that things aren't as simple as they might seem," Jesus tells the Alexandrians. Because shortly after the walls went up at Hilltop, Negan and his heavily armed thugs arrived and demanded half the supplies, crops and livestock.
And what do the spear-toting colonists receive from Negan's men?
"They don't attack this place," Jesus explains. "They don't kill us."
Macho Abraham isn't intimidated by the Saviors, however, bragging that some of them were left "in pieces and puddles" when Daryl fired his rocket-propelled grenade launcher.
"Confrontation's never been something we've had trouble with," Rick adds.
When Maggie reboots negotiations with Gregory, she suddenly enjoys the upper hand.
"Half," she demands, "half of what you have." In exchange, Rick and his crew will slaughter the Saviors and retrieve the hostage.
"Without ammo, without fighters, you'd be a dead man," Maggie cautions. "So half of everything you have, right now, or the deal's off."
"Congratulations," Gregory sarcastically says. "You have yourself a deal."
ALSO:
'iZombie' recap: Telling fish tales in 'The Whopper'
'Arrow's' aptly named 'Code of Silence' leaves little to talk about
'Better Call Saul' recap: Boring corporate law? Jimmy prefers wild side
---