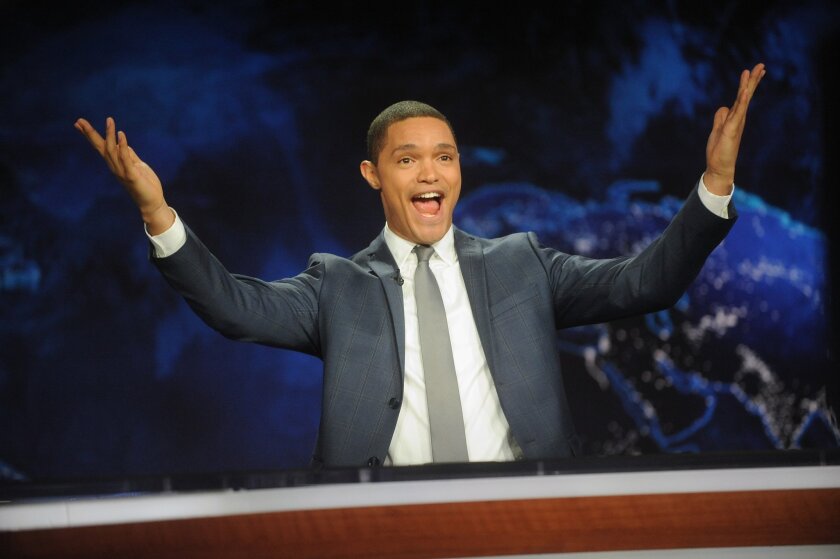 Jon Stewart may no longer be host of Comedy Central's "The Daily Show," but he was still on Twitter users' minds when new host Trevor Noah made his debut Monday night.
The show racked up 29,397 tweets, according to early Nielsen TV ratings. Of the tweets, 13,968 -- almost 48% -- contained "reactions," or tweets with emotions, according to Canvs, a social TV platform. The company uses relevant tweets, provided by Nielsen, to gauge what emotions people have about TV. The tweets are then broken down into reactions.
An estimated 31% of the reaction tweets were emotions of "love," much of that directed at Noah, who is a 31-year-old South African comedian. About 26% of reaction tweets were congratulatory, with users commending the Viacom-owned network and Noah for kicking off the new show.
SIGN UP for the free Essential Arts & Culture newsletter >>
@TheDailyShow without Jon Stewart is definitely weird, but @Trevornoah is allllllll kinds of adorable. I mean, that accent... #fire ¿¿¿¿¿¿¿¿

— Allison Davis (@AllisonJDavis) September 29, 2015
My verdict (and the show isn't over yet): Loving it. Congrats @Trevornoah & the whole #DailyShow team on a great job.

— chilltowntv (@chilltowntv) September 29, 2015
Way to go Trevor Noah! Good job recommending him, Jon Stewart.

— Marylou Doehrman (@maryloudoe) September 29, 2015
Still, not everyone was sold yet on the fresh-faced host. Many on Twitter were not ready to let go of Stewart.
Jon Stewart looks weird. #DailyShow

— Most Valuable Human (@JoshMarino420) September 29, 2015
The new guy is in over his head. The Golden Age is over. Missing Jon Stewart more than ever tonight. #DailyShow #sigh

— Jim Meadows (@convergingnow) September 29, 2015
I'm still not sure I can live without Jon Stewart. But #TrevorNoah is cute. https://t.co/MnT6QGIRgt

— Dorothy Lucey (@DorothyLucey) September 29, 2015
But Noah tried, and immediately addressed his predecessor.
"Jon Stewart was more than just a late-night host," he said during the show's first episode. "He was often our voice, our refuge and in many ways, our political dad. And it's weird because dad has left. And now it feels like the family has a new stepdad -- and he's black, which is not ideal."
And for some, that was enough.
Lovely nod to Jon Stewart, @Trevornoah. Great job #DailyShow

— Nicole C. (@nec146) September 29, 2015
For more news on the entertainment industry, follow me @saba_h
MORE:
'The Daily Show' recap: America meets its 'new stepdad,' Trevor Noah
Review: Comfortable, confident Trevor Noah takes over as host of 'The Daily Show' ... and survives
Trevor Noah keeps his cool in concert performance
Trevor Noah: Jon Stewart's a white 'Jewish guy' from New Jersey; 'I'm not'
How the new generation of late-night hosts could affect the presidential election
---