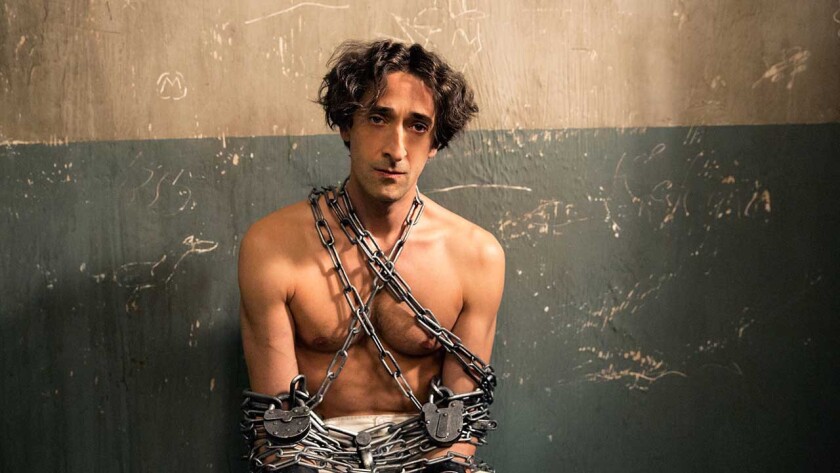 Customized TV Listings are available here: www.latimes.com/tvtimes
Click here to download TV listings for the week of Aug. 31 - Sept. 6, 2014 in PDF format
---
SUNDAY
"Jay Leno's Garage: The Ultimate Car Week" finds the former "Tonight Show" host in Pebble Beach for the annual Concours d'Elegance. Leno likes cars? Who knew? 7 p.m. and 10 p.m. CNBC
See if Britain's MI6 espionage agency really sends its agents out in Aston Martins equipped with missiles and ejector seats in the special "Secrets of Her Majesty's Secret Service." 8 p.m. KOCE
The Muscular Dystrophy Assn. has no Ice Bucket Challenge, just the "2014 MDA Show of Strength Telethon" with performances by American Authors, Aloe Blacc and Jason Derulo. 9 p.m. ABC
"Masterpiece Mystery!" will leave you "Breathless" with this three-part tale about a smooth-talking surgeon (Jack Davenport) in early 1960s London. Zoe Boyle and Catherine Steadman also star. 9 p.m. and 10:30 p.m. KOCE; next Sunday, 9 p.m.
MONDAY
"Mud Lovin' Rednecks" best hose themselves off before they track that mess into the house on the return of this reality series. 8 p.m., 9 p.m. and 10 p.m. Animal Planet
Not even eternity can hold "Houdini." Oscar winner Adrien Brody portrays the legendary illusionist and escape artist in this two-part bio-drama. "House of Cards'" Kristen Connolly also stars. 9 p.m. History Channel; concludes Tuesday.
"The Unauthorized Saved by the Bell Story" tells tales out of school about the teen-tastic 1989-93 TV series that starred Mark-Paul Gosselaar, Mario Lopez, Tiffani-Amber Thiessen and Elizabeth Berkley. 9 p.m. Lifetime
The continuing debate over abortion is explored in the 2013 documentary "After Tiller" on "POV." 10 p.m. KOCE
Ich bin ein "Baywatcher": David Hasselhoff marks the 25th anniversary of the demise of one of history's most despised landmarks in "Hasselhoff vs. the Berlin Wall." 10 p.m. National Geographic Channel
TUESDAY
For those who can't "Let It Go," there's "The Story of Frozen: Making a Disney Animated Classic." 8 p.m. ABC
The beard grows longer overnight when "The Fidel Castro Tapes" uses rare archival footage for a decades-spanning portrait of the controversial Cuban revolutionary-turned-dictator. 9 p.m. KOCE
Hello, first ladies! A new "Drunk History" spins a trio of tales involving American presidents' better halves. 10:30 p.m. Comedy Central
WEDNESDAY
One terpsichorean will stand triumphant when "So You Think You Can Dance" wraps its 10th season. 8 p.m. Fox
Might be nothin' at all in them thar hills in the new unscripted series "Fool's Gold." 9 p.m., 9:30 p.m., 10 p.m. and 10:30 p.m. Animal Planet
"The League" is back for more fantasy football and tomfoolery. Mark Duplass and Nick Kroll star. 10 p.m. FXX
Serial offender Sacha Baron Cohen is once again "Ali G" on the return of this satirical series. 10:30 p.m. FXX
THURSDAY
Bob Costas hosts "NFL Kickoff 2014," which includes a performance by Pharrell Williams; then the reigning Super Bowl champion Seattle Seahawks battle the Green Bay Packers in professional football's season opener. 4:30 p.m. and 5:30 p.m. NBC
A retired Navy SEAL's new life as a transgender woman is the subject of the 2014 documentary "Lady Valor: The Kristin Beck Story." 6 p.m. and 8 p.m. CNN
Mother of drag queens: The star of "Pink Flamingos" and "Hairspray" is celebrated by John Waters, Ricki Lake and others in the 2013 doc "I Am Divine." 8:30 p.m. Showtime
FRIDAY
They're too pretty to go to jail in the new true-crime series "Young, Hot & Crooked." 7 p.m. and 7:30 p.m. Investigation Discovery
The Who, Jennifer Hudson and other stars "Stand Up to Cancer" in this annual fundraiser. 8 p.m. CBS, NBC, ABC, Fox, E!, Encore, Epix, Family, HBO, Logo, National Geographic Channel, Oxygen, Showtime, Starz, TNT, Tru TV, VH1
It's "Rocky's" Sylvester Stallone vs. "Raging Bull's" Robert De Niro in "Grudge Match," a 2013 comedy. 8 p.m. Cinemax
P.L. Travers (Emma Thompson) feels less than supercalifragilisticexpialidocious about Walt Disney (Tom Hanks) wanting the rights to her book "Mary Poppins" in 2013's "Saving Mr. Banks." 9 p.m. Starz
SATURDAY
America's "peculiar institution" ensnares a free black man (Chiwetel Ejiofor) in Steve McQueen's Academy Award-winning 2013 historical drama "12 Years a Slave." Lupita Nyong'o also stars. 8 p.m. HBO
"The Brittany Murphy Story" remembers the late actress whose brief career included breakout roles in "Clueless" and "Don't Say a Word." Amanda Fuller stars. 8 p.m. Lifetime
The pint-sized pals from "The Ellen DeGeneres Show" visit the fictional kingdom of Switzelvania in "Sophia Grace & Rosie's Royal Adventure." 8 p.m. Nickelodeon
Two aspiring filmmakers put on their puffy director's pants for a script-to-screen competition in the new docu-series "The Chair." 11 p.m. Starz
---