Network executives feel the bite of TCA press tour's Twitter snark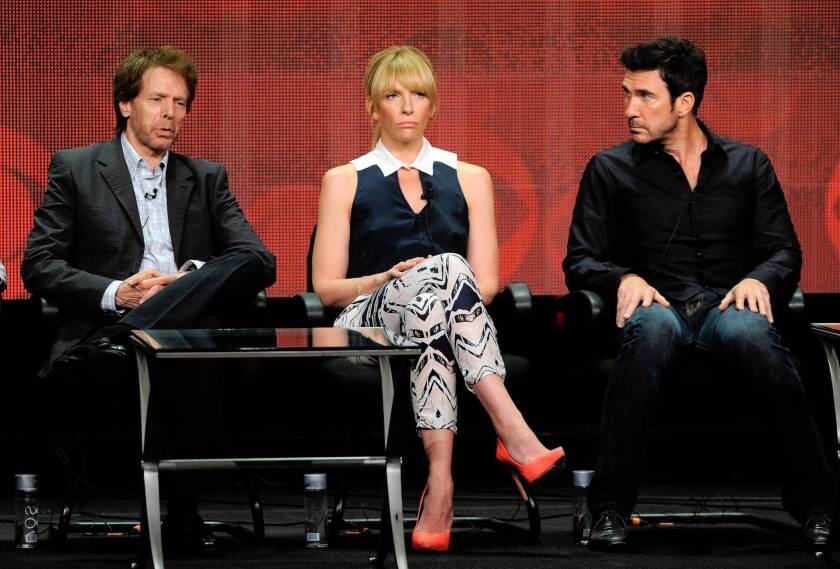 CBS executives and publicists huddled in the back of the International Ballroom at the Beverly Hilton with anticipation.
The network, one of more than a dozen participating over a two-week period, was hosting a marathon day previewing its new fall shows at the Television Critics Assn. press tour, a semi-annual gathering of more than 200 TV journalists and bloggers from around the country. Network honchos were naturally hoping their slate of comedies and dramas would get a positive response from the room. Instead, they got bitten by a "snark-nado."
Tim Goodman, TV critic for the Hollywood Reporter (@BastardMachine), tweeted about two upcoming network sitcoms: "Not sure you could make the pilot for "We Are Men" any worse unless someone from 'The Millers' farted on it." Hank Stuever, TV critic for the Washington Post (@hankstuever), told his Twitter followers that he hadn't yet watched "We Are Men," "but the reaction seems to be [suppressing retch]."
PHOTOS: TCA press tour: The Scene
Meanwhile, blogger Roger Catlin (@rcatlin) tweeted that the network's new episodic thriller "Hostages" "is certainly a relatable concept in a ballroom where people have been stuck for a week and have to stay for another" CBS press tour.
Welcome to the 2013 TCA press tour, where social media is rattling the relationship between publicity-hungry networks and journalists under mounting pressure to deliver immediate, constant 140-character commentary to attract readers. Where once journalists might have gossiped, sniped and snarked privately during question-and-answer sessions, the Twitter age has provided a very public arena for those comments — much to the chagrin of image-sensitive networks.
As the two-week conference wraps up Wednesday, network and cable executives are quietly fuming once again over what they regard as Twitter's dark side. While prizing the social media platform as a powerful device to promote their shows, executives nonetheless complain that Twitter has given rise to a new journalistic culture of snark that encourages incivility, cheap shots and a pile-on mentality, often at the expense of providing meaningful context and analysis.
"It's gotten absolutely appalling," said a top network honcho, who requested anonymity for fear of reprisals by TCA journalists. "Much of the coverage isn't even about the shows — it's about what people are wearing, it's gotten into personal insults. There's just a real lack of respect."
Ellyn Angelotti, a faculty member at the Poynter Institute for Media Studies who specializes in digital trends and social media, said that the press events can produce a "blind spot" effect, where tweeters are influenced by their own echo chamber instead of looking at the broader picture.
PHOTOS: Hollywood Backlot moments
"You can look at the shiny object and miss the bigger story," said Angelotti. "It might not allow for a diversity of views. Social media makes a virtual living room where you can see people sharing perspectives, and the context of the message can change."
For decades the TV press tours, held every summer and winter, was a mostly symbiotic relationship in which TV programmers promoted their new shows to an eager press who received easy access to stars and creators. But the Twitter explosion has shifted the dynamics.
"This constant snarking has changed the whole tenor of the tour," said one network executive who asked to remain anonymous for fear of being penalized by TCA members. "Of course everyone is entitled to their own opinion. But what happens is everyone tries to out-tweet each other, and it becomes like insider baseball. They're forming these personas behind their Twitters."
Fox's panel last week on its new sitcom "Dads" generated a flurry of tweets among journalists, virtually none flattering. The comedy about aging fathers and their more enlightened adult sons features several jokes aimed at people of color. Many of the conference's predominantly white journalists denounced the series as racially offensive.
The snark was bubbling even before the panel began as members encouraged each other to attack the show. C. Joan Porter, entertainment editor for MSN Canada (@cjoanporter), tweeted that the "Dads" panel "is about to be a blood bath. It's giving me hives just thinking about it."
PHOTOS: The 10 biggest tech gadget fails
Lisa Palmer (@TVTherapy) tweeted, "Get ready for the firing squad." Added Gwen Reyes (@ReelVixen): "Let Paula Deen know she can make her comeback on "Dads."
While some executives have called for revamping the tour, even passing on some of the millions of dollars in costs to journalists, most recognize that the advantages far outweigh any pitfalls.
"It's true that the general tone has evolved in such a way that I don't see it reversing. I don't see how you put the genie back in the bottle," said Andrew Wallenstein, Variety's editor-in-chief, Digital. "There are new voices at the table, and to some degree it's good for everyone. What's happening now has brought a creativity to the coverage that can be irreverent and which also might be seen as inappropriate."
To get more control of their press tour message, the cable and network outlets are counterattacking via social media. During the contentious "Dads" panel, Fox was sending out promotional tweets quoting the panelists and hyping some of the panel's funnier moments.
But Twitter snark didn't cast a shadow over all panels. A rare exception was ABC's highly anticipated "Agents of S.H.I.E.L.D.," which largely escaped a snark-attack.
Tweeted Onion/AV Club's Will Harris (@NonStopPop) of the panel: "It's pretty much a snark-free zone. It's kind of eerie, actually."
---
Inside the business of entertainment
The Wide Shot brings you news, analysis and insights on everything from streaming wars to production — and what it all means for the future.
You may occasionally receive promotional content from the Los Angeles Times.