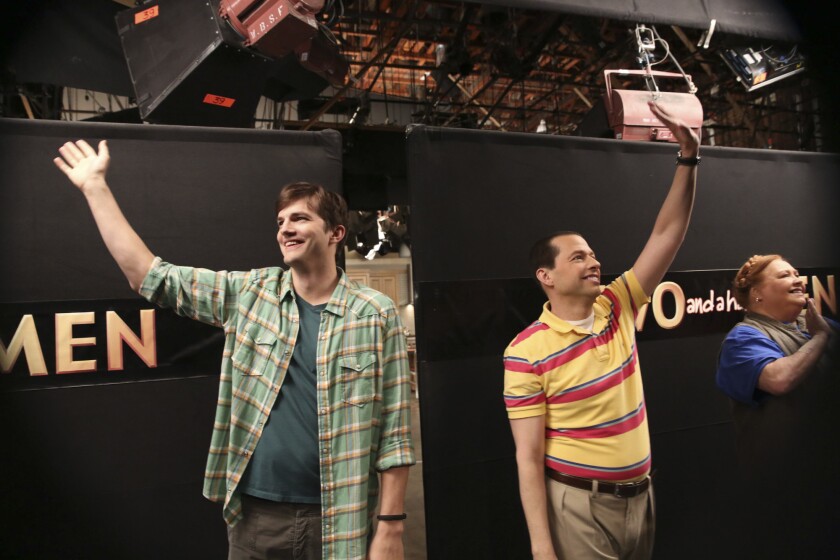 Warning: The following post contains plot spoilers. Don't read on if you're a fan and haven't seen Thursday's finale of "Two and a Half Men."
Well, now we know what really happened to his character. But we didn't get to see Charlie Sheen.
"Two and a Half Men" ended its 12-season run Thursday with a one-hour finale on CBS that was filled with raunchy humor and inside jokes. What it didn't contain was any glimpse of Sheen, the actor who played playboy Charlie Harper before he was famously canned from the show in 2011 after publicly criticizing his bosses.
According to his customary title card at the end of the show, executive producer Chuck Lorre said Sheen was offered a role in the final episode. His character -- supposedly killed in a train accident in Paris -- was going to reappear at his former house and "go off on a maniacal rant about the dangers of drug abuse," Lorre wrote.
Then, a piano would fall on his head.
"We thought that was funny," Lorre wrote. "He [Sheen] didn't."
Lorre -- whom Sheen called a "clown" during his public rants about the show -- added that he understood fans would be disappointed by Sheen's absence. He wrote that the actor preferred an alternate, "heartwarming" ending in which he and costar Jon Cryer would start a new series called "The Harpers."
"We thought that was funny too," Lorre wrote.
Sheen did not immediately reply on Twitter to Lorre's title card, but earlier on Thursday, he wrote that people wanting to see him on TV should watch his upcoming appearance on "The Goldbergs." "I go where the love is," he wrote.
As it happened, the piano gag was used for the "Men" finale, but an actor meant to be playing Sheen's character was seen only from behind.
Instead of Sheen, fans got an hour crammed with inside jokes, many at Sheen's expense: While looking at his computer, Walden (Ashton Kutcher) said he found Charlie's "crazy rant about a former employer." Cryer cracked a joke about Charlie's anger management not working out -- a reference to Sheen's recently concluded sitcom "Anger Management" on FX.
Angus T. Jones -- who was 9 years old when the show started -- did return for a brief cameo, with a beard and long hair. Jones had disappeared from the last two seasons of the show after calling it "filth" during a 2012 interview.
And there was a surprise appearance from Arnold Schwarzenegger, who played a police detective trying to help get to the bottom of whether Charlie was really dead.
At one point, he said, "This whole thing has been going on way too long" -- a line that drew an appreciative laugh from the audience. "Men" is one of the longest-running live-action sitcoms to run in prime time, beating "Cheers," "Happy Days," "MASH" and many others.
Did you watch the "Men" finale? What did you think? Did you miss Charlie?
Twitter: @scottcollinsLAT
---