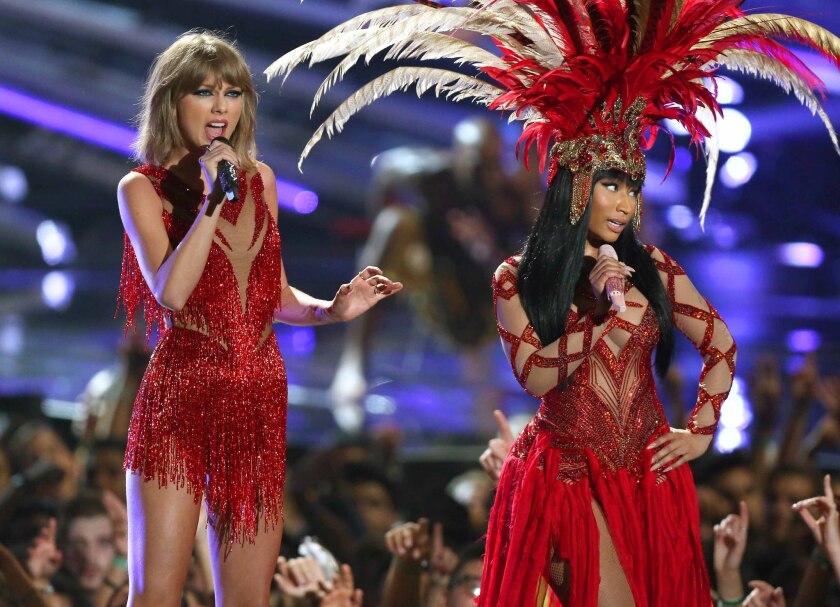 Though official Nielsen ratings have not been released yet, Sunday's Video Music Awards show on MTV has already set a social media record.
The awards show, hosted by oft-controversial pop star Miley Cyrus, was the most-tweeted-non-sports program in Nielsen social history (which is to say, since October 2011.)
Considering the antics crammed into the handful of hours the show was broadcast, the numbers are no surprise. There was Cyrus repeatedly flashing her bare chest, the continuation of a maybe real/maybe fabricated "beef" between Cyrus and Nicki Minaj, and a meaningful, if meandering, 12-minute speech from Kanye West about the integrity of art and the destructive nature of awards culture, culminating in the legendary rapper announcing he'd be running for president in 2020.
Also, Taylor Swift was there.
SIGN UP for the free Essential Arts & Culture newsletter >>
In the United States alone, 21.4 million tweets were sent about the ceremony by 2.2 million individuals. In turn, 11.8 million people received those tweets, which resulted in the VMA tweets themselves potentially being seen 676 million times. This is a significant increase over last year's social media effect, when just 12.6 million tweets were sent.
Also, not surprising, the minute after West's presidential aspirations were announced, Twitter exploded. More than 247,500 tweets were sent at roughly 10:49 p.m. Eastern.
Sources were unclear as to how many of those tweets contained the identical joke, "West/Minaj 2020."
Follow me on Twitter at @midwestspitfire.
libby.hill@latimes.com
MORE:
The highlights of the night, told in tweets
Review: Miley's moment? Not with Nicki and Kanye in the mix
Seven presidential moments in Kanye West's first stump speech
Justin Timberlake on Kanye's speech: 'He always has a point. And I support it'
---