Mary-Kate, Ashley Olsen open first flagship for the Row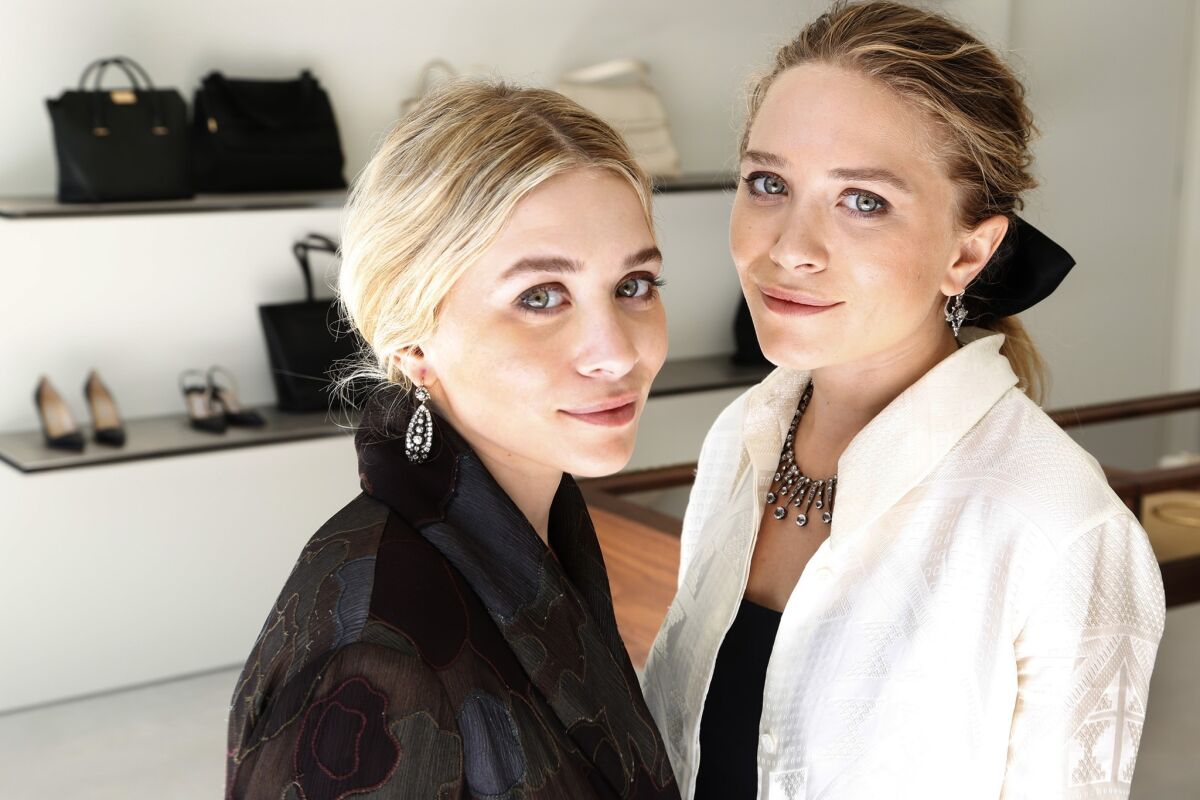 Marc Jacobs, Oscar de la Renta and Carolina Herrera, meet the Row.
Taking its rightful place on Melrose Place, one of L.A.'s toniest shopping streets, is the new American luxury brand created just eight years ago by Mary-Kate and Ashley Olsen.
The opening of the first retail store for the Row is a homecoming for the 27-year-old twin sisters, who were born in Sherman Oaks and made their fortune in Hollywood, starting at the age of 9 months, when they shared the role of Michelle Tanner on the TV series "Full House."
Beauty denizens will recognize the modernist, 3,800-square-foot stucco building with glassed-in courtyard pool at 8440 Melrose Place as the former location of the Sally Hershberger at John Frieda salon, where the Olsens had their hair cut when they were child stars. Before that, it belonged to Neil Diamond.
"This came on the market, and there was no way we couldn't do it," said Mary-Kate a scant hour before the store was scheduled to open its doors Tuesday morning. Dressed in black leather leggings and a white foulard silk blouse by the Row, she looked as eager as a kid on the first day of school.
The residential-style store features furniture sourced from local purveyors JF Chen, Galerie Half and Thomas Hayes Gallery and paintings by artists John Tweddle, Sergej Jensen and others, vintage jewelry and objects — all of it for sale — in addition to the brand's full product line of women's wear and accessories. There are also Manolo Blahnik shoes and Sidney Garber jewelry. "It's a curation of what we love and what inspires us," Mary-Kate continued, stopping when fiance Olivier Sarkozy, a businessman and the half brother of former French President Nicolas Sarkozy, comes by and offers to fetch coffee.
"We started off by selling the Row in apartments in Paris, and we'd sleep there with the clothes. So it's always been about welcoming people into our home, even at a wholesale level," said Ashley, dressed in leather leggings and a kimono made from chiffon pieced together like a puzzle, both by the Row. "For us, we very much wanted this to feel like a home. It is our first home, and it's very California and what California means to us since we were born and raised here. When we go into other cities, we want the stores to feel like those places as well."
Tastemakers since their teenage years, the Olsens are known for their haute ragamuffin style. Unlike contemporaries Paris Hilton and Lindsay Lohan, they have eschewed flamboyantly sexy clothing and ostentatious logos in favor of a loosely layered, bohemian look, usually accessorized with a venti Starbucks latte. And despite their girlish faces and kewpie doll eyes, they always seemed mature beyond their years, perhaps because they were.
The Olsens' business endeavors began with the founding of Dualstar Entertainment Group in 1993, when they launched a successful tween lifestyle line of apparel, beauty and home décor. After conquering that market, they set their sights on the world of high fashion, launching the Row in 2006 and naming it in reverence to the home of bespoke clothing, London's Savile Row.
Although the sisters have been in the spotlight all their lives, the collection is about an understated elegance along the lines of luxury brands such as Giorgio Armani, Loro Piana and Brunello Cucinelli.
"For us, it's always been about anonymous clothing," Mary-Kate said. "We started with the idea of figuring out whether good product would sell without a label, which is why we had a gold chain [sewn into the clothing] instead. And it did. From there, it was one item at a time."
Did they gravitate toward anonymous clothing because they somehow wished to be anonymous?
"I don't think that's even appropriate for me to address since we've been working since we were 9 months old," Ashley said. "We're fortunate we're in a situation that based on our early lives we've been able to do what we wanted later."
With the Row, the first goal was to make the perfect T-shirt.
"They were made on lingerie machines in downtown L.A.," Ashley explained.
Shortly after launch, the brand and the Olsens moved to New York. In 2007, they established a second brand, the contemporary label Elizabeth and James, and in 2010 they launched the juniors label Olsenboye at JC Penney.
In less than a decade, the Row, which is stocked in 188 stores in 37 countries, has earned a reputation for easy tailoring and fine fabrics. "Tailoring that's actually comfortable, fabrics that have stretch to them, and a finer wool that won't just sit on the body but also move with it," Mary-Kate said.
Luxe knitwear is another signature, from whisper soft $250 viscose tank tops, to the $4,000-plus swingy fisherman sweaters that ignited fashion's extreme knitwear trend in fall 2013, to the yeti-like layers of 900-gram cashmere in the fall 2014 collection, which is about sculptural shapes and, Ashley said, "treating cashmere like fur."
"When we start styling the collections, a lot of what we do comes down to layering and undoing layering and putting pieces together and silhouettes together. The sling [bag], for example, for the spring 2014 show — we layered two of them on the body. Capes became skirts in the fall 2014 show. It's so much about proportion," Mary-Kate explained. "Because Ashley and I are petite people, proportion has always been something interesting to us, whether it's something oversized or something a little too small. When we were younger, it's how we created characters. I think there is something fascinating about that."
The sisters never studied design, although Ashley had an internship with fashion designer Zac Posen and Mary-Kate interned with photographer Annie Leibovitz. But they have a staff numbering 60 people, many with experience at top luxury labels. And the clothing is impressively made, with double-face fabrics, reinforced stitching, hand embroidery and beading. With the exception of made-in-Italy handbags, including the $3,900 drawstring backpacks that are a stealth wealth fave, every piece is made in America, where the Olsens have risen above the cliche of celebrity designers. In 2012, the Council of Fashion Designers of America awarded the Olsens its highest prize for the Row, Womenswear Designer of the Year.
In store now is the pre-fall collection, including leather wrap-skirts, reversible cape coats, stretch cashmere suiting, striped cotton blouses and skirts with subtle mohair silk stitching and the round sunglasses that the Olsens are often snapped wearing in paparazzi photographs.
"It's not about making a statement or the look of the week," says Ashley. "It's about offering smart, honest product."
Just a few weeks shy of their 28th birthdays, the Olsens have always had a keen focus on customers of all ages, from their 25-year-old sister actress, Elizabeth Olsen, an avowed fan of the leather leggings, to 70-year-old model Lauren Hutton, a friend and mentor, whom they tapped as the face of the Row in 2008. For their pre-fall 2014 collection look book, they cast the gray-haired 65-year-old former model and cosmetics brand owner Linda Rodin to wear the collection.
"We've been raised by so many women, from teachers to nannies to executives," Ashley said. "We've always been surrounded by incredible, chic strong women, and I'm sure that's rubbed off."
Next up for the brand? A New York store, a shoe collection designed in-house and menswear.
But on Tuesday morning, it was all about savoring every detail, from the store's horn-shaped antique door handle to the outdoor greenery in the courtyard.
"The whole roof is covered in rosemary, so when it gets dry you'll start smelling rosemary," Mary-Kate said, gazing skyward with a smile. "We've been waiting for this moment for almost 10 years now, for today."
The Row
Where: 8440 Melrose Place, Los Angeles
When: 10 a.m. to 6 p.m. Monday through Saturday
Prices: From $250 for a tank top to $48,000 for fine jewelry
Information: (310) 853-1900