New York Fashion Week fall 2013: Todd Snyder
Todd Snyder
(Brian Ach / Getty Images)
Todd Snyder
(Brian Ach / Getty Images)
Todd Snyder
(Brian Ach / Getty Images)
Todd Snyder
(Brian Ach / Getty Images)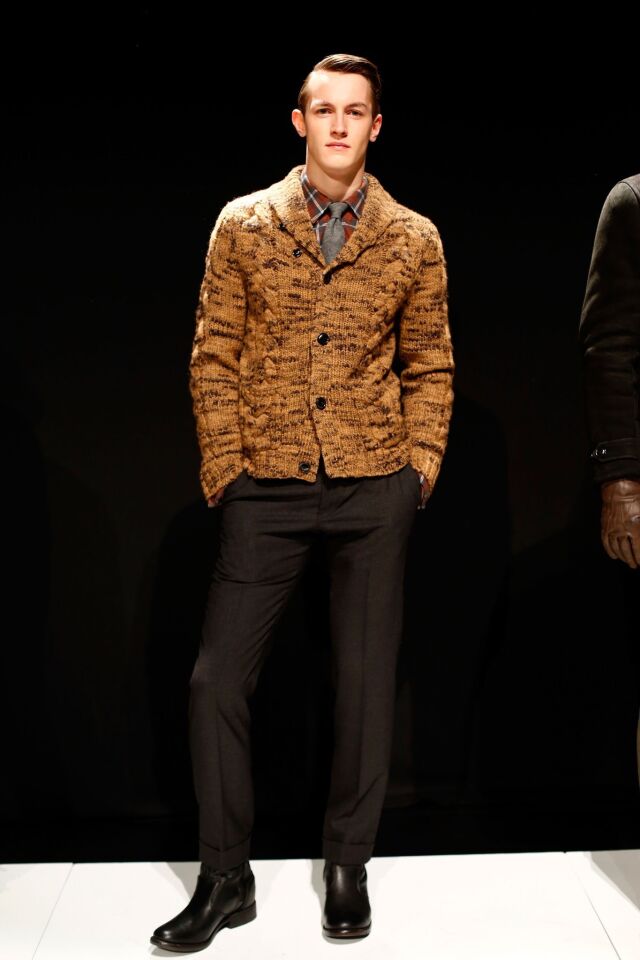 Todd Snyder
(Brian Ach / Getty Images)
Todd Snyder
(Brian Ach / Getty Images)
Todd Snyder
(Brian Ach / Getty Images)
Todd Snyder
(Brian Ach / Getty Images)
Todd Snyder
(Brian Ach / Getty Images)
Todd Snyder
(Brian Ach / Getty Images)
One of the first out of the gate at the Lincoln Center tents, menswear designer Todd Snyder presented his Fall 2013 "Rebel Gentlemen" collection at Mercedes-Benz New York Fashion Week on Thursday.
Inspiration: The foundation of Snyder's collection was a favorite black, 1950s leather motorcycle jacket he'd found a decade ago in a Leeds (England) vintage shop.
The look: Retro-sporty gentleman outlaw -- the kind who might rob a bank and escape across the desert on a motorcycle and look rakish doing it.
In addition to a lovingly distressed asymmetrical zip leather jacket there were equally luxe-looking outerwear pieces with a functional feel including riffs on the peacoat (one in black pony hair, another in horsehide with a generous shearling collar), comfy looking knit suits, chambray button-down shirts and a couple of cardigans that gave the oft-maligned style of sweater some serious swagger.
The color palette was rooted in grays, browns and blues, punctuated with the occasional piece I'd dub dusty plum or muted mustard.
The Verdict: At the presentation Snyder told us his goal was to be "a little more bad-ass this season." To which we say: "Mission accomplished."
ALSO:
CFDA/Vogue Fashion Fund finalists pop up at Nordstrom
PETA wishes Beyonce had not worn leather at the Super Bowl
Amy Adams, Jessica Chastain, Jennifer Lawrence talk Oscars gowns
---