New York Fashion Week spring 2014: Alexander Wang review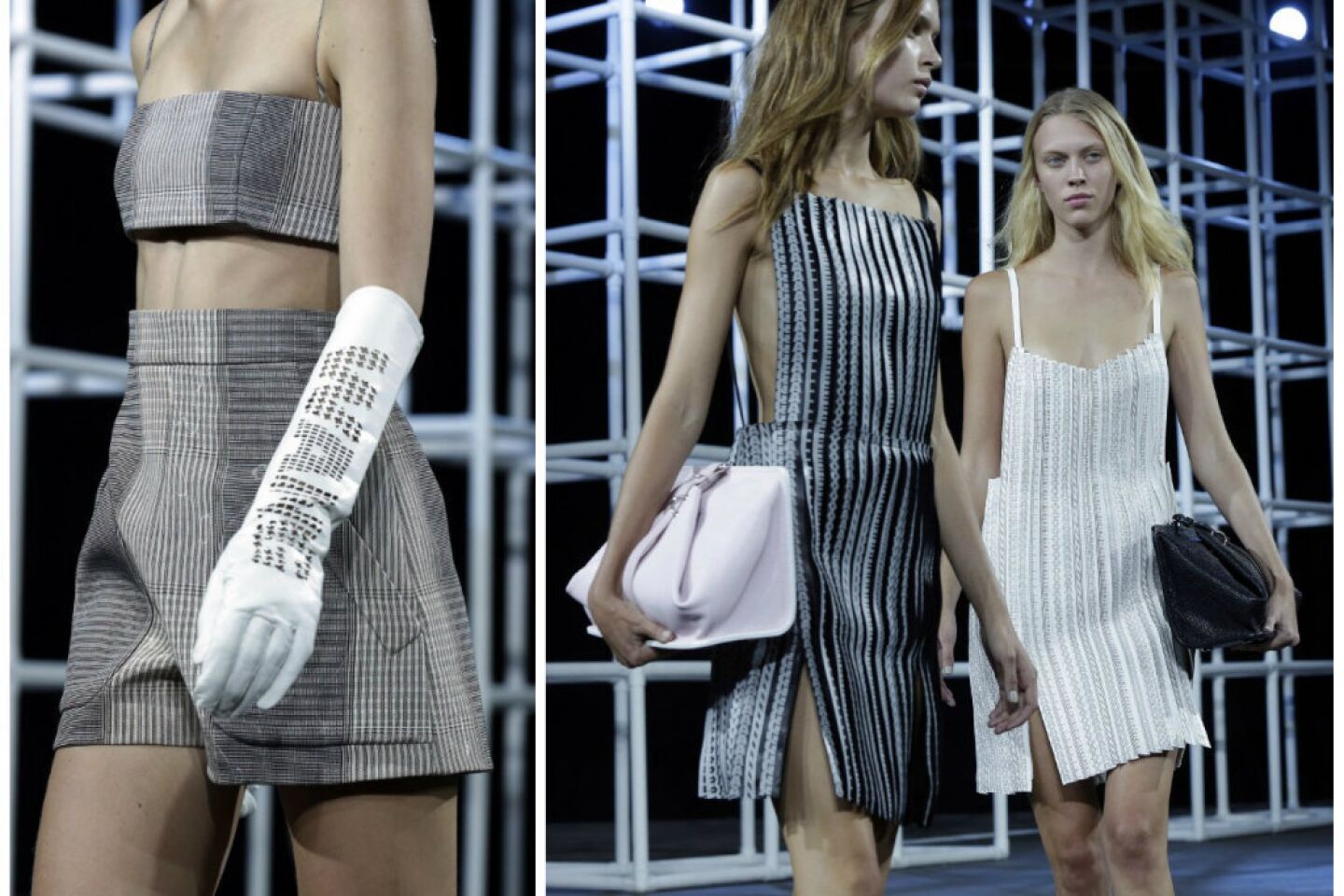 Alexander Wang - spring 2014
(Richard Drew / Associated Press)
Alexander Wang - spring 2014
(Richard Drew / Associated Press)
Alexander Wang - spring 2014
(Peter Foley / EPA)
Alexander Wang - spring 2014
(Peter Foley / EPA)
Alexander Wang - spring 2014
(Richard Drew / Associated Press)
Alexander Wang - spring 2014
(Richard Drew / Associated Press)
Alexander Wang - spring 2014
(Richard Drew / Associated Press)
Alexander Wang - spring 2014
(Richard Drew / Associated Press)
Alexander Wang - spring 2014
(Joshua Lott / AFP/Getty Images)
Alexander Wang - spring 2014
(Richard Drew / Associated Press)
Alexander Wang - spring 2014
(Joshua Lott / AFP/Getty Images)
Alexander Wang - spring 2014
(Joshua Lott / AFP/Getty Images)
Designer Alexander Wang.
(Peter Michael Dills / Getty Images)
Los Angeles Times Fashion Critic
NEW YORK -- It was alphabet city at the Alexander Wang show Saturday afternoon at New York Fashion Week, with the designer literally writing his name all over his collection--in laser cut leather and lace, woven houndstooth and jacquard.
The inspiration: Playing with the concept of censorship, cults, youth culture and perhaps most notably, branding, which is something Wang has always had a knack for, but is probably particularly attuned to now that he's also at the helm of multimillion-dollar luxury goods brand Balenciaga.
It was all about "playing with the duality of something understated and something graphic, something innocent and something perverse," Wang said backstage, adding that there were actually two soundtracks for the show (including a song with the refrain "Alex, Alex, Alex.")
The look: Clever camouflage, breezy menswear dressing.
Key pieces: Breezy menswear-inspired cotton shirts, babydoll tops, schoolgirl skirts and pajama-like shorts; pleated trenches, crisp flippy skirts and dresses in laser cut leather or houndstooth with "Alexander Wang" as a repeating surface pattern. Clunky-to-the-max, whited out Mary Jane platform shoes and slouchy bags with metal "X" hardware.
The scene: Wang is a celeb magnet. Kanye West, Solange Knowles, Courtney Love and Kerry Washington were all there, making this the A-listiest show so far.
The verdict: Narcissistic or nice? One colleague called the concept "a parlor trick," which it was, though in this era of blockbuster runway show-as-branding-statement, stagecraft is increasingly being prized. (Just ask Marc Jacobs, who has built escalators, trains and hotels on his runway set, or Karl Lagerfeld, who hauled a 265-ton Arctic iceberg to Paris for a Chanel collection.) Wang has proved he can play with the big boys in his own, subversive, post-modern porn culture way. And no doubt, this crop of name-branded merch will sell like cronuts.
ALSO:
NYFW SS14: Mara Hoffman review
NYFW SS14: Prabal Gurung review