Paris Fashion Week: Chained to our shopping carts at Chanel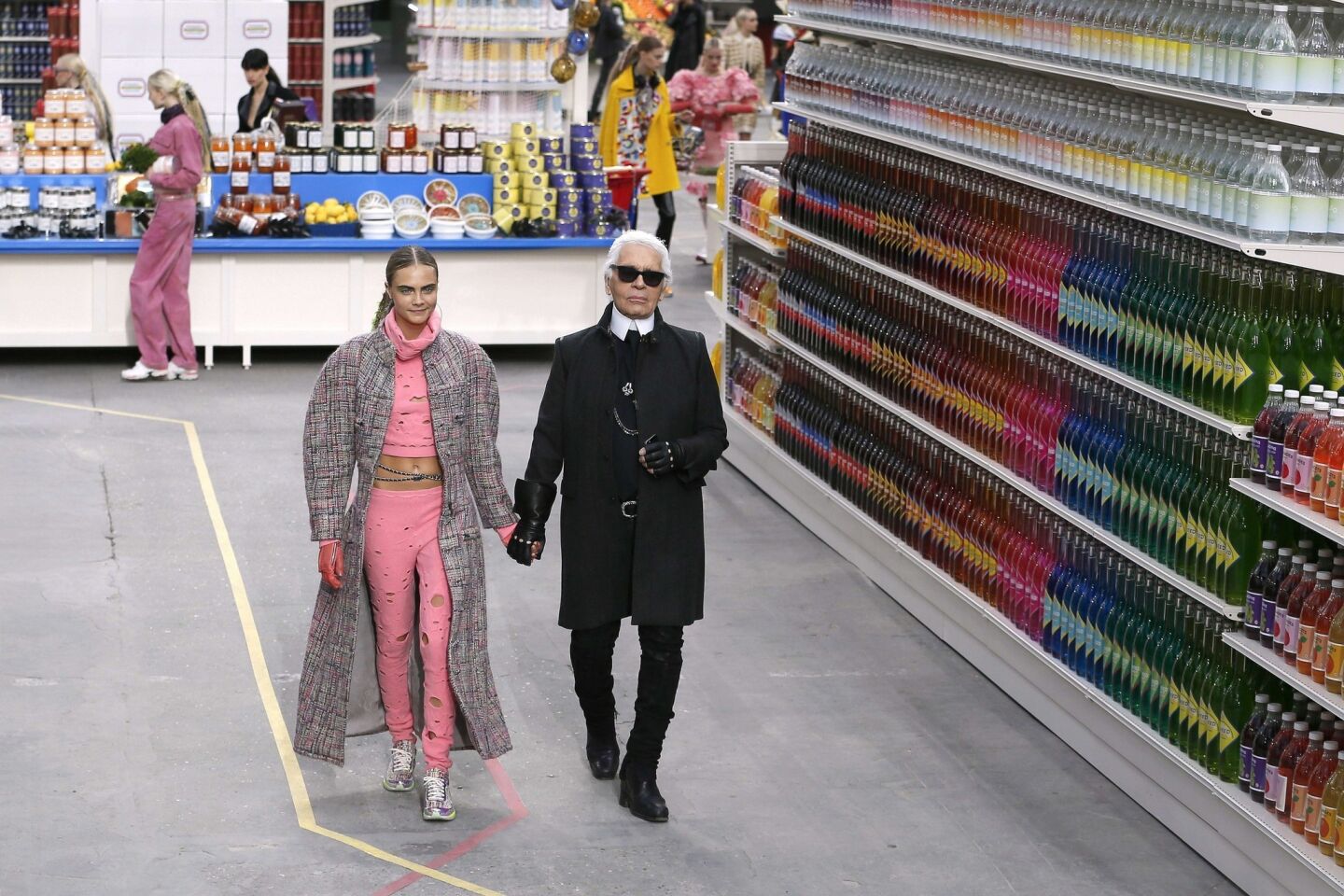 Chanel
(Patrick Kovarik / AFP / Getty Images)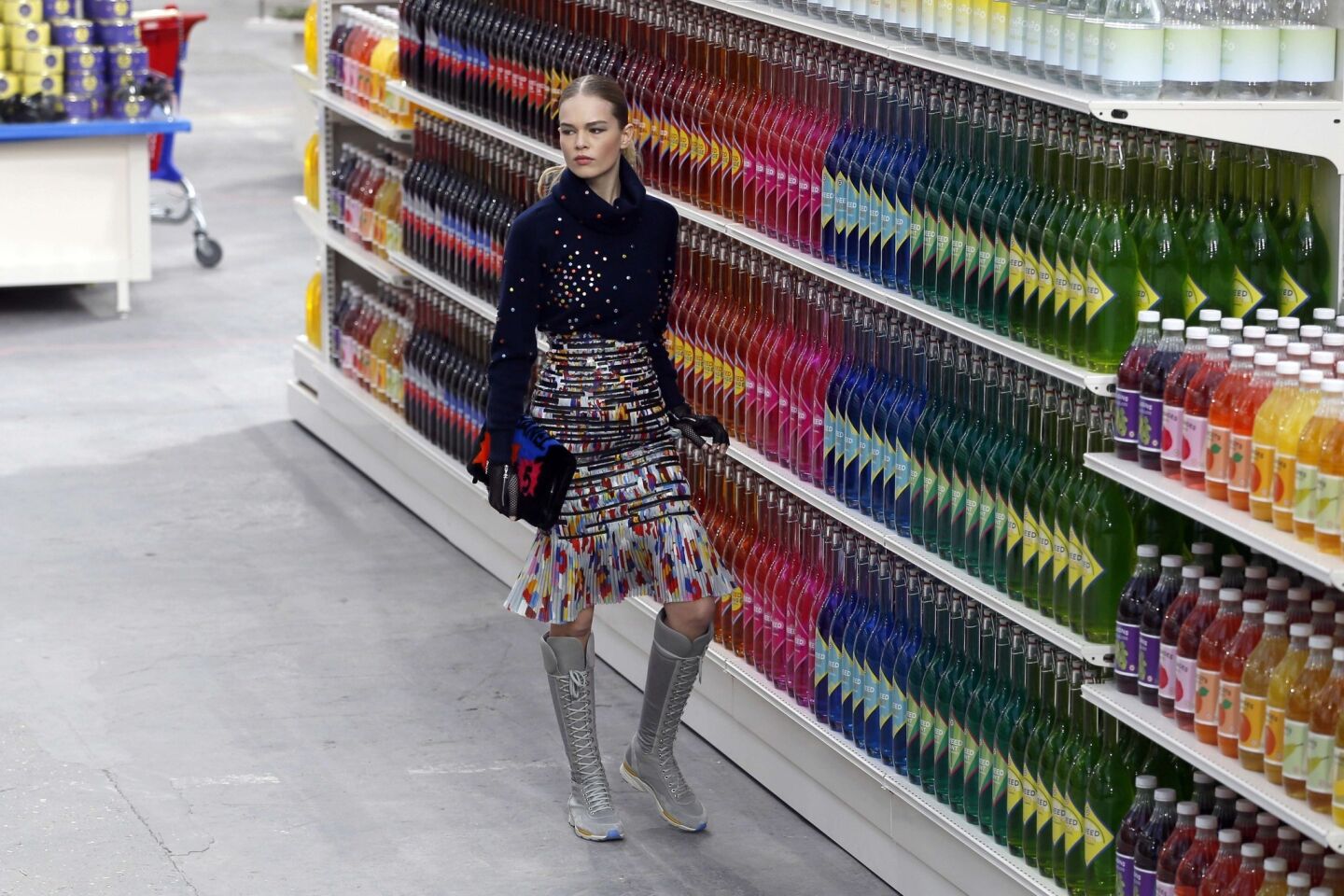 Chanel
(Patrick Kovarik / AFP / Getty Images)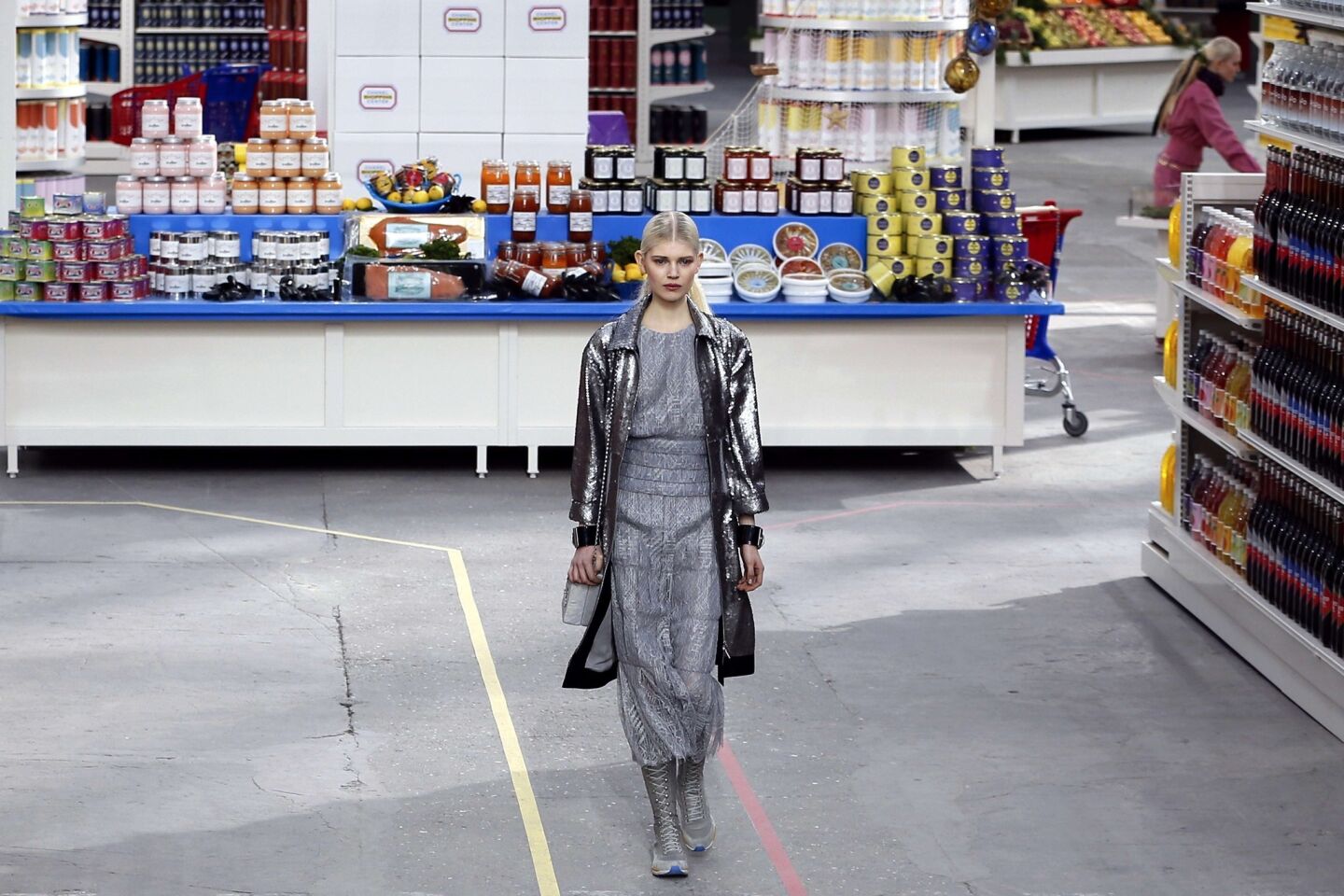 Chanel
(Patrick Kovarik / AFP / Getty Images)
Chanel
(Patrick Kovarik / AFP / Getty Images)
Chanel
(Patrick Kovarik / AFP / Getty Images)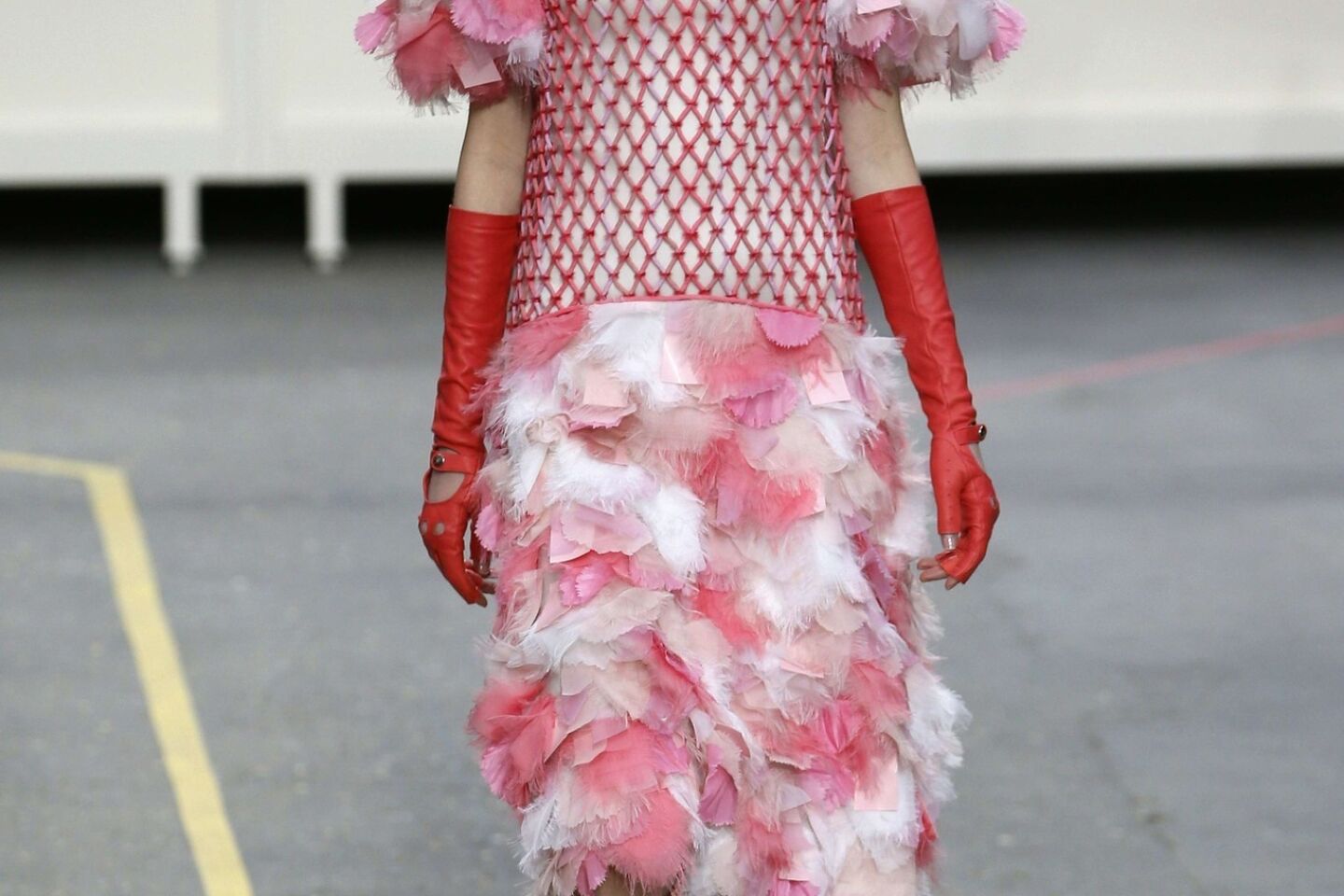 Chanel
(Patrick Kovarik / AFP / Getty Images)
Chanel
(Patrick Kovarik / AFP / Getty Images)
Chanel
(Patrick Kovarik / AFP / Getty Images)
Chanel
(Patrick Kovarik / AFP / Getty Images)
Chanel
(Patrick Kovarik / AFP / Getty Images)
Chanel
(Patrick Kovarik / AFP/Getty Images)
Chanel
(Patrick Kovarik / AFP / Getty Images)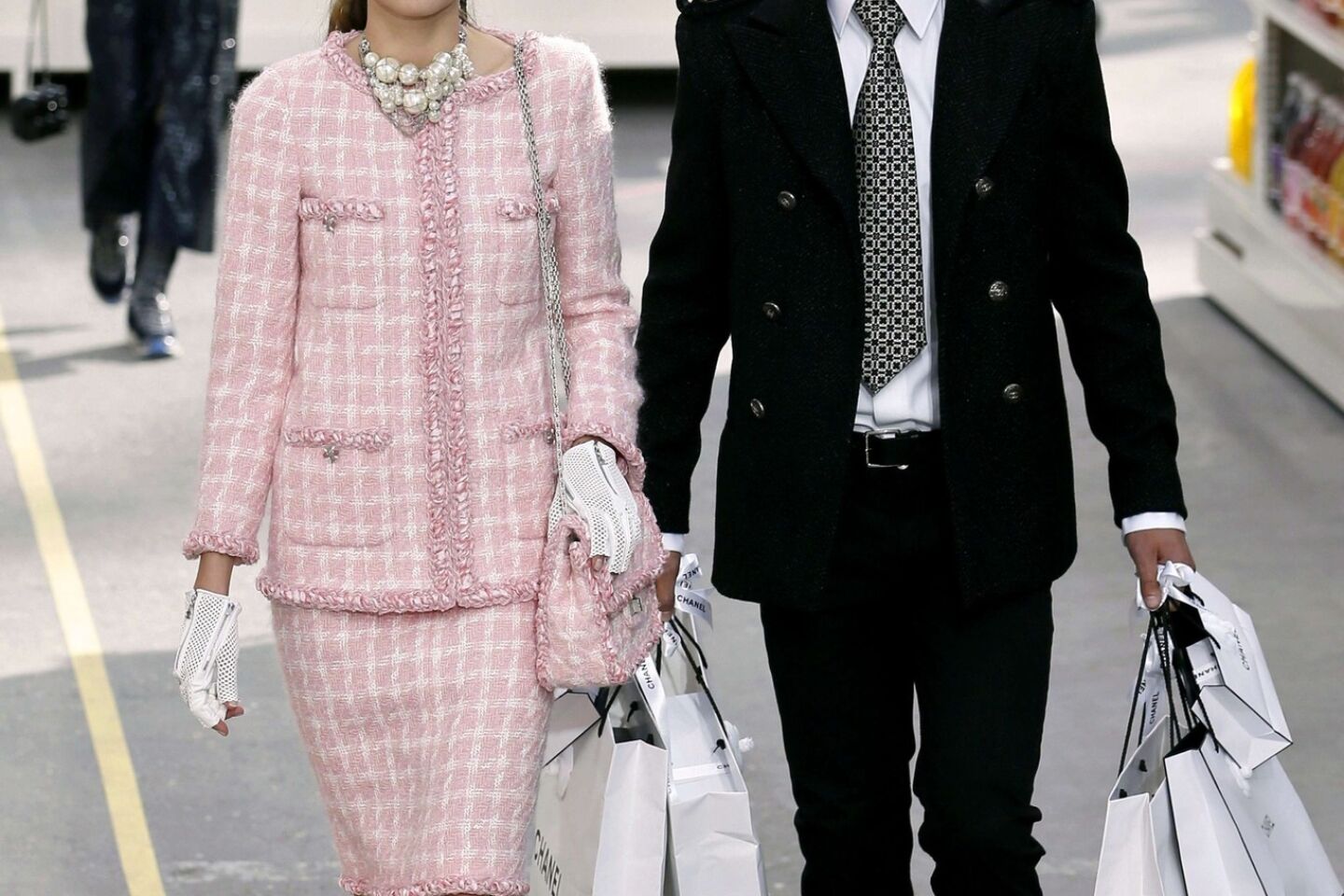 Chanel
(Patrick Kovarik / AFP / Getty Images)
Chanel
(Patrick Kovarik / AFP / Getty Images)
Chanel
(Patrick Kovarik / AFP / Getty Images)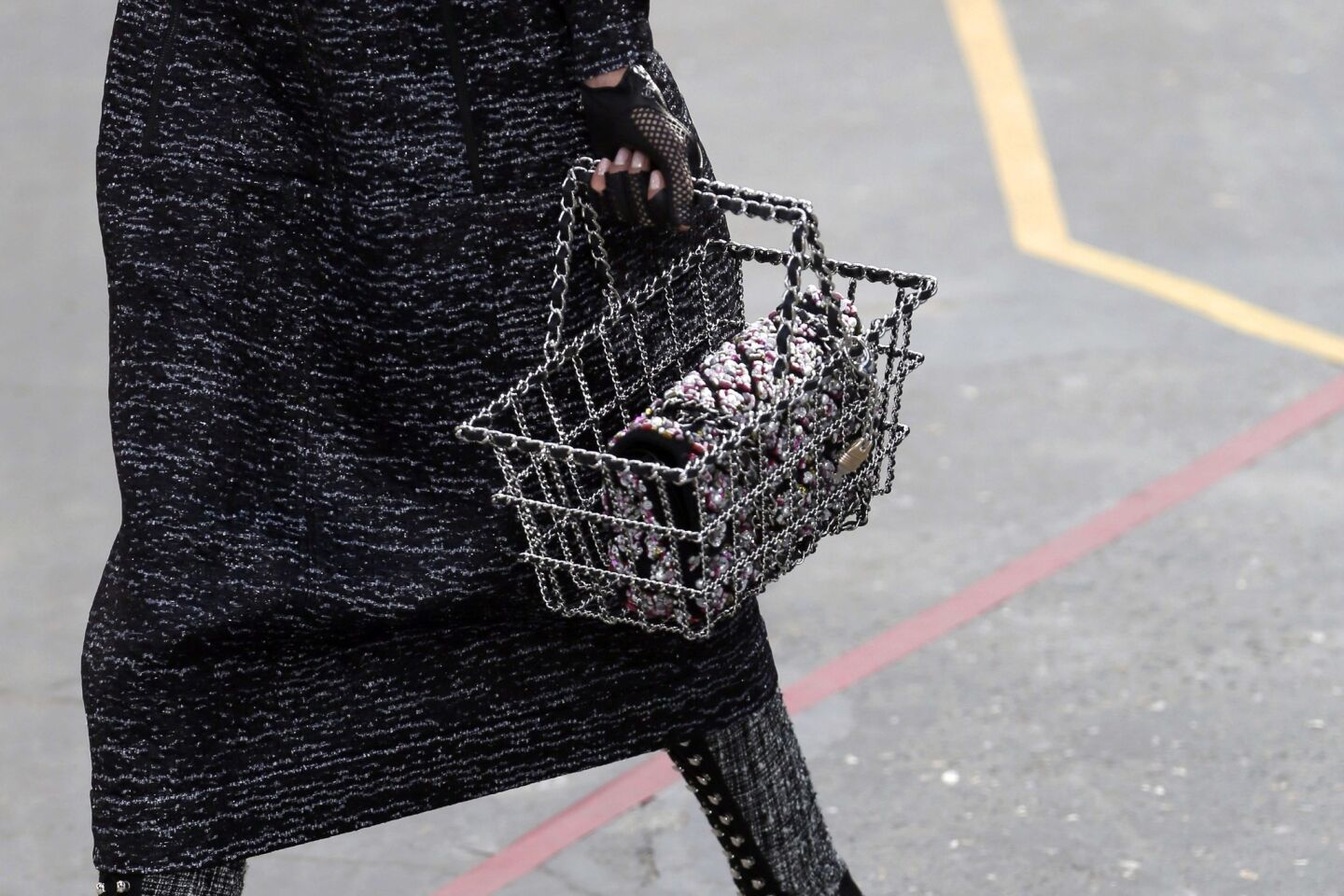 Chanel
(Patrick Kovarik / AFP / Getty Images)
Los Angeles Times Fashion Critic
PARIS -- Chanel designer Karl Lagerfeld staged another one of his epic fashion extravaganzas Tuesday morning at Paris Fashion Week, transforming the Grand Palais into a Chanel-themed supermarket and stocking the aisles with Chanel-branded groceries.
Coco Flakes, Croustilles (potato chips) Gabrielle, Jardin de Gabrielle canned peas, No. H20 Eau Minerale and more were stacked Warholian-style on shelves and displays. There were cases of fruit and vegetables, hanging hams (or Cambon jambon as it was called, in reference to Chanel's famous Rue Cambon address), even bottles of liquor in "rare" vintages commemorating Chanel's traveling Metiers d'Art runway shows, like the one held in 2007 in Los Angeles.
It was a lot to take in -- and take pictures of -- which is much of the point. Chanel became a trending topic on social media instantly, with guests such as blogger Bryan Boy posting photos of themselves posing with Chanel shopping carts.
Once the show started, the models wandered the aisles, weaving in and out of the produce and charcuterie departments wearing brightly colored sneakers similar to the ones that made such a splash on the Chanel haute couture runway in January.
Overall, the look was casual, layered, street-inspired and knitwear heavy, with a nod to the Op Art, Pop Art vibe that's a strong trend this season.
Tweedy duster coats and metallic cardigans were worn over sparkly leggings, or baggy metallic pants, and long printed jackets over miniskirts with sneaker boots. Metallic accents dotted the collection like candy wrappers, a cropped silver quilted jacket layered on top of a black-and-gray houndstooth coat for example, and a sleeveless loosely woven metallic jumper over a long black skirt.
Texture was another motif. One group of looks brought to mind bonbons -- a candy pink sweater with embroidered blossoms, worn with a giant knot of pearl necklaces. And the house tweed turned up in unexpected places, encasing a cool pair of pink sunglasses, and woven into models' ponytails. (A styling trick to try at home now? Tying a ponytail with strips of tweed fabric.)
When it came to accessories -- the addictive salty snacks of the luxury diet -- some models carried their quilted Chanel handbags in chain-link shopping baskets, and others had heavy Chanel padlock chain necklaces around their necks. A subtle wink at the cost of luxury consumerism? No doubt. So were signs on the walls posting not discounts, but price hikes of "+30 percent" and "+50 percent."
Having dropped by the Chanel store on Avenue Montaigne in Paris last Saturday afternoon, I can attest to the feeding frenzy that occurs over Chanel goods. There were tourists picking over purses like they were potatoes, and filling plastic Ikea-style shopping bags full with seemingly no regard for the astronomical prices. It was so crowded, I wondered if they should have customers take a number at the door, like you do at the butcher. And though the scene was certainly a good thing for Chanel's bottom line, whether it's a good thing on a cosmic level is a topic for another day.
The bottom line for this collection was that it was full of delectable goodies and casual style that made it as friendly and shoppable as your local supermarket aisle.
Once the show ended, an announcement was made that the Chanel store was about to close, and urging guests to leave with their complimentary fruit and vegetables. (Any leftovers will be donated to charity.)
I don't envy the guards who were trying to keep watch over the rest of the Chanel packaged goods to prevent Coco Flakes from turning up on EBay. It was really a lost cause. You know they will if they haven't already. And they'll sell like, well, Chanel Coco Flakes.
ALSO:
Isabel Marant goes big for fall
Saint Laurent, if you're cool enough
Junya Watanabe's fabric symphony