DTLA pop-up shop to offer tunics, ponchos and a primer on the Mexican craft movement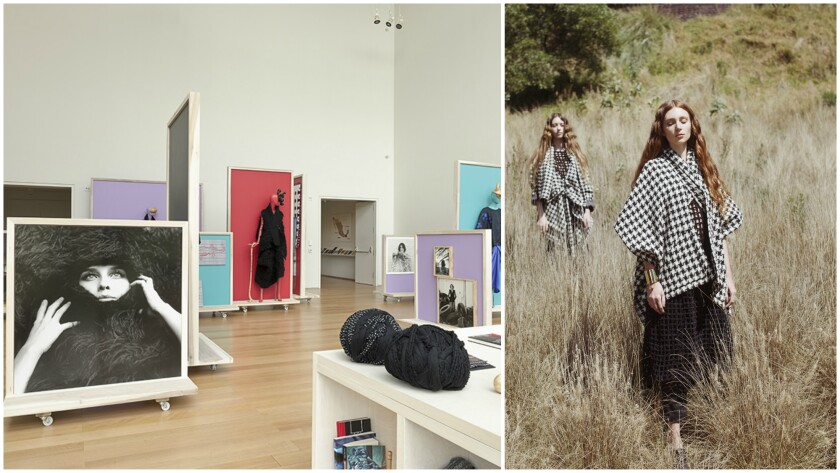 Fringed ponchos and embroidered tunics are all the rage for the fall fashion season. But what if you could buy them from the source and support Mexican artisans while you're at it?
If that piques your interest, you may want to check out Mexican designer Carla Fernandez's exhibition and pop-up store, "The Future is Handmade," Sept. 12-28 in downtown Los Angeles.
Inspired by the aesthetic geometry and textile richness of her homeland, Fernandez launched her namesake fashion label in 2000, with the goal of working with indigenous communities around Mexico to preserve hand-weaving and dyeing, felting and embroidery techniques. She sells all over Mexico and is trying to take her business global.
Her fall collection is made in and inspired by what is now Mexico's deadliest state, Guerrero, and the traditional ceremonial dance of the tecuanes, or jaguars. According to legend, the jaguar can be tamed only if the whole town unites, Fernandez says.
"What's been happening in the area has been very complicated in the last few years," she explains. "We wanted to work in that region, not to focus only on the bad news, but to highlight the crafts coming out of Guerrero and Chiapas."
The collection, priced from $50 to $600 or more for special orders, includes black-and-white houndstooth wool ponchos, Lurex silk jaguar-print jumpsuits and sweater knit jackets with hand-knotted fringe, all with a look that is more avant garde than arts and crafts.
"In the design process, we use a methodology I call the 'square root,' which is the Mexican tradition of squares and rectangles. It's very similar to the Japanese, which is why the Mexican huipil is so similar to the Japanese kimono," Fernandez explains. "We do a silhouette that is super-Mexican, that comes out of a 7,000-year evolution. But we also give it a twist."
She hopes her L.A. exhibition — which coincides with Mexican Independence month and highlights the techniques of five Mexican states through her designs — and photos and video about her process, will help educate people about the diversity of craft in Mexico. Also on display: a selection of housewares by Mexican designers and work by Mexican artists, including Fernandez's husband, Pedro Reyes.
Fernandez is bringing her work to Southern California for the first time following exhibitions at the Isabella Stewart Gardner museum in Boston, and the Boiler Room at Heath Ceramics in San Francisco. She hopes that L.A. will be receptive; the community here has embraced fashion enterprises with a similar focus on the handmade, such as Dosa by Christina Kim, who works in the same building where the exhibition is being held.
"We all wear clothing, and there is a certain market for those who like to understand how their clothing is made and by whom, and who like to talk about a piece and feel it. It feels different; it tastes different. That's a flavor some of us are looking for."
Fernandez developed a taste for Mexican crafts when she was a kid, traveling around the country with her father, a historian and museum curator.
"I could see the most amazing artisans were in the Highlands, and I didn't know why designers were not working with them," she says. To make matters worse, the only clothing she could find in the city markets was very cheap, and made for tourists.
But she learned about more elaborate pieces being made for locals, some of which could take up to two years to craft. "I started to develop an eye for how different the crafts could be and decided to become a fashion designer, getting involved in the communities making those garments."
She believes that the move toward more mass-produced crafts in Mexico is a cultural and political issue.
"We study Mexican textiles and understand how much we are losing by not paying the correct prices for crafts, and how Mexico will become less creative as a result," she says. "The Highlands are where we make our haute couture. But that's a story Mexico hasn't told yet. People have to understand the complexity of these techniques so they will pay for them."
"Carla Fernandez: The Future is Handmade," Sept. 12-28, 850 S. Broadway, No. 600, Los Angeles, (213) 438-0676. Meet the designer 4-7 p.m. Sept. 12; RSVP and info here. Hours: 10 a.m.-6 p.m. Sunday, Sept. 13; closed Monday; 11 a.m.-6 p.m. Tuesday through Friday; Saturday and Sunday, by appointment only.
On Sept. 11 from 4 to 7 p.m., Fernandez will be signing copies of her 2013 book, "The Barefoot Designer: A Handbook," and hosting a sale of Mexican handmade vintage pieces at Decades, 8214 Melrose Ave., Los Angeles, (323) 655-1960, rsvp@decadesinc.com. The vintage sale will continue Sept. 12 to 28.
For the latest in fashion and style news, follow me @Booth
ALSO:
Of moles and motherhood: A Q-and-A with Cindy Crawford
Jeremy Scott cements his pop-culture legacy -- literally
---