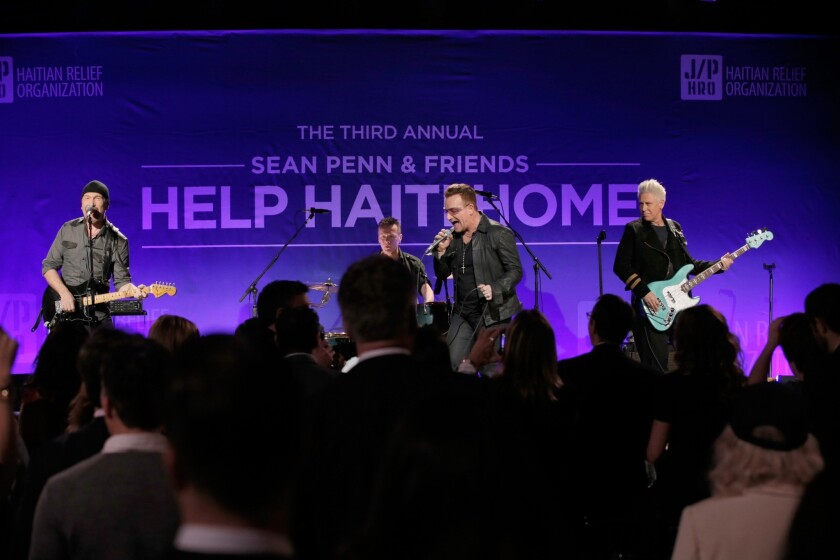 The event: "Help Haiti Home," staged by Sean Penn & Friends and presented at the Montage Hotel in Beverly Hills by Giorgio Armani to benefit the J/P Haitian Relief Organization. Anderson Cooper served as host and ceremonies ended with a surprise performance by U2.
The scene: Held on Golden Globes weekend, the affair Saturday brought out a generous helping of A-listers, some of whom bid generously enough at the live auction to bring the gala's proceeds to a whopping $6 million.
The crowd: Among others the crowd included Charlize Theron, Bono, Gwyneth Paltrow, Bette Midler, Michael Douglas, Julia Roberts, Danny Moder, Emma Thompson, Sarah Silverman, Chelsea Handler, Idris Elba, Usher, Goldie Hawn, Sarah Silverman, Pamela Anderson, Chris Hemsworth and his wife, Elsa Pataky. Like many of the other women, Pataky opted for Giorgio Armani, but in her case a stylish frock to accommodate a baby bump.
The cocktail hour: During the reception, as guests caught up with each other, Douglas said he was impressed by how quickly Penn put his energy into helping Haiti, which he described as "a country that can't catch a break." Midler also expressed admiration for Penn's dedication, she too having helped relief efforts.
Handler said she enjoys supporting charities, including others where she has served as emcee. "I want to contribute," she said. "Anything I can do to contribute makes up for my behavior in real life."
The numbers: Organizers counted 325 guests, who purchased tickets from $2,500 and tables for as much as $100,000.
Ellen Olivier is founder of Society News L.A.
ALSO:
Dianne von Furstenberg celebrates iconic wrap dress
Linda Perry's 'Heaven' Gala honors Ali Larter, Hayes MacArthur
---