Unionmade pop-up with M.Nii swimwear opens for Memorial Day weekend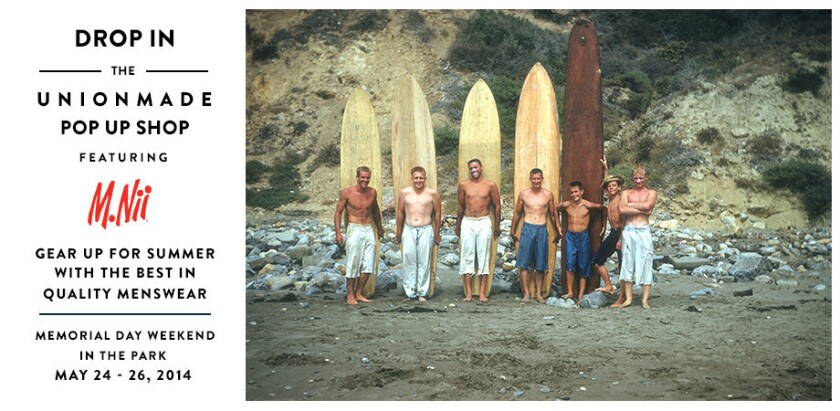 A Unionmade pop-up shop featuring M.Nii men's clothing will be open at the Grove this Memorial Day weekend, Saturday through Monday.
M.Nii makes men's tees, swimwear and shirts based on archival designs inspired by vintage surfing. The original M.Nii was a tailor shop in Hawaii in the 1950s and 1960s that also designed custom swimwear. The brand has been revived by L.A.-based designer John Moore, who was named by GQ as one of this year's best new menswear designers.
------------
For the record: An earlier version of this post said that the Canvas Art Dept Pop-Up Shop mentioned farther down would be open through Aug. 24. It will be open through Aug. 4.
-------------
Prices for the made-in-the-U.S. line start at $70 for T-shirts, $125 for swim trunks and $195 for woven shirts.
Over the weekend, customers who make a purchase at the pop-up shop are to receive free M.Nii swatches and Unionmade totes. Those who make a purchase of more than $200 are to receive a free M.Nii tee.
The pop-up is in the park at the Grove, 189 The Grove Drive, Los Angeles.
Events
To kick off its new Alluring Aquatic collection, MAC Cosmetics at Hollywood and Highland, 6801 Hollywood Blvd., plans to have dancers performing synchronized routines in an aquatic tank on Hollywood Boulevard this weekend. You can book a weekend appointment to have a MAC makeup artist show you how to use the new collection by calling (323) 465-5030 by May 22. Hours are 1 p.m. to 9 p.m. Friday and Saturday and noon to 8 p.m. Sunday.
Openings
Canvas Boutique & Gallery at the Malibu Country Mart is hosting the Canvas Art Dept Pop-Up Shop beginning Friday and going through Aug. 4. The shop will be filled with a selection of Malibu-inspired essentials for men and women from brands such as Boast, Otzshoes, Jack Purcell, Roots Canada, Baxter of California and Canvas Malibu.There will also be custom artwork by Risk, Byron Buchanan, Dominique Wuth Sanders, Urban Disaster and Michael Spitaletto. The shop, at 23410 Civic Center Way, Malibu, will be open from 11 a.m. to 6 p.m. Sunday and Monday, and from 11 a.m. to 7 p.m. Thursday through Saturday (closed Tuesday and Wednesday).
Designer and stylist Niki Schwan (clients have included Nicki Minaj, Dita von Teese and Natalie Portman) has opened the Niki Schwan Fashion Gallery at 8428 Melrose Place, Suite G, Los Angeles. The store features atelier gowns, provocative swimwear and accessories. It's open from 11 a.m. to 7 p.m. Monday through Saturday and by appointment. Call (323) 782-4900. A VIP styling lounge with hair and makeup facilities is also available by appointment.
Vilebrequin, a French swimwear brand for men and boys, has opened in the Malibu Lumber Yard, at 3835 Cross Creek Road, Malibu. The label, founded in 1971 in St.-Tropez, is known for matching father-son swimsuits, and plans to add girls and women's suits this summer. The new store is open from 10 a.m. to 6 p.m. Monday through Wednesday, 10 a.m. to 7 p.m. Thursday through Saturday and 11 a.m. to 6 p.m. Sunday.
---