Surfer Kelly Slater celebrates the launch of Outerknown with a star-studded Malibu bash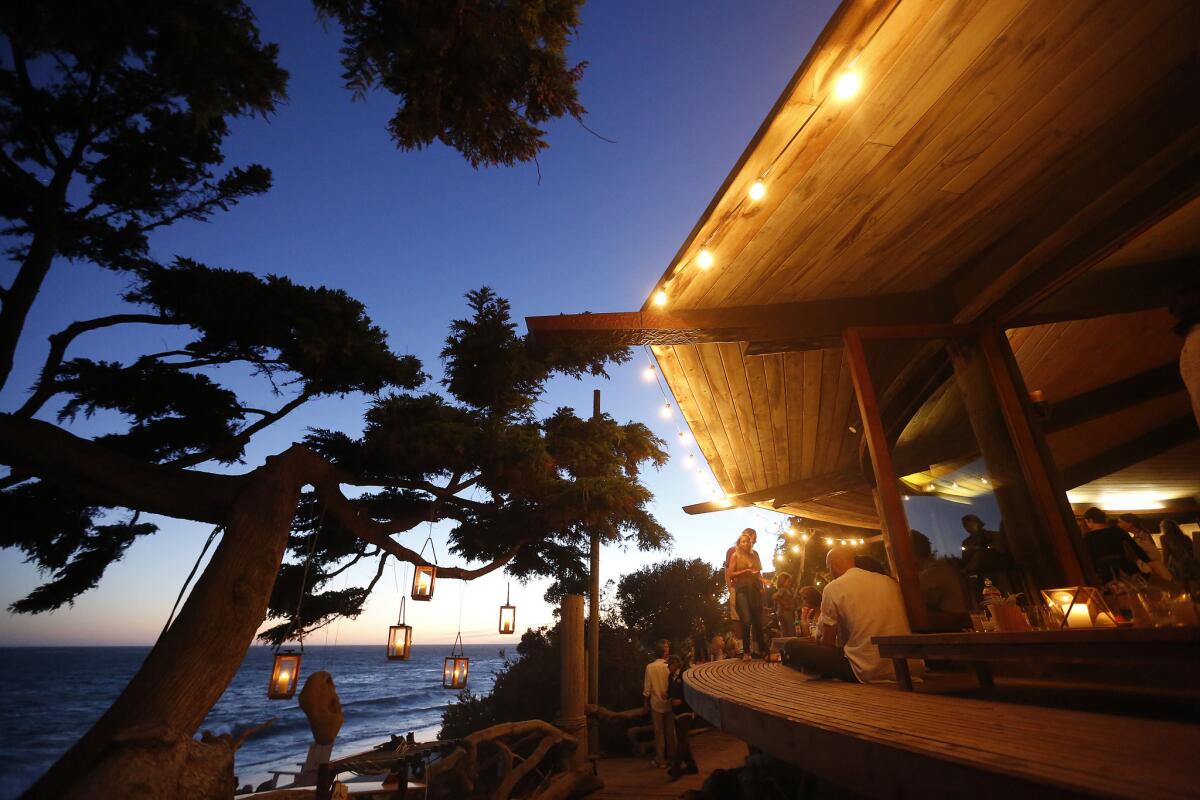 Saturday night's intimate beachside party in Malibu celebrating surfer Kelly Slater's new apparel label Outerknown turned out to be a lot like the line itself: Unremarkable from afar but crammed with all kinds of feel-good surprises on the inside — including (but hardly limited to) a hillside hideaway designed by renowned architect Harry Gesner, S'mores crafted from artisanal marshmallows and a guest list that included Cindy Crawford, Chris Hemsworth and the Red Hot Chili Pepper's Anthony Kiedis.
Guests arriving to a nondescript stretch of the Pacific Coast Highway were ferried by electric golf cart down a treacherously steep hillside to a beach house nestled into the hillside just steps above the Pacific Ocean. This wasn't just any beach house either — it was architect Harry Gesner's turret-like Sand Castle house perched barely a seashell's toss away from his famous 1957 Wave House. Gesner, who still owns the Sand Castle property, was on hand for the event, as were his son and grandsons, the latter of which could be seen helping schlep surfboards back and forth to the beach in preparation for the party.
Travis Lett, whose Venice restaurant Gjusta was recently named one of the 10 best new restaurants of 2015 by Bon Appetit magazine, was on the scene firing up festive range of foodstuffs — including artisanal breads, charcuterie, oysters on the half shell and pizzas being fired in an immense outdoor oven. The Gjusta team also had a hand in crafting two bespoke cocktails for the occasion — a Paloma and a Spicy Daisy — made with small-batch, high-end Casamigos tequila.
We're mentioning the tequila because we happened to notice one of label's owners — Rande Gerber (the other two are George Clooney and Mike Meldman) — circulating through the crowd on the arm of his supermodel wife, Cindy Crawford, trailing their model-perfect son, Presley Gerber, and daughter, Kaia Gerber.
They were far from the only high-profile friends turning out to celebrate the line's launch; other notables included actors Jason Statham, Johnny Knoxville and Julia Roberts. Although the crowd was definitely heavier on the entertainment side than the fashion side, the Elder Statesman's Greg Chait was in the house as was Volcom founder Richard Woolcott (Volcom is owned by Kering, the luxury conglomerate that's working with Slater on Outerknown) as well as Outerknown creative director, John Moore — whose retro-surf label M.Nii, you may recall, earned him a spot of GQ's 2014 list of best new menswear designers in America.
Both Slater and Moore showed up wearing pieces from the menswear label that hit retail in mid-July; lightweight button-front shirts and casual beach-appropriate trousers as understated as most of today's surf duds are over-the-top. The casual observer would have no way of knowing that the label's focus on sustainability (using textiles from a company that recycles old fishing nets, for example) and transparency in manufacturing (the label has tapped outside groups to monitor working conditions) sent the pair on a 28-month-long development process. We plan on looking at the process in considerably more depth — as well as the resulting luxury-priced line (think hemp/organic cotton T-shirts that retail for $98 and recycled-nylon boardshorts that sell for $125) in an upcoming profile of the brand, but Saturday night's star-studded soiree was a perfectly executed exercise in buzz-building; a laundry list of notable names, a menu by one of the country's hottest chefs and entrée into a famed architect's secluded seaside pied-a-terre.
But it was more than that too. As we watched the high tide push the water line to within inches of the stairs, as the full moon rose into the sky and cast shadows that made the Malibu coastline look like a miniature scale model of itself, it dawned on us: This place, where the fragile worlds of man and nature come together, is what Outerknown — and the eco-friendly fashion brands that came before it — are trying to preserve.
For the latest in fashion and style news, follow me @ARTschorn
ALSO:
Brands that are putting L.A. meswear on the map
John Moore is riding a wave of popularity with M.Nii