Tom Ford's most surefooted collection yet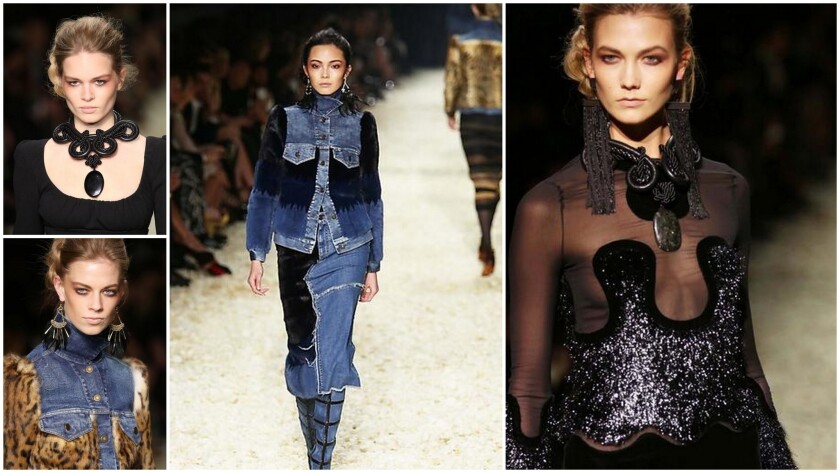 Yes, Beyonce, Jay-Z, Jennifer Lopez and Elton John were in the front row. But what was on the runway at Tom Ford's fall-winter 2015 show Friday night in Los Angeles was just as impressive, in that it signaled a new, surefooted direction for Ford's women's wear.
Ford showed the kind of rich bohemian collection for which he was known in his heyday at Gucci. "It was actually a Hitchcock heroine if she morphed into a rich bohemian," he said afterward. "Very controlled, not dirty hippie, because the early 1970s were really very streamlined."
Ford spent 14 years at Gucci where he defined the look of luxury in the 1990s as creative director of both the Gucci and Saint Laurent brands. It's been 11 years since he started his own namesake brand, first launching a lucrative cosmetics and fragrance business with Estee Lauder in 2004, followed by menswear in 2006 and women's in 2010.
His men's suits are worn by everyone from rock stars to CEOs, Justin Timberlake to Magic Johnson (who owns 50 custom suits, and was invited to the show because he's a good client, he said). The menswear is characterized by its Savile Row inspiration, and myriad, super-luxurious customizable possibilities.
But Ford's women's wear collections have been harder to understand, identifiable for a dark and sexy, just-this-side-of-raunchy aesthetic that played well with Rihanna and Miley Cyrus but seemed out of reach for regular women.
The collection Ford showed in L.A., striking the right balance of wearability and flash, and beautifully made, too, should change all that.
For one, there was more denim on the runway than we've seen since the designer's days at Gucci, when he caused a sensation with beaded, fringed and feathered jeans a la Cher that are collector's items now.
"This collection has more day clothes for sure," Ford says. "And denim felt right." There were reconstructed jeans and denim skirts with rainbow velvet patchwork effects, even a denim "fur" coat. Yum.
Black crocheted skirts and tidy-looking peplum peasant blouses in black or denim patchwork were also covetable, as were knee-length dresses swinging fringe. Black knotted and fringed jewelry, including shoulder-dusting earrings, crocheted bags and knee-high suede boots were the boho accents.
More fringe and lacing effects were worked into evening wear, which was seductive without being over-the-top sexy. A black jersey, cowl-back gown with a single velvet ribbon tied across the back, for example, was dramatic and pretty. And the finale gowns, in 1970s swirls of color and sequins, looked ready made for a dinner party at a modernist Hollywood house.
Ford got a standing ovation at the end of the show. With what could be perceived as a misty eye, he said, "It felt like coming home."
---