Fashion diary: Retailers discuss what will make it from runway to rack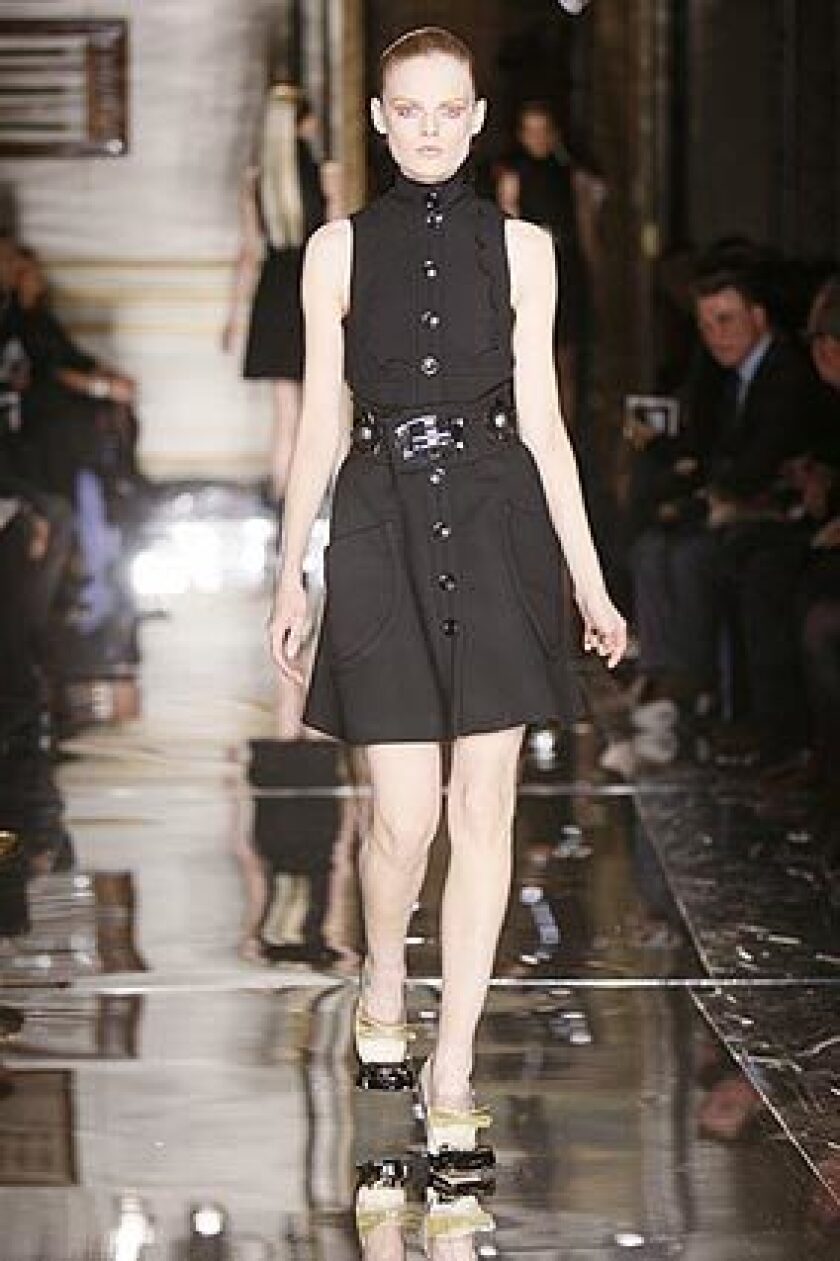 Toss the leggings and pick up a pair of boot-cut pants. Replace the bateau stripe shirt with an olive drab tee. Give the boyfriend jacket back to the boyfriend, and pick up a military jacket instead.
Now that designers have shown their collections for fall in New York, Milan and Paris, department store fashion directors and boutique owners have to figure out how to translate the big ideas to the racks. Chanel's faux fur fantasy, Junya Watanabe's military march and Celine's luxe vision of minimalism were memorable on the runway, but what do they mean for a woman's wardrobe? And what about Alexander McQueen, whose untimely death cast a shadow over the season? His final runway pieces, with their ecclesiastical references and couture-like details, were extraordinary. But can the brand live on without him?
Here, retailers offer their take-aways from the season, and how the trends might trickle down to you. Those from stores stocking the McQueen runway collection share their opinions on that as well.
Stephanie Solomon, fashion director, Bloomingdale's
Big idea: Military. It's the most pervasive and salable trend. While it's more about safari at the moment, it's going to segue into military for fall.
Must haves: Olive drab anorak jacket, preferably with a fur trim hood. Shearling flight jacket as seen at Burberry Prorsum. Military jacket, nipped at the waist, with brass buttons or epaulets that can be worn as part of a suit or on its own. Boot-cut pants as seen at Gucci, Balmain and Akris. Knits — slouchy caps, blanket-sized scarves, hand warmers, knee socks and leg warmers. Fur evening bag.
Will the new minimalism sell? Slowly. We've been in a cycle of more is more for seven years now. But I do believe it will influence fashion with A-line skirts, shift dresses and pants suits becoming more popular.
Ken Downing, senior vice president and fashion director, Neiman Marcus
Big idea: Contrast between masculine and feminine in a 1970s, Charlie girl sort of way.
Must haves: Pants, whether they be narrow, high-waisted or menswear-inspired. A feminine touch, such as a Chantilly lace blouse, something shimmery or velvet to juxtapose with the masculine. A boyfriend coat, as seen at Lanvin (it's the evolution of the boyfriend jacket). Anything olive green, for a military influence. Fur, real or fake. Vests, fur or plaid. Structured bags and pointy-toed shoes.
Will the new minimalism sell? It's the newest message and it's happening for fall, but we'll see more of it going into spring 2011.
McQueen's final collection: It was spectacular. McQueen's tailoring and dressmaking skills were so superlative; he challenged everyone at every moment. We didn't buy all 15 of his final pieces, but we bought some. Beyond a designer leaving this world, he left behind a sewing team and a design team. It's a business, and I assume they will move it forward.
Colleen Sherin, fashion market director, Saks Fifth Avenue
Big idea: Outerwear and building a coat wardrobe for every aspect of your lifestyle and every time of day. Coats are pieces you can get a lot of use from because you can wear them day after day like a handbag.
Must haves: A coat (anorak as seen at Rag & Bone, duffel coat as seen at Proenza Schouler, embroidered shearling as seen at Roberto Cavalli or a camel coat as seen everywhere). A new knit piece, whether it be Fair Isle, patchwork or a lighter-weight knit such as the lace knit turtleneck seen at Ralph Lauren. A fur accessory such as a bag, shoe, bootie or shawl collar.
Will the new minimalism sell? For a certain woman interested in investment dressing, luxurious fabrications and tailoring.
McQueen's final collection: It was the highlight of the season, like couture. We ordered all 15 pieces, which range from $12,000 to $50,000. The commercial collection in the showroom was very solid too. I am confident they have a strong team in place to carry on the tradition.
Julie Gilhart, fashion director, Barneys New York
Big idea: Less is more — less about ornamentation and more about a designed silhouette in terms of great tailoring, and heavier or more structured fabrics to create shape, as seen at Celine and Stella McCartney.
Must haves: Army green jacket as seen at Junya Watanabe. Anything leather as seen at Altuzarra. A leopard or cheetah print accent (Dries Van Noten had great scarves and Rochas had flat boots). An amazing sweater, such as Stella McCartney's camel-colored cardigan. Fringe — Rodarte had knitted fringe skirts. A tote bag from Celine or Proenza Schouler and a lace-up shoe boot.
Will the new minimalism sell? Yes, the pieces we bought are beautifully cut in fabrics that can be worn year-round. I think a woman who is stylish will take a Celine tunic and put a great necklace or bangle with it or an amazing pair of boots and create her own look.
Elyse Walker, owner, Elyse Walker boutique in Pacific Palisades
Big idea: Girlishness as seen at Nina Ricci, Valentino, Miu Miu and Stella McCartney.
Must haves: A fur from J. Mendel, Prada, Blumarine, Isabel marant or Wyler Designs by Jennifer Fisher, which looks like a lot for the money. I ordered 50 to 70 furs for a store that's a mile from the beach. But it gets cold at night, and it's a fashion statement that will be in every ad and editorial. Fur trims on sweaters (Brunello Cucinelli) and scarves (Gucci). (We will have faux fur as well.) A little bit of lace (Alexander Wang dresses with lace insets). A little bit of leather (time to invest in a pair of leather leggings if you haven't already). A touch of burgundy or bordeaux, as seen at Halston and Givenchy. Lanvin also has a great pair of bordeaux ballet flats with a rhinestone bow. Camilla Skovgaard shoes, a Stella McCartney vegan handbag and a Miu Miu turnlock belt to accessorize a plain black dress.
Will the new minimalism sell? I don't see it.
---