Friendship bracelets grow up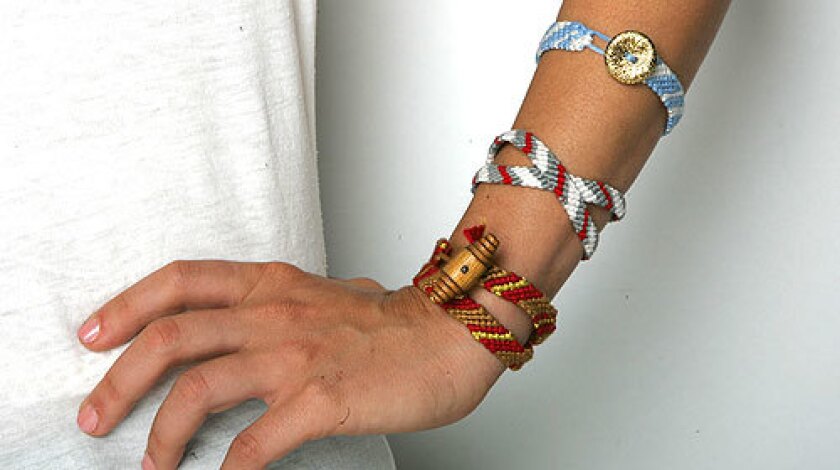 Los Angeles Times Staff Writer
They're an artifact of summer camps and sleepovers -- bands of brightly colored and knotted threads that encircle wrists or ankles, softened by sunlight and ocean swims, durable as best friends and childhood.
Now friendship bracelets have grown-up panache too.
Jewelry designer Scosha Woolridge is weaving natural-colored linen with diamonds and rubies and anchoring the ends with 18-karat gold buttons. This fall, J.Crew is featuring striped friendship bracelets -- inspired by '30s-era club ties -- in its men's collection, each hand-made in London with hand-dyed linen and secured with an elegant metal buckle.
Of course, this is friendship bought and paid for: The J. Crew bracelet will be $150 (at jcrew.com), and Wooldridge's pieces start at $270 (scoshanyc.com). But in the true spirit of friendship, Woolridge showed us how to make a bracelet.
With a few skeins of embroidery floss and a pretty button or coin, you can knot your own stylish band -- for less than $5. Preppy and nautical or bling-studded and chic, these are hardly the bracelets you wore in fourth grade. But they're still woven with the same happy nostalgia.
Woolridge, an Australian who lives in New York, started making the bracelets while traveling in Brazil, where she gave them to newfound friends. Her bracelets aren't much different from the ones you made as a kid, though she adds a button or a buckle, so that you can actually take them off. The original conceit was that you tied the ends together and wore the bracelet until it -- or your friendship -- disintegrated.
"I like to call them travel bracelets, because they feel closely connected to the beauty of traveling," she says. "We travel every day of our lives."
The first step: Take a long double length of embroidery floss, loop it (the loop forms the buttonhole) and tape the loop down on a work area. Then tie six more double lengths to the loop (this makes a nice thick bracelet) and start knotting.
In about two hours (about the duration of a movie, a baseball game, a series of campfire stories), your bracelet will be done. Stop when it's the circumference of your wrist or ankle. Tie a few extra knots to even up the bottom and anchor a button with the loose strings.
You can get fancy and add extra buttons or coins (try a vintage leather or Scandinavian metal button, an antique ring or charm, an old earring, even a Chinese coin with a hole in the middle).
You can keep going (use longer threads) to form a double bracelet.
Or you can just tie off the ends for a pretty tassel and present your friend with the stunning results.
It's the perfect accessory for a grown-up camping trip -- say, a Chateau Marmont overnight with your new BFF.
---