Illustration by Giordano Poloni / For The Times; animation by Jess Hutchison / Los Angeles Times
We've all been there, politely thanking someone for a gift we neither need nor want as we try not to think about the amount of money wasted on something we'll never use.
That's the tricky part about gift giving. If you want to maintain any sort of surprise, you just have to wing it sometimes and hope your instincts are right.
We can't provide a magic guide to everyone's perfect gift, but we can steer you to gifts that give twice by supporting causes that might be important to your recipient, such as human rights, eradicating hunger or saving the natural world. That way, even if your gift is a disappointment, your recipient will know that at least a portion of the money you spent is supporting something that's improving our world.
And that might be one of the best gifts of all.
If you make a purchase using some of our links, the L.A. Times may be compensated.
Working on your holiday shopping? We've got you covered with recommendations for the best gifts to find in L.A.

The Elephant Project Tembo the Elephant
Not since Babar has an elephant been so endearingly and elegantly portrayed as this pint-sized version from the Elephant Project complete with (removable!) green velvet overalls. This soft stuffie is beautifully made, with a generous trunk and tufted tail. And it's just the right size for little hands. Tembo and his friend Kiki (who prefers dresses) are just two of four cuddly animals offered by this Santa Barbara-based company, which sends 100% of its net proceeds to organizations around the world devoted to saving elephants from poachers and providing care for orphaned young. (P.S. If your gift recipient prefers big cats or dogs, check out Oba the lion and LuLu the dog. They have their own related support organizations.)
From $39 at the Elephant Project
Theodore Payne Foundation Superbloom Just Beach towel
The Theodore Payne Foundation, SoCal's premier native plant nursery and conservation center, partnered with Everybody.World to create this soft, appealing all-cotton beach towel in one of the last factories in the U.S. producing high-quality cotton towels. L.A. artist Lesley Goren designed these 34-inch-by-70-inch towels to feature abstract blooms of clarkia and sunflower — keystone wildflowers that provide vital habitat for the native insects that feed our dwindling birds. Proceeds from the store (where you can find many other cool gifts) support the foundation's many nonprofit programs, such as the California Native Plant Landscaper Certificate Program, a free four-week course that has taught more than 500 professional gardeners how to maintain native plant landscapes so they can transition away from mowing lawns.
$75 at Theodore Payne Foundation Store
Dash No Kid Hungry Tiny Chef Mini Waffle Maker
I had my doubts about whether this palm-sized waffle maker would actually work, but it quickly (and adorably) produces lots of yummy waffles. It takes up only a fraction of the space used by bulkier waffle makers and it's perfect for people with minuscule kitchens like YouTube host Tiny Chef, who's featured on the product. With every purchase, Williams Sonoma donates 30% of the retail price to No Kid Hungry, which is working to end childhood hunger in the United States. A few intriguing waffle recipes are included with the waffle maker, but I recommend Susan Branch's version from "Christmas From the Heart of the Home": 2 eggs (beaten), 1 cup and 2 tablespoons of milk, 3 tablespoons salad oil, 1½ cups unbleached flour, and 3 teaspoons each of sugar and baking powder. Whisk together eggs, milk and oil, stir in the dry ingredients and whisk to get rid of lumps. Bon appetite!
$19.95 at Williams Sonoma
Xerces Society Pollinator Habitat sign
The Xerces Society for Invertebrate Conservation is one of the country's premier insect research and advocacy organizations, with key programs in pollinator conservation, saving endangered species and reducing pesticide use. Education and building awareness are two of its mainstays (its variety of pollinators explainer is a revelation in itself), and it has lots of citizen allies who are serious about growing plants to help beneficial insects survive. So what better gift for those folks than Xerces Society's colorful Pollinator Habitat sign? The purchase gives the buyer a one-year membership in the society and provides a sturdy, handsome gift recognizing your recipient's efforts to aid pollinators while helping to fund the nonprofit society's important work. (P.S.: The signs also are available in Spanish.)
$63 at Xerces Society
Apple Product(RED) iPhone silicone case with MagSafe
Here's a way to become a favorite aunt (or uncle) while combating the spread of HIV and AIDS. For the past 16 years, Apple has participated in the Product(RED) program, raising nearly $270 million for the Global Fund to fight HIV, tuberculosis and malaria, through the sale of red phones, watches and accessories. The color is a deep festive red too — nothing washed out or wimpy — and it sure makes it easier to spot your phone in a dark purse or across the room. Assuming your recipient already has an iPhone, buy the person a sturdy red silicone MagSafe case to help fight AIDS. And to achieve super gift-giver status, add a screen protector ($17) and magnetic charger ($33) to help keep the phone safe and easily charged.
$49 at Apple
Explore the most captivating experiences in California, whip up 12 days of holiday cookies, find recipes for the best jams and preserves and much more with gifts from Shop L.A. Times.
Red & Olive Baby Rudolph and others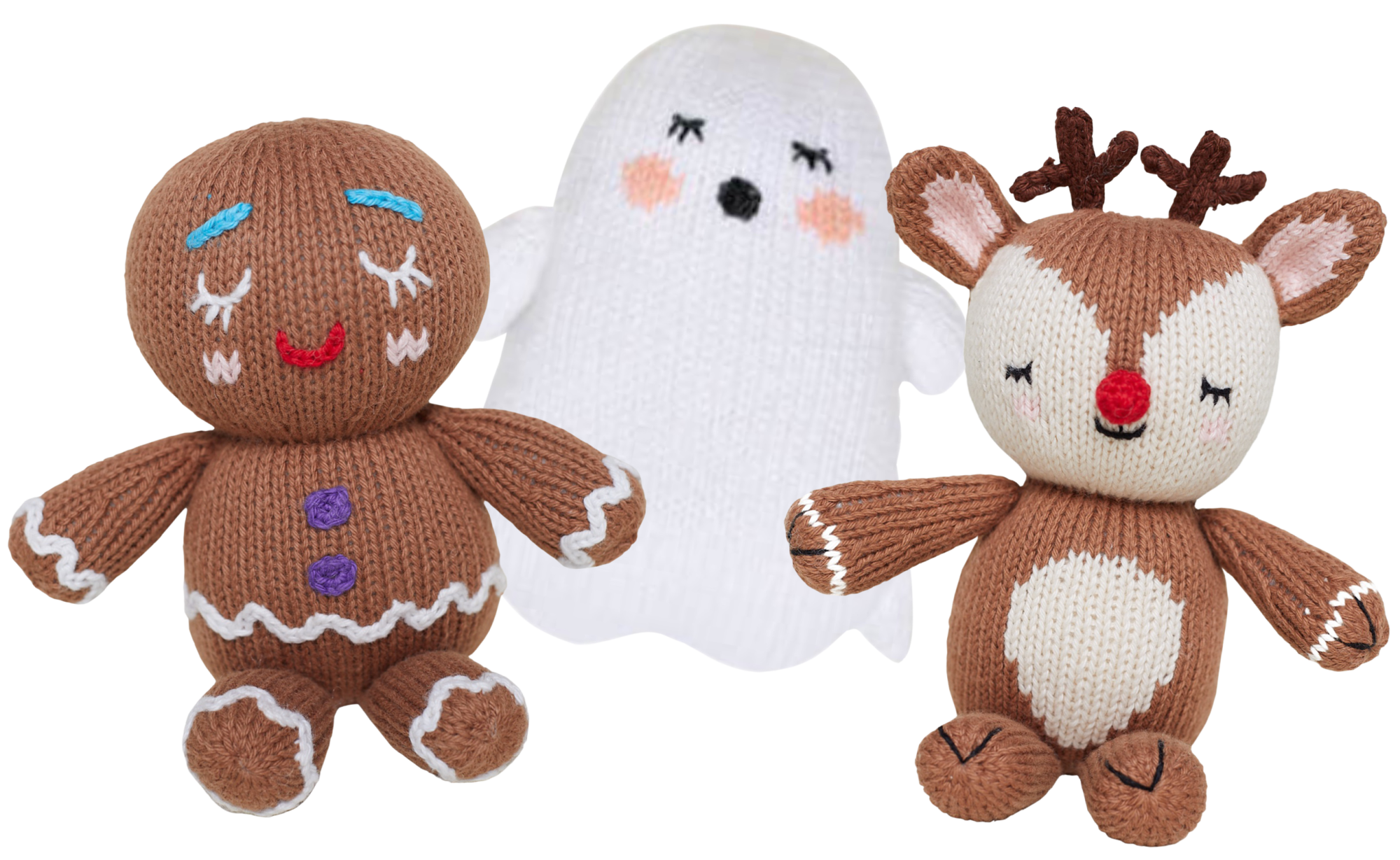 Red & Olive is a woman-owned business intent on selling adorable cotton creatures hand-knitted by Peruvian artisans who are given fair wages and flexible schedules. The owners also donate 10% of their sales to U.S. organizations that help children with serious illness. Your biggest problem will be deciding which of these cuddly, well-made creations to buy: the 7-inch-tall baby animals, and holiday creatures like a baby gingerbread person or the sweetest little ghost (sized just right for a toddler's hands) or the 20-inch-tall lions, rabbits, bears and other whimsical creatures that come complete with their own hand-knitted wardrobe. You can even get accessories so child and stuffie share the same headgear — we're talking off-the-chart winners on the cute-o-meter scale.
$30-$35 at Red & Olive
Parks Project California Dreaming mug
The Parks Project sells outdoorsy apparel, housewares and other gear to help national parks, working with 45 park conservancies across the United States to fund projects in need of immediate attention. It has donated more than $2.5 million since 2014, when volunteers working in the Santa Monica Mountains learned how badly our national parks needed financial aid. You can find tons of gifts on Parks Project's website, from forest-y coolers to snuggly jackets. I was really taken by its thick enamel camp mugs featuring California's national parks. They won't work in a microwave but they'll do fine in a campfire. Also, you can throw them in the dishwasher once you get home. Pro tip: Be a pal and buy at least two because, you know, nobody should drink alone.
$18 at Parks Project
Purpose Jewelry stone bracelets
Human trafficking is a terrible reality, but Purpose Jewelry has found a way to create hope out of all that horror through its International Sanctuaries in Mumbai, India; Cebu, Philippines; Kampala, Uganda; and Tijuana, Mexico, that provide employment, education, healthcare and community to women and girls who escaped bondage. The people in the program get a regular income from making lovely earrings, necklaces and other jewelry, including these beaded bracelets of faceted stones with hammered-coin charms. They come in a variety of colors and look good paired together (or singly), so you could drop one of each in a couple of stockings. They expand to fit big bony wrists like mine but they tend to fit best on people with more slender arms.
$36 at Purpose Jewelry
LifeStraw Peak Series
It may not seem sexy now, but one of the best gifts we can give the people we love is a way to survive a disaster, whether it's a massive earthquake or being lost in the woods. LifeStraw's straws allow people to safely drink water from lakes, rivers and streams by filtering out nasties such as bacteria, parasites, microplastics, silt, sand and cloudiness. These sleek, handsome straws work great as stocking stuffers and can be used on their own or attached to water bottles. With every 500 products the company sells, it distributes a LifeStraw Community purifier to a school in need, providing safe water to 100 schoolchildren for five years. LifeStraw also has worked with the Carter Center since 1994 to eradicate Guinea worm disease, which dropped from 100,000 cases to a low of 13 cases in 2022. Now that's sexy.
$45 for a two-pack at Amazon
Adventurist Backpack Co. Sidekick crossbody bag
This well-made polyester unisex bag (with vegan leather trim) comes in six vivid colors, with a sturdy adjustable strap and a design that holds all the necessities without too much weight or bulk. It also features a zipper flap that protects against prying fingers when you're traveling. Husband-and-wife team Kelly Belknap and Matilda Sandström created Adventurist Backpack Co. to provide "minimalist backpacks with a cause." For every bag sold, the company provides 25 meals to needy families through Feeding America, more than 100,000 meals since the company launched in 2017. And it's doing it with style.
$39 at Adventurist Backpack Co.
Love Your Melon cotton beanies
Love Your Melon is on a quest to improve the lives of pediatric cancer patients and their families by donating 50% of its net profits to research, supporting programs at some 200 hospitals around the U.S., with a pledge to give a beanie to every child battling cancer. So far, it has donated nearly $10 million and more than 254,000 hats. Do your part by buying one of the brand's super-soft beanies made from 99% cotton, 1% Lycra. The hats are thick and warm without the scratchiness that plagues non-cotton beanies. They come in a variety of styles, from cuffed to double pom-pommed (in honor of Mickey and Minnie Mouse). Whatever you choose come the cool times, somebody's melon is going to love these good-looking beanies.
From $35 at Love Your Melon
Converse Custom Chuck Taylor All Star Pride by You sneakers
Converse's Chuck Taylor sneakers have always had cachet, from high-tops and low-tops to today's thick platforms and high heels, but my favs right now are the brand's All Star Pride collection. Many of the special designs have already sold out, but there's still plenty of chances to customize your own high-tops or low-tops — from laces to tongue, sides to soles. You can also customize platform Chucks for an extra $10. Converse has donated nearly $2.5 million in grants and pledges to local national and international programs supporting LGBTQ+ youth since it launched its Pride Found Family campaign in 2015 with designs created by its LGBTQIA+ employees. So create a pair of colorful Chucks for someone on your list (or buy them a chance to design them themselves). Important note: The shoes run large, so order a half size down.
$85 at Converse
Bombas Gripper Slippers
Bombas wasn't kidding around when it made its Gripper Slippers. Don't expect to go sliding or even shuffling with these cozy slippers on your feet. The foot bed is slightly cushioned, so you get a little support. The exterior is made of tough acrylic fibers, but the interior is lined with brushed merino wool, so the slippers feel soft and toasty warm even on cool tile floors. They come in a variety of fun colors (for men, women and children) and have their own little drawstring bag for easy packing. Bombas makes a multitude of high-quality socks too, and the brand still donates one pair of socks, underwear or T-shirt for every item purchased to organizations that provide services to unhoused people and others in need — more than 100 million new clothing items since 2013.
$45 at Bombas
Williams Sonoma Trevor Project Rainbow Stripe Towels
Kitchen towels are no laughing matter. They must be a thick absorbent cotton but never terry. They should be good-sized, long enough to hang easily over your shoulder or wrap around a hot dish coming out of the oven. They should hold up to repeated washings and they should be as beautiful as they are sturdy. Williams Sonoma's rainbow stripe towels, made from 100% Turkish cotton, definitely fit the bill. They're colorfully cheerful without being loud and come in a package of four, each with its own hanging loop. Williams Sonoma donates 50% of the purchase price to the Trevor Project, the world's largest provider of crisis intervention and suicide prevention services for LGBTQ+ young people. Buy a couple of packages and fill everyone's stocking with a useful rainbow.
$24.95 at Williams Sonoma
Sackcloth & Ashes Kids Pastel blanket
Bob Dalton was inspired to start his business, Sackcloth & Ashes, after his college-educated mother became homeless. In his quest to understand homelessness, he called shelters to find out their biggest need, and they all replied, "Blankets," Dalton said on his podcast, "Love Your City." So in 2014, he began making blankets from recycled clothing and remnants, with the goal of donating a blanket to a shelter with every blanket he sold. By 2018, he established a goal to Blanket America by giving away a million blankets. (It's a goal he expects to reach by 2024.) The Kids Pastel blanket is a super-soft and cuddly 48-inch-by-38-inch fringed blanket, a pint-sized version of the 72-inch-by-60-inch adult-sized blankets that come in a myriad of cozy colors and patterns for $120.
$65 at Sackcloth & Ashes
The Los Angeles Times Community Fund builds vital service programs and initiatives within The Times and Greater L.A. Tax-deductible donations support literacy programs, local charities and more. Donate now.
UNICEF Market handcrafted sterling silver onyx drop earrings
These handmade Midnight Spell earrings are both beautiful and unique, one of several designs created by an Indonesian accountant, civil servant and silver artisan named Wirabhuwana, who oversees a family jewelry-making workshop in a home in Bali. Wirabhuwana sells through UNICEF Market, which provides money directly to the artisans, who ship directly to buyers from their workshops. (Expect shipping times of two to three weeks.) Your purchase also supports UNICEF's international mission to "advocate for the protection of children's rights, to help meet their basic needs and to expand their opportunities to reach their full potential." The store also sells clothing, accessories and a variety of purses and bags as well as UNICEF's long-famous variety of distinctive holiday greeting cards.
$39.99 at UNICEF Market
Patagonia Better Sweater Vest
Activism and giving back have been part of Patagonia's business model since 1985, when it pledged 1% of its sales to the "preservation and restoration of the natural environment." The company says that's amounted to more than $140 million in cash and in-kind donations fueled by eager fans of the Ventura-based company's iconic — and pricy — outdoors gear. This handsome sweater vest is a good lightweight layer to wear at home and to keep you warm on chilly days without the need to turn up the thermostat. Before you buy new, however, check out Patagonia's Worn Wear site, where used gear in good to excellent condition is sold at a fraction of the price. That's how I got my used (but seemingly new) Better Sweater Vest for $60. It's worth a look, especially for the thrift store fans on your list who appreciate good quality with a patina.
$119 at Patagonia
Saffron Rose (Rosa hemisphaerica) art print
Sometimes a gift comes along that's absolutely perfect, especially for fans of the Huntington Library, Art Museum, and Botanical Gardens' famous rose garden in San Marino. The Huntington Store is chock-a-block with beautiful, unusual gifts, but you can support a rose lover and the beloved institution by buying its exclusive prints of the exquisite rose watercolors in its collection. They are prints of works painted by 18th-century Belgian botanist and artist Pierre Joseph Redouté, the official court artist of Marie Antoinette. You can buy these 11-inch-by-14-inch prints at the store or online. All of the store's net proceeds support the Huntington's many exhibits and programs. You or your gift recipient may have seen all four prints hanging in the Huntington's Rose Garden Tea Room, which reopened this spring, but my favorite is the Saffron Rose, so perfectly rendered it looks like a petal will gently drop at any moment. Maybe best of all, these prints are so reasonably priced, you might be able to get them framed too.
$25-$85 (depending on size) at the Huntington Store
Prices and availability of items in the Gift Guide are subject to change.
More gift guides
Get our L.A. Goes Out newsletter, with the week's best events, to help you explore and experience our city.
You may occasionally receive promotional content from the Los Angeles Times.