Sitting down with three generations of Missoni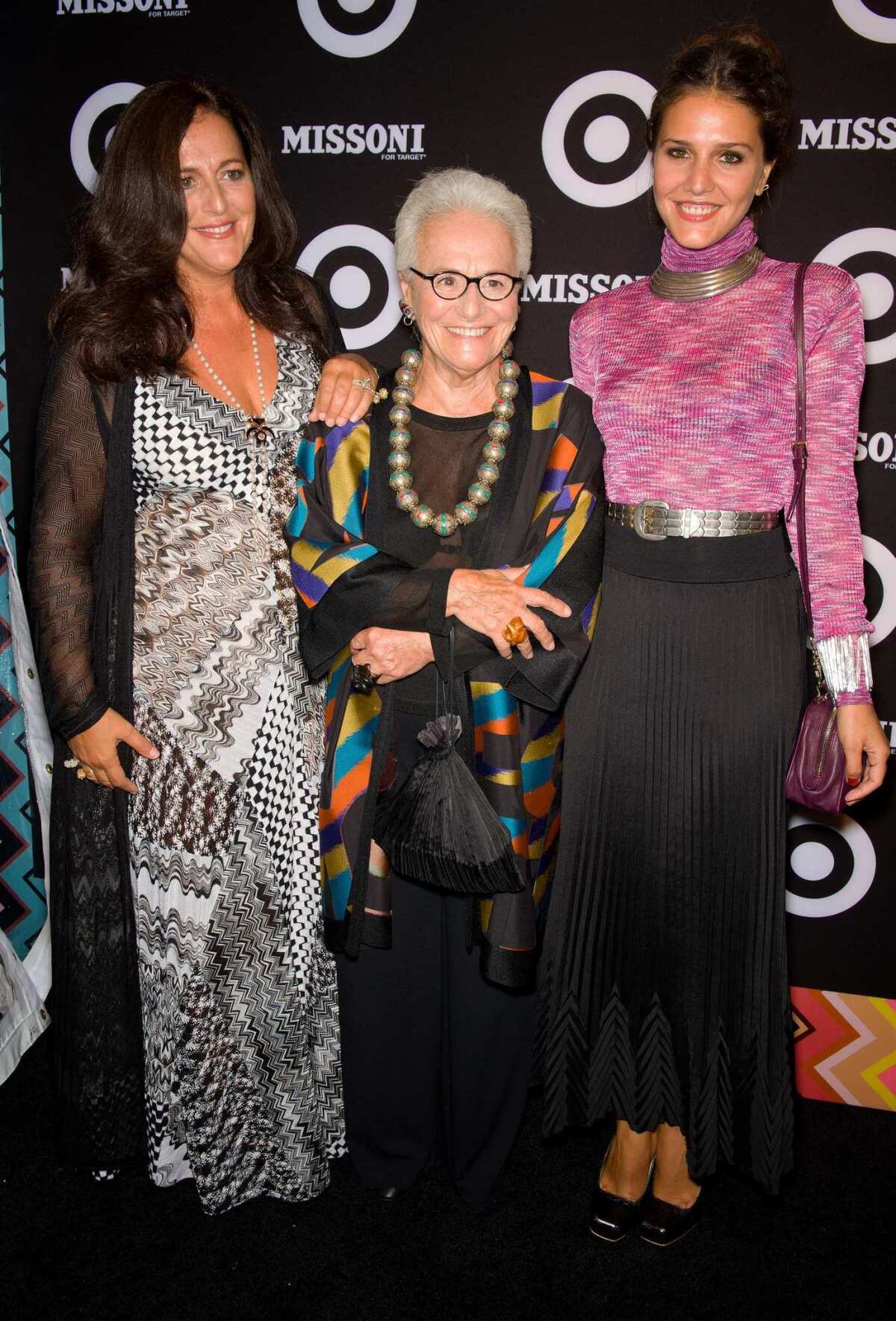 Los Angeles Times Fashion Critic
Missoni is having a moment.
Last month, the Italian luxury label's Missoni for Target collaboration was so hotly sought after that it caused the retailer's website to crash. EBay was flooded with resales of the stuff — some 21,000 items at one point — at inflated prices, including a pair of boots a Tulsa, Okla., woman posted for $31,000, in hopes, she wrote in the auction listing, of funding her daughter's college tuition.
Orders for the Missoni spring 2012 ready-to-wear line got a post-frenzy boost, and the company is pondering a mid-priced line. Copycat zigzags are turning up on everything from scarves to sweater dresses.
Last Sunday, three generations of Missonis gathered in Beverly Hills to accept the Rodeo Drive Walk of Style Award — the first fashion house to be honored as an entire family.
Could it be that Missoni is on its way to becoming a household name?
Before the ceremony, the family gathered to talk about the business at Mr. C in Beverly Hills. But what was supposed to be a small gathering turned into a full-blown family reunion, with wine flowing and three generations speaking in English and Italian — often at the same time.
There was outspoken patriarch Ottavio "Tai" Missoni, 90, who recently won a gold medal in a track and field event for nonagenarian athletes. He and wife Rosita founded the company nearly 60 years ago, after meeting at the 1948 London Olympics, by combining resources from her family's shawl-making business and his sports and lounge wear startup. On this day, he was wearing a soft, pilly sweater vest that looked like it could be an antique but was actually from the fall collection.
Seated across from him was Rosita, 80, who stepped down from designing clothing in 1997 and now oversees Missoni Home. She was garbed in clashing Missoni patterns and giant plastic sailboat earrings, with a skinny braid dangling down from the back of her otherwise short coif. She was still wearing a sticker from the Los Angeles County Museum of Art, where she had viewed the Tim Burton exhibition earlier in the day.
Next to Ottavio was daughter Angela, 52, creative director of the brand, who exuded a hint of 1960s artistic flower child in a crochet skirt, in contrast with her brothers Vittorio, 57, and Luca, 55, who run the business. (Luca was in a Missoni baseball cap, and Vittorio wore a toned-down sweater.)
Across the table from Angela was her daughter, Margherita Missoni, 28, who starred in the Target ad campaign, collaborated on the collection with her mother and is quickly emerging as the next-generation face of the brand.
Dressed in cutoff jeans shorts and a 1970s vintage jersey Missoni top scored on EBay, Margherita appeared to be a free spirit like her mom, recounting tales of trips to the Burning Man festival and looking at photos of her race-car driver boyfriend in an Italian newspaper. She once had aspirations to be an actress but gave them up to join the family business, where she heads up accessory design and collaborations (including recent projects with Havaianas and Converse).
Over the course of the three-hour lunch, the Missonis interacted in a manner that conforms to an idyllic picture of familial harmony. (They often use family portraits as part of their advertising campaigns.) They held forth on many topics — the label's history, the origin of those trademark zigzag patterns that are the brand's under-the-radar logo, the dynamics of a family business — but often returned to the Target deal and the new opportunities it is creating.
"Honestly, we didn't expect it," Angela Missoni said of the Sept. 13 frenzy. "I kept getting calls from friends all over America saying, 'Do you know what's happening here? There are lines outside the store. The shelves are empty!'"
The Missoni for Target collection was the discount retailer's biggest high-low collaboration to date, with 400 pieces, including a $4.99 martini glass, $49.99 cardigan sweater, $399.99 bike and $599.99 patio set — all in Missoni's graphic patterns, and all significantly less expensive than Missoni's main line, which sells at Neiman Marcus and other high-end department stores at $1,000 or more for a dress.
Target first came calling five years ago. "But I wasn't sure they were ready," Angela said. "Then, after what they did with Liberty of London, I saw it was working very well. And we were attracted to what they could bring to the awareness of the label."
Colleen Sherin, senior fashion director for Saks Fifth Avenue, characterized the collaboration with Target as "brilliant." (Saks carries the runway and lower-priced M Missoni collections.) "I don't think anyone realized how incredibly successful it would be," Sherin said in an email. "It was very smart in terms of developing further brand awareness across the country and bringing iconic Missoni designs to a broader audience."
Founded as a small knitwear label in 1953, Missoni gained prominence in the fashion world in the late 1960s and early 1970s for using knitwear as a canvas for kaleidoscopic flame, zigzag and space dye designs, and fashioning a new kind of informal, soft wardrobe.
It has since grown into an international lifestyle brand with 40 stand-alone boutiques (including the one on Rodeo Drive) selling women's and men's ready-to-wear, and a number of licensed divisions, including M Missoni, eyewear and fragrance. (The women's runway collections have been more conceptual over the last couple of years, sometimes dividing critics. But the fall 2011 collection in stores now — with its cozy crocheted sweaters, some trimmed in marabou feathers, and maxi skirts in cotton candy colors — was well received.) Missoni has opened its first hotels in Edinburgh, Scotland and Kuwait, and three more are planned for Oman, Brazil and Turkey.
Nonetheless, in many ways it has been a niche brand in the United States — until now. In the online coverage of the Target deal, Angela remembered one commentator posting: "Am I the only one who doesn't know Missoni?"
Missoni is privately held. In 2010, the company had annual sales of about $45 million. (In 2010, Italian luxury brand Prada had $2.75 billion in annual sales, including the Prada, Miu Miu, Church's and Car Shoe labels.)
Some industry watchers estimate the collaboration with Target was worth as much as $100 million in advertising for Missoni. And the family is already feeling the halo effect, with orders for the spring 2012 women's ready-to-wear line increasing 10% over last season, Margherita said. The family said they are hoping to continue to leverage the success by launching their own more affordable line.
"We can't waste too much time," Margherita said. "We have a lot of options because everyone is interested, but it has to be something that touches different categories.... The fact that you can put a zigzag on anything was part of the success at Target. People who wouldn't wear a top would have a glass or a blanket."
The new line probably wouldn't be priced as low as Missoni for Target, she said, and probably would be international. "Maybe it's a partnership with Macy's in the U.S. and someone else in Europe."
Margherita gives the impression that she is growing into her role, just as her mother did when she took the reins from her parents at age 31. The first time the two worked together was on the Target line. And generally, Angela seems to be in awe of what Margherita can accomplish.
"She entered the business with such gentleness," Angela said. "I am proud."
When family friend Quincy Jones presented the Walk of Style Award to what he dubbed the "Sumirago posse" — a reference to the family's hometown about an hour northwest of Milan, Italy — he said the colors and patterns of Missoni designs "are like the notes of a beautiful love song."
Soon, we'll see how the next generation carries the tune.