Yves Saint Laurent reinvented the clothing we live in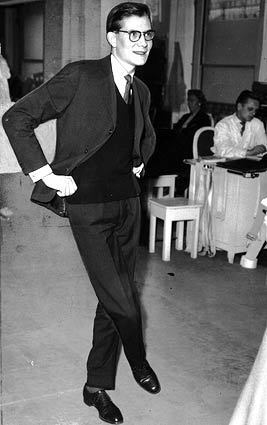 Yves Saint Laurent studies a creation in the Dior workroom in March 1958. When his mentor, Christian Dior, died suddenly the year before, Saint Laurent replaced him as chief designer.
(World Wide Photo)
Saint Laurent in Paris in November 1957. As often as he was declared a fashion genius, he was described as a tormented man who struggled with clinical depression, alcoholism and drug addiction.
(Agence France-Presse)
The designer and models after a show in February 1963. As one writer put it, Saint Laurent's fashion was "the antithesis of the haute couture school with its premise of buttressing and correcting the woman's silhouette."
(Agence France-Presse)
Saint Laurent poses with models after the presentation of his spring collection in Paris in February 1964. His dismissal from Dior had helped him launch his own company.
(Michel Lipchitz / Associated Press)
Two of Saint Laurent's muses, Betty Catroux, left, and Loulou de la Falaise, flank the designer outside his London boutique in 1969.
(Associated Press)
Pierre Berge, Saint Laurent's business partner and onetime lover, welcomes the designer and the actress Catherine Deneuve at a 1992 event in Paris. Saint Laurent "was born with a nervous breakdown," Berge once said.
(Pierre Guillaud / Agence France-Presse)
Saint Laurent waves to a Paris audience in October 1993 after the presentation of his 1994 spring and summer ready-to-wear collection.
(Remy de la Mauviniere / Associated Press)
Though famously shy, Saint Laurent was also savvy when it came to generating publicity.
(Thomas Iannaccone / For The Times)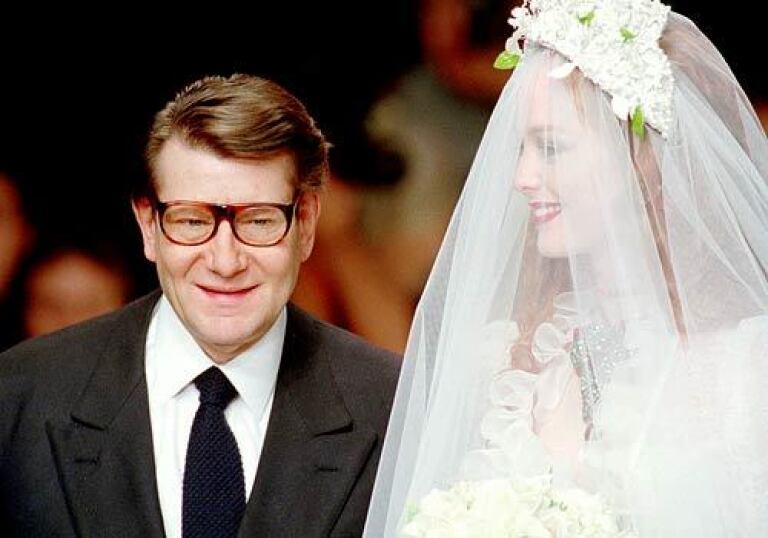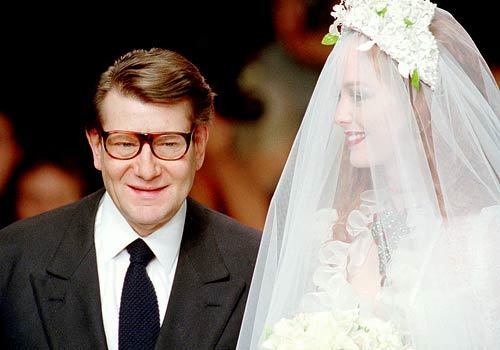 The designer, with a model in bridal attire, acknowledges the audience at the end of a fashion show in March 1995.
(Lionel Cironneau / Associated Press)
Saint Laurent arrives in June 1999 at the 18th annual American Fashion Awards in New York, where he was honored for lifetime achievement.
(Stan Honda / Agence France-Presse)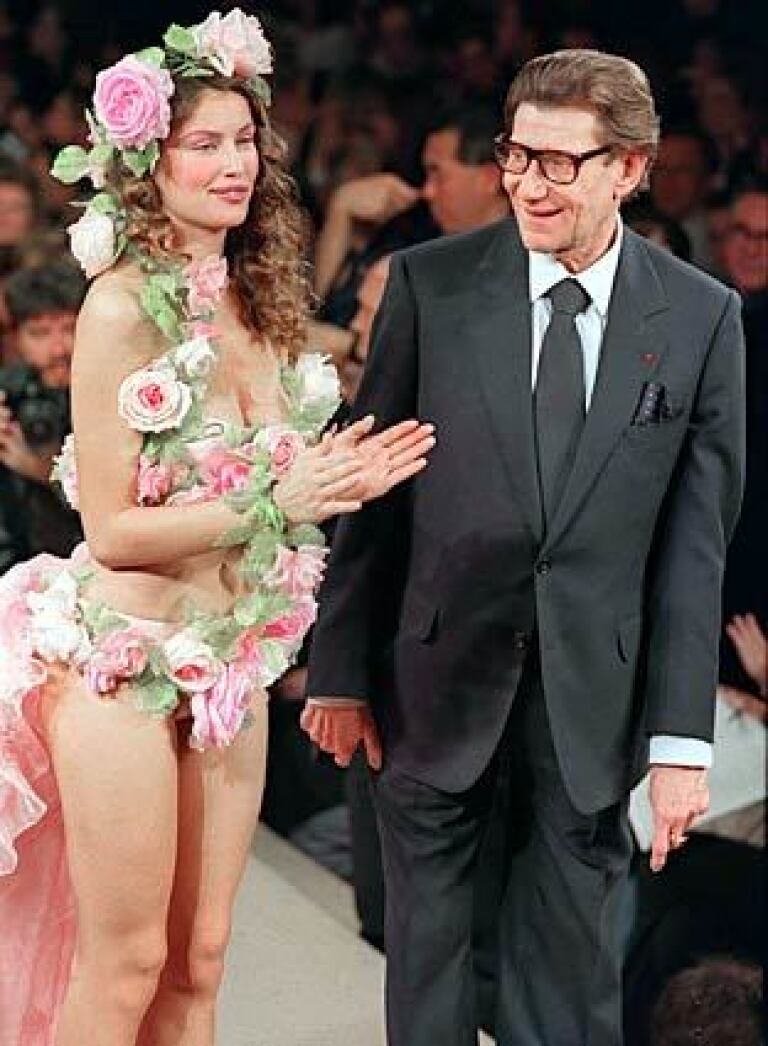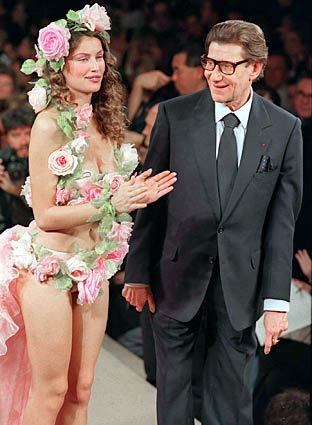 Model Laetitia Casta with the designer at the end of his spring and summer show in Paris in January 1999.
(Frederick Florin / Agence France-Presse)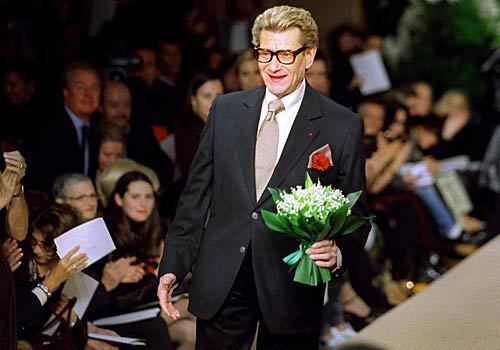 Saint Laurent brings flowers to a model at the end of a 2001 show.
(Jean-Pierre Muller / Agence France-Presse)
Saint Laurent with model Laetitia Casta, left, and actress Catherine Deneuve at the Georges Pompidou Center in Paris, where the designer staged a retrospective of his work soon after announcing his retirement in 2002.
(Jean-Pierre Muller / Agence France-Presse)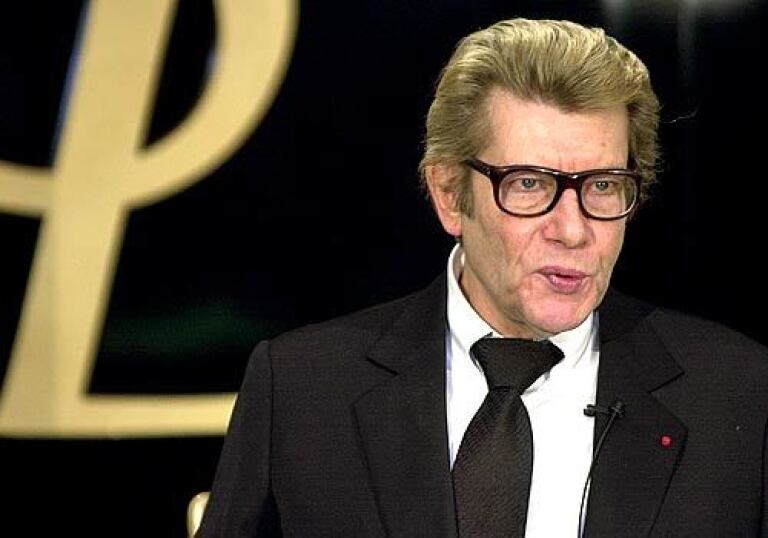 Yves Saint Laurent announcing his retirement in January 2002. "In many ways, I feel that I have created the wardrobe of the contemporary woman," he said in his speech.
(Remy de la Mauviniere / Associated Press)
Times Fashion Critic
In this era of insert-name-here celebrity clothing lines, it's easy to forget that fashion was once a medium for change. In this respect, Yves Saint Laurent, who died at his home in Paris on Sunday after a long illness, was a revolutionary. There is virtually nothing about the way we dress or the way we shop now that was not a result of his 44-year career.
He created the wardrobe of the modern woman (the pea coat, the pants suit, the peasant blouse), opened our eyes to ethnic beauty and global style, and set us on a course toward the democratization of fashion, even as he elevated the rarefied haute couture to "the rank of art," as French President Nicolas Sarkozy said Monday.
Saint Laurent's dramatic collections set the stage for the runway extravaganzas we see today, and his themes (safari, bohemian, ballet) set fashion codes that continue to be copied on the racks and the street. It was he who laid the groundwork for this spring's clothing-as-canvas trend, which has even trickled down to the Gap, when he married fine art and fashion with his famous 1965 Mondrian shift dress.
"Yves not only had great intuition about fashion but was also a great businessman," said Tom Ford, who designed the YSL ready-to-wear line from 2000 to 2004. He "pioneered the structure of the contemporary fashion house when they introduced ready-to-wear and licensed products. Contrary to the image that Yves created about himself, I always found him to be very quick when it came to business and to have a kind of intuitive compass that always led him in the right direction."
From Saint Laurent's first collection, presented for the house of Dior in 1958, the Algerian-born designer reinvented the clothing we live in. His trapeze dresses became instant classics, firmly establishing Paris as the center of the fashion universe for the second half of the 20th century.
He launched his own label in 1962. Just as women were starting to enter the workplace, he gave them the clothes to compete on a level playing field. If it were not for Saint Laurent, who sent pants down the runway in 1962 and again in 1966 as part of Le Smoking (the female version of the tuxedo), Giorgio Armani might not have an empire and Hillary Rodham Clinton might not have a uniform.
"He gave women the power to be themselves through clothing," said Diane Charbonneau, co-curator of "Yves Saint Laurent," a retrospective that runs through Sept. 28 at the Montreal Museum of Fine Arts, before moving to the de Young Museum in San Francisco in November.
"YSL followed the liberation of women," the designer's longtime personal and business partner Pierre Bergé told reporters in Paris on Monday. "I'm not saying he invented it, but he played a part in it." It was nothing short of a miracle for someone who suffered from emotional problems throughout his life, along with drug and alcohol abuse.
Saint Laurent even paved the way for today's cheap-chic titans -- H&M, Zara, Target -- and the overall democratization of fashion, when he launched his Rive Gauche collection in 1966. These lower-priced interpretations of his couture pieces were aimed at younger customers and sold out of his Left Bank store. "Today, fashion is part of life," Charbonneau said. "But before it was for the elite."
While many runway collections now exist to create an image that sells cosmetics, fragrances and accessories -- the bulk of today's designer business -- Saint Laurent's collections were full of clothes that were meant to be worn. He designed timeless pieces such as the safari jacket, anticipating that women would not want to overhaul their wardrobes from season to season.
"He was avant-garde in that thinking and almost counterproductive to his business as a couturier," says Doris Raymond, owner of Los Angeles vintage store The Way We Wore. "He had that mindfulness of not being wasteful."
He always looked to youth culture and the street, something that has become a hallmark of today's designers, including Marc Jacobs and John Galliano. Saint Laurent was influenced by beatniks and hippies. He caused a stir in 1971, at the height of the Vietnam War, when he showed camouflage on the runway, a motif we see now on everything from baby cargo pants to Manolo Blahnik pumps. He was also the first to show transparent blouses in 1968 -- for better or worse.
He took inspiration from all parts of the globe, turning ethnic dress into haute couture, and spending much of his time in his house in Marrakech. The boho chic that is a staple on the runways, at the mall and in our closets, can be traced directly to Saint Laurent's 1976 Russian collection. "It brought an ethnic luxe spirit to fashion," says Cameron Silver, the owner of L.A. vintage boutique Decades.
Saint Laurent was one of the first to put black models on his runway. The model known as Mounia, Saint Laurent's protégé and one of the first black supermodels, said on French radio on Monday, "He made me proud of my color."
Gucci brought the YSL brand in 1999, a year after Saint Laurent stopped designing the Rive Gauche collection. Ford designed the ready-to-wear line from 2000 to 2004, despite a deafening lack of endorsement from Saint Laurent. It is now designed by Stefano Pilati.
Saint Laurent retired from haute couture in 2002 with these words: "I have nothing in common with this new world of fashion."
How wrong he was.
Times staff writer Achrene Sicakyuz contributed to this report.
---