'Zoolander 2' borrows some of the fashion world's tricks to build buzz
No greater symbol of the fashion establishment exists than Vogue magazine. So what was Ben Stiller's Derek Zoolander doing on the cover of the February issue?
When "Zoolander 2" hits theaters on Friday, it will have pulled off a trick nearly as nifty as staring down a throwing star mid-air. The film not only mines the absurdity and narcissism of the fashion world, it uses some of the biggest designers and brands in the business to get its laughs.
See more of Entertainment's top stories on Facebook >>
It's also borrowed a page (or several) from the fashion flock's marketing and buzz-building playbook, using Instagram, Twitter, that Vogue cover and even a surprise appearance on a Paris runway to generate hype.
The result is a line blurring between comedy and commerce that perfectly reflects how interest in high fashion has moved from insular to mainstream.
"Zoolander 2's" deep bench of designer cameos includes Marc Jacobs, Tommy Hilfiger, Alexander Wang and Valentino (we won't spoil a plot point but rest assured it goes way beyond the step-and-repeat sound bites of the first film). Fifteen years ago these designers might have walked through Times Square unrecognized, but when Will Ferrell's villianous Mugatu calls them out by name in "Zoolander 2" it seems superfluous.
"The first time around no one really knew what we were doing," director, co-writer and co-star Ben Stiller told the Times via e-mail. "Over the years the fashion world has sort of embraced Derek and the movie. So for us it was really exciting to be able to take the movie to another place in terms of Derek and Mugatu and Hansel interacting with real fashion icons. It sort of felt like a continuation of the Valentino show appearance when we announced the movie."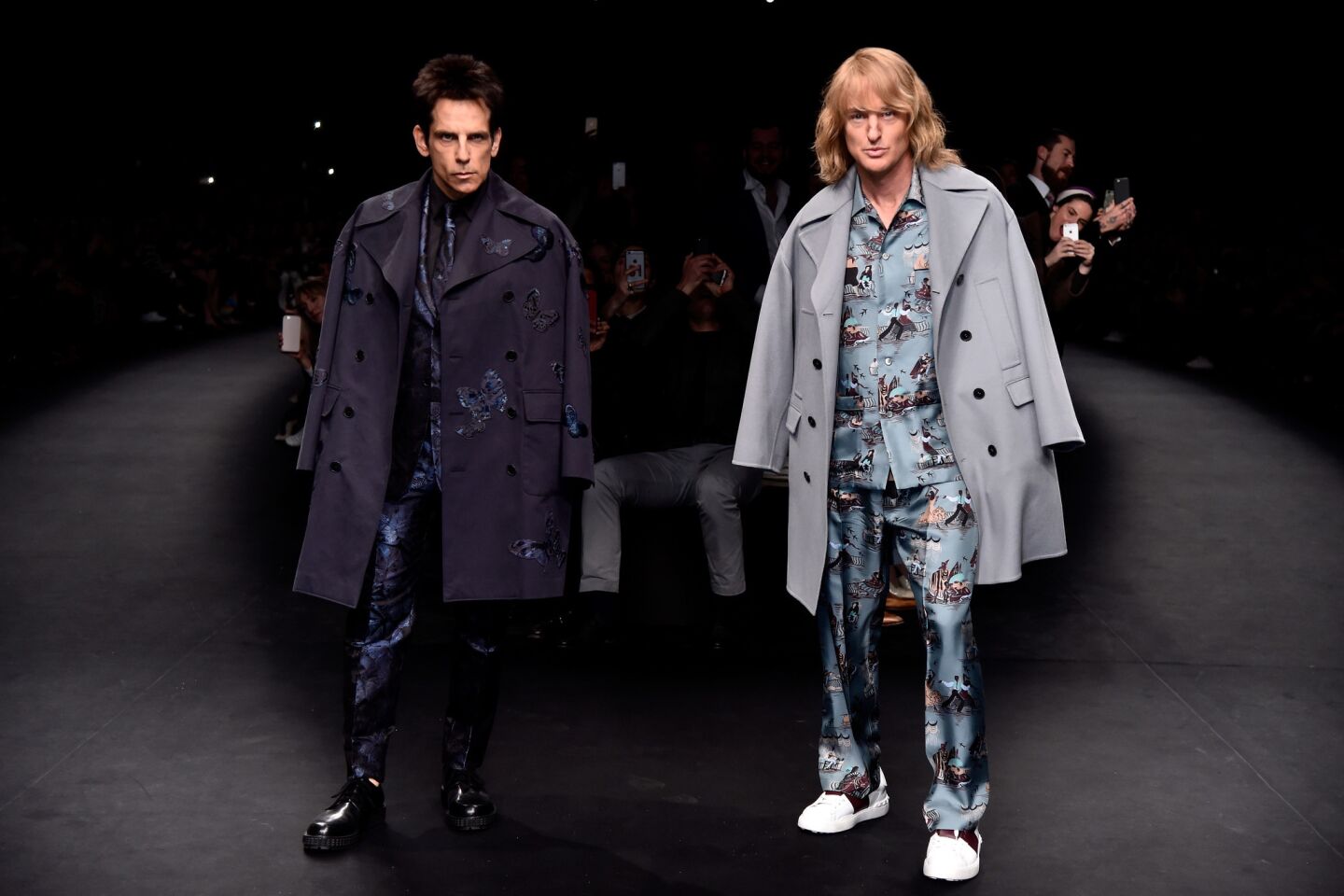 Derek Zoolander (Ben Stiller), left, and Hansel (Owen Wilson) on the Valentino runway during Paris Fashion Week in March 2015.
(Pascal Le Segretain / Getty Images )
The Valentino show was the Italian luxury label's Fall/Winter 2015-2016 women's ready-to-wear runway show in Paris, at the end of which, Stiller and Owen Wilson hit the runway in full Derek Zoolander and Hansel mode. (Stiller, as the Italian luxury brand helpfully pointed out afterward, was in a custom Valentino Night Butterflies brocade suit and hand-embroidered overcoat, while Wilson was in a silk print pajama suit and double cashmere overcoat, all from the men's Spring/Summer 2015 collection.)
The crowd went wild, Tweets were posted, blog posts were filed and the world was effectively put on notice that the long-gestating sequel was really going to happen.
Blurring the fiction, reality and marketing lines even further, it turns out that Stiller's spontaneous-looking grab of a front-row cellphone belonging to French Vine star Jerome Jarre was carefully choreographed ahead of time. The resulting selfie strut Vine has been looped more than 33 million times since it was posted last March. (According to a Paramount representative, a similar-looking scene in the movie was filmed separately.)
In the run-up to the film's release, Team Zoolander took an even deeper dive into the corners of social media inhabited by the style-loving crowd; the film's upstart hipster designer Don Atari (Kyle Mooney) can be found hyping a non-existent collection of hand-embroidered $670 knit beanies to the 15,000-plus followers of the donatari_69 Instagram account (with realistic touches that include NSFW language and intentional misspellings). Over at the Instagram feed @zoolander, 978,000 followers are updated on Stiller as Derek Zoolander's every move from in-character TV appearances ("Backstage at #SNL with Hansel. Thank you Lorne and Larry and Colonel Bernie Sanders!" read a recent post) to posing with Wilson/Hansel as live a mannequin in the windows of a Valentino boutique in Rome, to a three-hour faux-relationship in front of the Eiffel Tower with real-life model Cara Delevingne.
Another of the film's fictional designers, Alexanya Atoz (Kristen Wiig), has a website showcasing her House of Atoz label. It features over-the-top fashion photographs (in one, a model wears a scarlet-colored cauliflower on her head, another depicts a model in a cat mask holding a fish in her mouth) and a YouTube clip of Wiig's character gibberishing her way through a pitch-perfect parody of a skin cream commercial.
Speaking of commercials, Stiller as Zoolander can be seen in (real) Fiat commercials here in the U.S. as well as fake ads for a "Zoolander No. 2" perfume that riffs on the Chanel No. 5 bottle and typeface. (Zoolander reportedly also strikes his most famous pose in a Mario Testino photographed print campaign for a limited-edition Blue Steel Ciroc Vodka available in Europe.)
But perhaps the ultimate symbol of "Zoolander 2's" acceptance into fashion's inner circle — not to mention an unparalleled marketing coup — came with Vogue's February issue. The cover featured Stiller striking his best Zoolander pose (in a bold, Dolce & Gabbana suit with an allover bird print) alongside co-star Penelope Cruz. Inside, the story and accompanying Annie Leibovitz photographs fill 13 pages — 14 counting Anna Wintour's editor's letter about reprising her cameo (she appeared briefly in the original) in the sequel.
Even though Vogue played no small part in getting the first film made — key scenes were filmed during commercial breaks at the 2000 VH1 / Vogue Fashion Awards — newspapers and magazines around the globe have been trumpeting the news of Zoolander's first-ever Vogue cover nearly continuously since the magazine made the announcement back on January 15.
This kind of full embrace by industry insiders has a clear upside says Paul Dergarabedian, senior media analyst for the box-office tracking firm comScore, who compared "Zoolander 2" to another recent cameo-laden flick.
"It's similar to 'Entourage,'" Degarabedian said, "where there were a lot of very high-profile media stars, actors and sports stars involved. Everyone wanted to be part of it."
Having so many big-named designers on board — not to mention on-screen — results in a kind of validation, he explained. "Fans and followers of the brands on social media are going to say: 'Hey, if Valentino is cool with Zoolander, I'm cool with Zoolander.'"
In one final, over-the-top line-blurring exercise, Stiller, Wilson, Cruz and Ferrell hit the red carpet as their "Zoolander 2" alter-egos at the movie's Feb. 9 New York City premiere — which happened to be just two days before the kickoff of New York Fashion Week. Photos from the red carpet were duly — and almost immediately — posted to the @Zoolander Instagram account.
The big question, of course, is whether or not the enthusiastic social media marketing campaign will bring audiences to the multiplex. "Entourage," for example, was a box-office disappointment. And "Anchorman 2," which had a highly praised viral marketing campaign, with Will Ferrell as Ron Burgundy even posing in a Jockey underwear ad, had an underwhelming opening weekend.
Dergarabedian, however, says "Zoolander 2" "should do quite well this weekend."
But it is up against another film with some of the same viral moves. "Right now there's kind of a battle of the social media campaigns, with 'Zoolander 2' vs. 'Deadpool,'" Dergarabedian says. "Ryan Reynolds has been out there posting lots of photos and comments and trying to get that potential audience revv'd up for this weekend. But timing couldn't be better for 'Zoolander 2' in terms of social media dovetailing perfectly with the fashion world and what that brings to bear. These fictional characters almost seem real the way they're being melded into the fashion world."
At one time, Degarabedian says, he believed that no outside force — short of a hurricane — could affect box office receipts. "But," he says, "in the world of social media there seems to be a very direct correlation between massive conversations on social media and increased box office. .. It has really taken a few years to crack the code on how to effectively utilize social media for a movie and I think 'Zoolander 2' is a great example. I think it can have a huge impact."