Neo 80, a Melrose fashion rock star in the '80s, pops up in Joshua Tree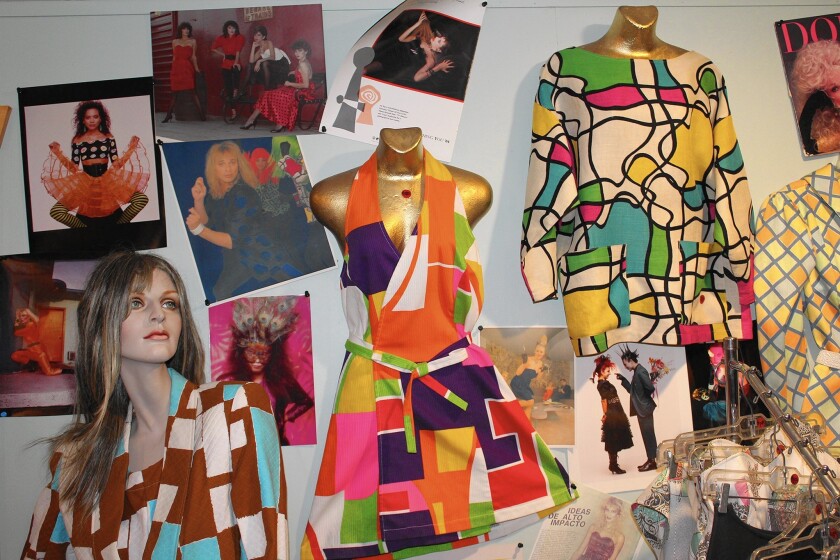 The '80s revival is alive and well in Joshua Tree at Taylor Junction gallery, where everything Neo is new.
Popping up among the yucca and cholla is Neo 80, a reincarnation of the iconic Melrose Avenue boutique where proprietor-designers Klaus Wille and Lisa Elliot created signature looks for rock, pop and video performers through much of the 1980s and '90s.Wille and Elliot, a married couple, put their arty party style stamp on acts such as the Tubes, Devo, Prince, Olivia Newton-John, DeBarge and anyone else adventurous enough to wear their designs.
The pair closed the shop on Melrose 18 years ago after as many years there setting trends and selling their wares. Wille and Elliot were pioneers along that now-famous strip of retail establishments, going gaga long before there was a Gaga with sparkly, shimmering stage apparel designed to the nines.
At Taylor Junction, Wille and gallery owners Terry Taylor-Castillo and Rolo Castillo have mounted a forward-thinking look back at the designers' work and influences. It relates to our fascination with all things '80s, and while the emphasis is on the past, the clothes feel very much a part of the present. Elliot, who died in 2009, would be pleased to see her legacy blooming like a desert rose, says Wille.
The pop-up is scheduled to remain until Aug. 2. It kicked off the evening of July 11 with an opening that felt like a gallery show — except people were trying on the art.
"My wife and I were having fun," Wille said at the opening, resplendent in a graphic shirt that combined op-art and bowling aesthetics. "We blew everyone away just having fun."
The apparel and accessories on display are Fun with a capital F. And they're not just for show; they're also for sale. Most pieces are samples and were made in smaller sizes. Prices range from $48 to $340 for the designs, the majority of which are one-of-a-kind.
The show is part art installation, part off-the-rack retail. Mannequins sport outfits against displays of mementos, photographs and vintage advertisements. Items of apparel are racked for browsing. They include "Girls Just Wanna Have Fun"-era Cyndi Lauper thrift-store chic skirts and flower-power shifts designed for a Devo video.
Fishnet stockings are paired with Converse All Stars; macho military jackets with leopard print trim top ultra-feminine crinolines. Pleather and lace meet tulle. A dress fabricated from polypropylene webbing — photographed for a magazine cover aside a vintage aluminum chaise lounge woven with the same material — showcases the designers' sense of out-there style and playful inventiveness.
"Radiate love! That's what I'm all about," Wille said as he guided a visitor through the gallery. And radiant they are, the dresses of Lycra, gold lamé, stretch velour and other bright and shiny materials.
There are also examples aplenty of another revival that influenced the '80s, when all things '50s became objects of desire. Stylized black poodles romp across billowy pink gingham bib dresses, with skirts fashioned from enough material for a crinoline or two underneath.
Although they were designed in the '80s, the outfits wouldn't look out of place on any current habitué of hip places.
At the opening, Joshua Tree resident Don Lombardo put a lamé animal print jacket over a floral patterned shirt he wore to the event. "There's too much going on," Wille advised. At next glance Lombardo was in the jacket but this time sans shirt, looking like he should have been onstage with an '80s hair band. "Now that's better," said the designer approvingly.
Wille recalled a time when his famous stretch of L.A. shopping was making a name for itself, and says that then-Mayor Tom Bradley called him the "unofficial mayor of Melrose."
"He nailed me because I don't want anything 'official,'" Wille said. "I just want things to kind of happen." And that's just how the gallery show and pop-up happened.
It came about"very organically," Taylor-Castillo said. "My husband had known Klaus for a long time and we became reacquainted in the process of opening the gallery up here. We didn't have anything planned for July. And we had talked about wanting to do something like this for a while, so the timing just worked out perfectly."
Wille has resided in nearby Yucca Valley for 16 years. Now, he leads what he describes as the life of a "recluse." "I read a lot," he said. "A whole lot." Things have quieted down quite a bit for the vibrant 69-year-old since the heyday of Melrose. But the designs he created with Elliot still command attention, speaking loudly of an era when what you wore mattered more than what you didn't.
::
Neo 80 pop-up and exhibit
Where: Taylor Junction art gallery and artistic services, 61732 29 Palms Highway, Joshua Tree, Calif.
When: Daily 11 a.m. to 4 p.m. and by appointment. Through Aug. 2.
Info: (760) 974-9165
---