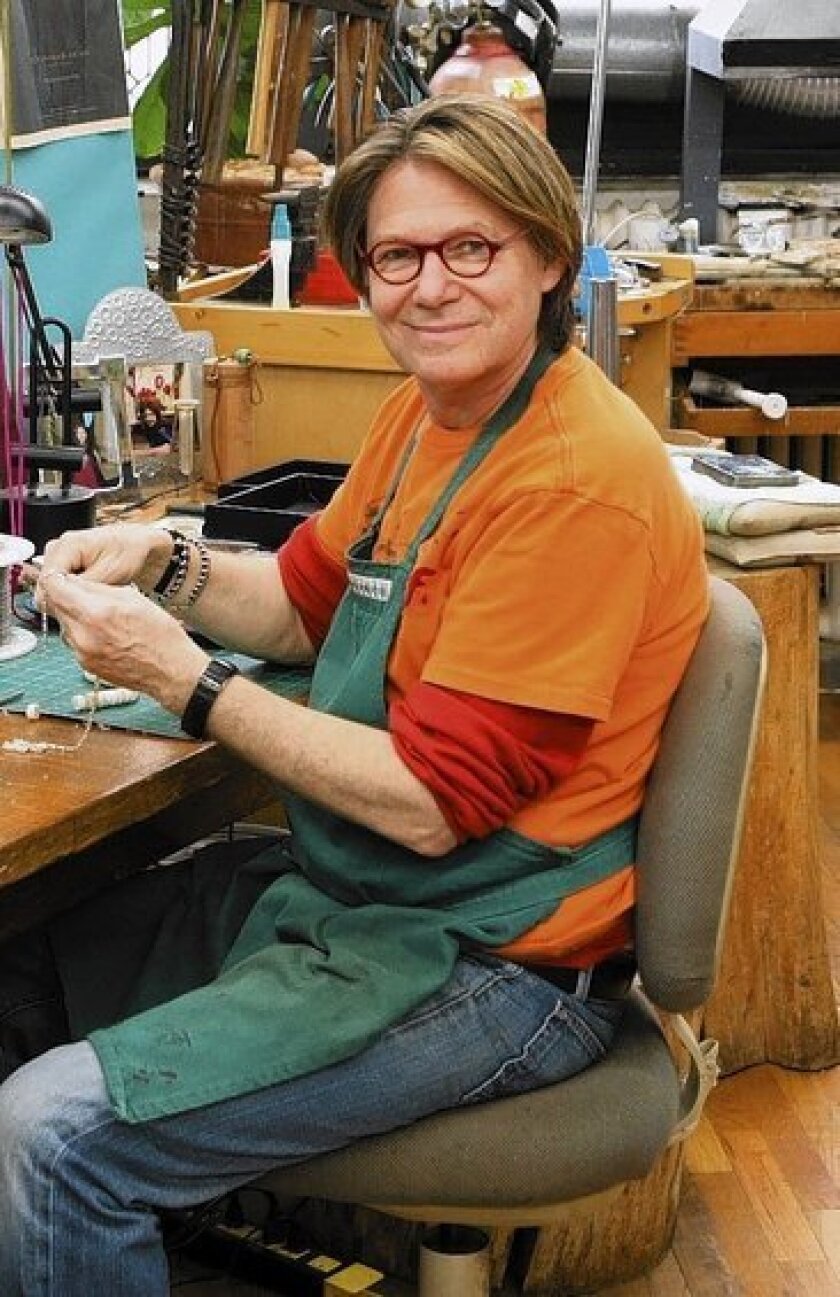 Before today's contemporary jewelry stars Alexis Bittar, Eddie Borgo and Aurélie Bidermann, there was Robert Lee Morris, who reinvented the category of fashion jewelry in the 1970s and '80s by creating wearable art in organic forms.
Growing up as a military brat, Morris soaked up culture everywhere his family moved, from Japan to Charleston, S.C. He spent his early adulthood living on a commune, making hammered silver and brass cuffs, breastplates and body armor, and eventually settled in Bellows Falls, Vt., where his work was discovered by an art dealer with plans to open Sculpture to Wear, a store for art jewelry in the Plaza Hotel in New York City. After that closed, in 1977 Morris opened his own jewelry gallery in New York called Artwear, which attracted a steady stream of celebrities, including Madonna, Cher, Bianca Jagger, Janet Jackson, Oprah Winfrey and more. The store was such a success that his modern urban warrior pieces became the power jewelry of the 1980s.
He collaborated on runway collections with fashion designers who included Calvin Klein, Geoffrey Beene, Michael Kors and, most notably, Donna Karan beginning in 1985. Her sensual black jersey bodysuits, sarongs and dresses were the perfect canvas for Morris' sculpted belt buckles, cuff bracelets and hoop earrings, just as Halston's jersey gowns had been for Elsa Peretti's jewelry in the 1970s.
In the 1990s and early 2000s, Morris made a foray into fine jewelry and started selling the RLM Collection on QVC. In 2007, he won the Council of Fashion Designers of America Geoffrey Beene Lifetime Achievement Award, and a year later he collaborated with Mary-Kate and Ashley Olsen on jewelry for their label Elizabeth and James. His company was acquired by Haskell Jewels in 2011, and now he has three lines selling his jewelry at prices from $20 to $1,250: RLM at QVC; Soho at Macy's, Bloomingdale's and Lord & Taylor; and Collection at high-end department and specialty stores, including Neiman Marcus and Jenni Kayne.
His aesthetic continues to resonate. Kate Moss wore a pair of his earrings in the August issue of Allure, and one of his warrior cuffs graced Madonna's wrist on the November cover of Harper's Bazaar.
I sat down with Morris, 66, when he visited L.A. recently to talk about his 45 years in the business, his inspiration and what's next.
In the beginning, I know you were inspired by nature, antiquities, myth and warriors.
My original idea was to create a body of work for an imaginary futuristic society that was post-apocalyptic and that the pieces would be a combination of savagery with high-tech gadgetry. Today, I'm probably in the exact same place, but I'm also thinking about what kind of jewelry people would wear who aren't from this planet. What would you wear on deck in a spaceship? What would you wear with your Mylar spacesuit? And seeing how all beauty is based on sacred geometry, I'm fascinated with taking jumbled, tribal pieces and finding the sacred geometry that's there. In a way, this leather cuff is a perfect example. The metal plate is based on a ram's horn. I took wax and pressed it on a ram's horn. The ram's horn itself is perfect sacred geometry. By taking a section of it and adding leather, it is exactly the "Mad Max" mentality I was after.
What's your work process like?
My studio is the opposite of clean. And when I walk in, I'm inspired by myself — trays upon trays of pieces, each one representing two or three ideas I was starting with or stumbling with. Then I have acres of archives, such as a wood bracelet from 1974 that was inspired by the artist Louise Nevelson, which is totally handmade and can't be put in production. That kind of piece still knocks the socks off the younger generation. As the world has changed, and the Internet has become so important, and social media so instant, many designers like the idea of pieces that can be easily reproduced, because they are likely to be hot for just one moment. But many of my archival pieces cannot be reproduced, which is fine with me. I don't care if it sells so long as it delights people and gets photographed and published somewhere.
How did you come to work with Mary-Kate and Ashley Olsen?
They were presenters at the CFDA Awards when I won, and were guided to my work to wear that night. They went crazy for my knuckle rings and cuffs, which led to our collaboration. It was great, because it opened up a new generation of young designers and stylists to my work. And the next thing I knew, everyone was wearing knuckle rings! But now they have their own jewelry designer working for them.
Do you still collaborate with Donna Karan?
Yes, we've become deep friends and she's tapped me to help with her Haitian activities involving teaching and training artisans so they can create products to sell all over the world. I've been asked to lead a course for metal workers, teaching them how to do the wax process, carving, soldering, instead of just sitting on the ground using a chisel and a hammer to pierce holes and design things. They do a beautiful job, but that's just crazy. We're trying to get them electric tools. That's part of my future direction, giving back and spreading inspiration more globally.
What else is next?
My goal is to continue to create a variety of commercial lines but at the same time always be making the museum-level pieces from which all else filters down.
---