Acne Studios' second SoCal store opens in West Hollywood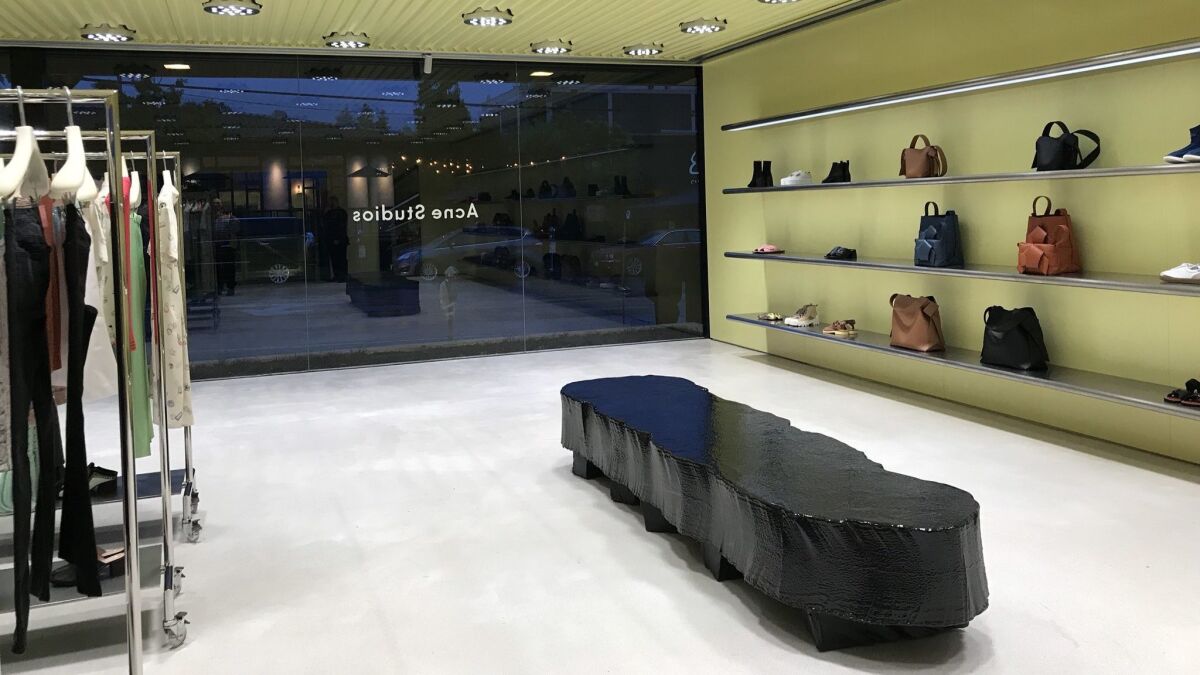 Stockholm-based fashion label Acne Studios, which opened its first Southern California store in downtown Los Angeles in 2013, has picked West Hollywood as home to L.A.-area door No. 2, a 2,690-square-foot flagship at Melrose Avenue and North Almont Drive.
The space is light and bright thanks to the floor-to-ceiling windows that make up the north and west walls of the store, the pale acid-yellow paint on the east wall and a corrugated metal ceiling. Longtime brand collaborator Max Lamb created custom seating for the store that resembled polished black slabs of petrified wood, while another collaborator, lighting designer Benoit Lalloz, filled the ceiling with 85 round aluminum futuristic-looking light fixtures.
The brand's shoes and handbag offerings are showcased on stainless steel shelves along one wall, while the women's and men's apparel are displayed on stainless steel racks. The focal point of the store, though, is an immense, specially commissioned Daniel Silver sculpture that stands at the center of the boutique. Consisting of a blackened aluminum frame wrapped in abstract fabric cutouts of pastel pink, bright yellow and baby blue, the piece is as functional as it is eye-catching because the store's fitting rooms are behind a curtain-like panel of double-faced wool cashmere.
Silver also collaborated with the label on a limited-edition T-shirt featuring a print of the boutique-filling artwork, and 100 artist-signed tees are being offered exclusively at the new store, which officially opened to the public on March 23.
Acne Studios West Hollywood, 8920 Melrose Ave., West Hollywood, open 11 a.m. to 7 p.m. Monday through Saturday and noon to 6 p.m. Sunday, www.acnestudios.com
For more musings on all things fashion and style, follow me at @ARTschorn.
---