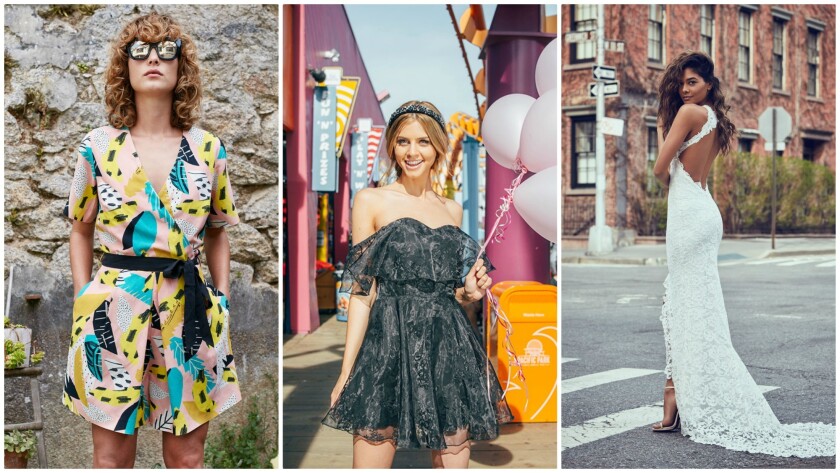 Angelenos are known for many things, including their love for the great outdoors, their preference for casual dressing and their good fortune for being able to enjoy near-perennial summers and mild winters.
So it shouldn't be a surprise that fashion brands and designers from Australia are making a beeline for La La Land.
"The beaches, the mountains, all this space and the lifestyle," said Lisa Gorman, founder of the Melbourne, Australia, brand Gorman. "Being in a city where we could stock the same collections we have in Australia was really important."
That sentiment abounds among clothing and accessory brands and designers from Down Under that have recently set up shop — in one form or another — in Los Angeles. While the list of them continues to grow, here are a handful of labels and designers with Australian ties worth a look.
Gorman
During the 15 years since Gorman began retailing in Australia, the brand has built 34 stores in its native country and in neighboring New Zealand. Earlier this year, Gorman crossed the Pacific, opening its first U.S. boutique in West Hollywood.
"We're regarded as an accessible, easy-to-wear brand," Gorman said. "It doesn't require a lot of overthinking and overstyling."
The brand, which does frequent collaborations with international artists, is known for its vibrant prints and color palette. A recent standout is the "gone bananas" playsuit, designed in conjunction with French graphic design company Atelier Bingo. Gorman parlayed the bold tropical print into a silk-linen-sashed number with culotte-style shorts. Prices start at about $80 and go up to $550. Items include shoes, tops, pants, jewelry and bags.
Gorman, 8483 Melrose Ave., West Hollywood, 10 a.m. to 6 p.m. Monday to Saturday, 323-592-3003, gormanshop.com.au.
Showpo
Jane Lu, chief executive of Sydney-based Showpo, knew she was on to something when a 10-piece collection she created earlier this year for U.S. music festival fans "blew out."
"It was specifically made with the Coachella girl in mind," she said, describing the offerings as "braver, bolder, a little skimpier" than her mainstream collection.
The 7-year-old brand has focused on the U.S. market for the last year, working with a Los Angeles warehouse to expedite shipments nationwide.
The extensive and accessibly priced line is designed "for every girl, no matter what mood she is in or what she's shopping for," said Lu, who conceived the idea for Showpo while sitting in a Sydney cafe after being let go from her accounting job. She built her brand via Facebook and Instagram, initially heading down to the post office to ship every piece herself. The brand's standout pieces are floral print maxis and rompers.
Expect to pay $38 to $45 for tops, $50 to $70 for dressier dresses and $50 to $55 for day dresses. Showpo also sells jeans, footwear, bags and outerwear.
Grace Loves Lace
The first thing Megan Ziems, founder of Australian bridal brand Grace Loves Lace, noticed about Los Angeles brides is their love of tradition.
"They seem to go for a more classic gown but something that's also a little sexy," said Ziems, who opened a 1,350-square-foot bridal boutique a year ago on Abbot Kinney Boulevard in Venice. The company is based in the town of Burleigh Heads on Australia's Gold Coast and specializes in dresses that are almost ethereal. Think slender silhouettes, a sprinkling of tone-on-tone embellishments and modern touches such as bell sleeves and capelets.
Brides-to-be get their selections custom-made in Australia using stretch European lace after a consultation (accompanied by a flute of sparkling wine) at the Los Angeles outpost.
Ziems said a top-selling style so far has been the "Alexandra" wedding gown ($2,160). It's made from French lace and features a fitted bodice with a low-cut back and fishtail skirt in a body-skimming style. Wedding gowns from Grace Loves Lace sell for about $2,800 or less.
Grace Loves Lace, 1510 Abbot Kinney Blvd., Venice, 424-238-8190, by appointment, graceloveslace.com.au.
Mara & Mine
The thing that spurred fashion stylist Tamie Ingham and model Jasmine Yarbrough to create the shoe line Mara & Mine was their shared love of high heels — and their disdain for the inherent discomfort of wearing them.
"High heels make you look confident and sexy, but you get tired and uncomfortable in them," Ingham said. Their answer? A collection of flat shoes that had "attitude and intrigue, make a fashion statement, but are comfortable at the same time."
The native Australian friends and business partners moved to Los Angeles in 2012 to focus on building their brand here.
"L.A. has a kindred spirit with Australia. Our street styles are similar. But it's a much larger environment here for us to be part of," Ingham said. The move was justified. The collection got into luxury store Maxfield, and after it was embraced by Cara Delevingne and Julianne Hough, sales took off. Each collection is based on a travel destination.
"Mexico has been a strong influence," said Ingham, referencing the "Jem Skull" slipper in azure blue. A new collaboration with model Candice Swanepoel has yielded a capsule collection of vegan leather sandals, which Ingham described as "quite androgynous and bohemian." The Mara & Mine collection is priced from $250 to $550, and the brand makes a range of children's shoes (with L.A.-based footwear company AKID Brand) as well as clutches.
Already a subscriber? Thank you for your support. If you are not, please consider subscribing today. Get full access to our signature journalism for just 99 cents for the first four weeks.
Fashion Videos
For fashion news, follow us at @latimesimage on Twitter.
ALSO
Allbirds opens a pop-up shop featuring footwear and specialty food and home goods at Grand Central Market
Zaha Hadid, the late world-famous architect, offers a surprise — a style collaboration with Perrin Paris
John Paul DeJoria, billionaire co-founder of Paul Mitchell hair-care brand, shares his 'Good Fortune' and more
---
UPDATES:
FOR THE RECORD
11:55 a.m.: An earlier version of this post gave an incorrect phone number for Gorman in West Hollywood. The correct number is (323) 592-3003.
---