Zaha Hadid, the late world-famous architect, offers a surprise — a style collaboration with Perrin Paris
It turns out Zaha Hadid, the late Pritzker Architecture Prize-winning British Iraqi architect, left behind an unexpected surprise for fans and admirers. In addition to her global landmarks such as the Guangzhou Opera House in China, the London Aquatics Centre in Britain and the Nile Tower in Egypt, the celebrated architect's imprint can now be seen in a range of $2,200 clutch bags, the result of a Hadid-approved collaboration her design team completed with luxury accessories brand Perrin Paris after her death.
Known for its sculptural, nest-like Le Panier bags and sexy Le Corset clutches, Perrin has gained a following of celebrities such as Angelina Jolie.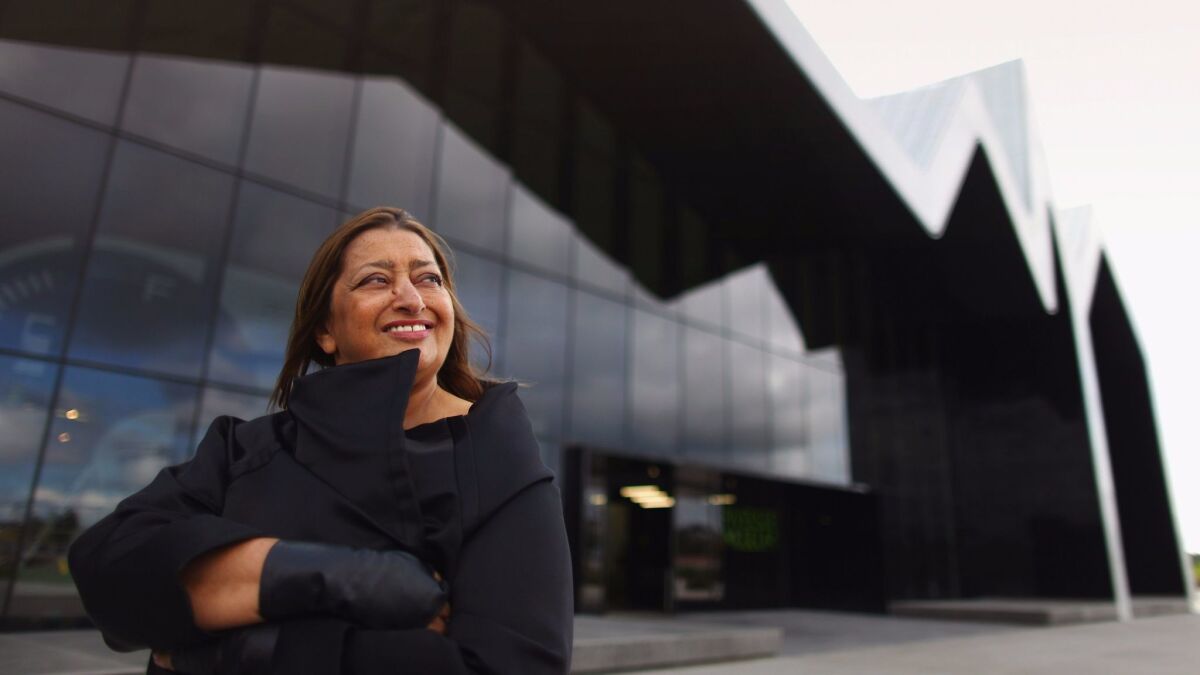 It was through reading a story about the architect in 2015 that the creative director of Perrin Paris, Sally Perrin, learned about Hadid's fondness for the brand. In the piece, the architect stated she loved a Perrin glove clutch that had been given to her as a gift. Perrin reached out to Hadid and her team about doing a collaboration, to which Hadid gave her blessing.
Shortly after Perrin traveled to London to lay out the preliminary groundwork for the bag collection, Hadid died from a heart attack in Miami in 2016. But through Hadid's design team, the collection of nine clutches came to fruition and is now being sold in limited quantity through Farfetch.com. The clutches are available for preorder on Perrin Paris' website.
"To have [Hadid's] name in conjunction with these pieces is amazing," Perrin said during a recent interview. "We often take inspiration from art and architecture. It's really what our ideals were founded on."
Each clutch is made in sleek leather and has sculptural metal detail that looks stylish exoskeleton. The contrast between the shapes and materials are striking, and like much of Hadid's work the clutches have elegantly swooping lines that capture form and function.
The bag can be held in the right or left hand, a functional detail Perrin made sure to address through six months of fittings. The color range of the collection represents Hadid's favorite hues, and each bag was named by her design team.
"Each clutch is mounted with something that is very specific to Zaha," said Perrin about the metal detailing. "Her team created the beautiful sculptural pieces, and the leather clutch portion is iconic of Perrin Paris since we come from a glove-making family dating back to the 1800s."
The vivid colors are also true to the Perrin Paris aesthetic. "We always keep a sense of humor in every collection, and the bright colors of the collection play into the whole DNA of Perrin Paris," Perrin said. "They're pieces of wearable art and real conversation pieces."
For fashion news, follow us at @latimesimage on Twitter.
ALSO
The Kooples celebrates new bag line co-designed with Emily Ratajkowski
The DTLA Louis Vuitton X Supreme pop-up shop has popped down — at least for now
John Paul DeJoria, billionaire co-founder of Paul Mitchell hair-care brand, shares his 'Good Fortune' and more
---