A Hollywood crowd attends the premiere of 'Barbecue' at the Geffen Playhouse in Westwood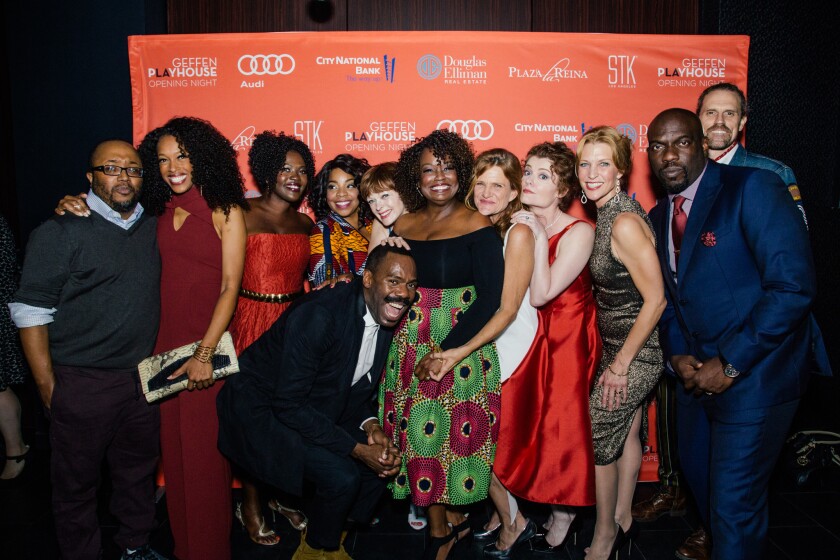 Given the size of the "Barbecue" cast, which had its West Coast premiere on Wednesday at the Geffen Playhouse in Westwood, herding everyone together at the after-party for the requisite group photo proved quite the challenge.
No sooner had the actors entered STK Los Angeles at the W Hotel when they were greeted by a parade of hugs, handshakes and congratulations, not to mention the near-endless offers of sliders, mini-quiches and cheesecake squares passed in addition to the generous buffet. Once assembled for the photographer, they chimed "Barbecue" in unison before shouting out "Zippity Boom," the nickname for the subject of a family intervention, which happens to be the play's central premise.
If you had been there, among theater donors and friends of the actors at the high-spirited soiree, here are seven conversations you might have had.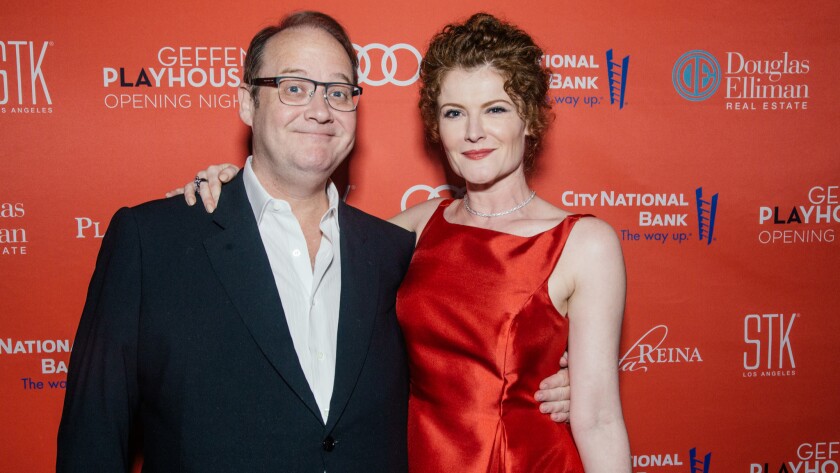 1.) As the play starts by depicting a family in question as white — before abruptly, surprisingly and hilariously switching all of the family members to black actors — playwright Robert O'Hara credited reality TV shows as his inspiration.
"I was fascinated with all these reality shows," he said. "Look at the white guy build a house; look at the white guy in rehab. … So there's this culture of white people's stories being valid and black people just being black. … Yet we are all dealing with the same things."
2.) Famous for fighting zombies in "Fear the Walking Dead," the play's director, Colman Domingo, said with a laugh, "Both roles are terrifying, but they both require leadership skills. You've got to be brave when you're building a play. … If you want to get to the good stuff, you're always trying things and going in directions that may not work. If you're expecting your audience to come in and be brave and go on the ride with you, you've got to be brave first."
3.) Rebecca Wisocky ("Devious Maids") called her role as the aforementioned "Zippity Boom," "incredibly terrifying and challenging and exciting. … In this play everyone is allowed to be their own victim, villain and hero at the same time."
4.) Cast member Frances Fisher described the play as "off the charts," saying, "I think the audience concurs because you just don't know what's going to happen next and isn't that what great theater is about?"
5.) Clearly audience member Marc Cherry concurred. Seated in a booth beside Judy Reyes of "Devious Maids," the TV show's creator noted that Wisocky's role gave him "a little culture shock. … It was weird to see Rebecca playing a drug addict because on our show, she plays a very rich, elegant woman."
6.) Reyes added, "The play was pointed and pertinent, about an epidemic in this country that spares no one, cutting across socioeconomic strata and race, and I loved the white family and the African American family juxtaposed against each other."
7.) After shaking O'Hara's hand, Chad Coleman of "Arrow," "Expanse" and "The Walking Dead," talked of the play as "very deep, but you laugh and laugh and laugh a lot. Yet what's going on is pretty unsettling stuff."
Also on scene were Aja Naomi King ("How to Get Away With Murder"), Francesca Eastwood ("Outlaws and Angels"), Alycia Debnam-Carey ("Fear the Walking Dead"), Marcia Cross ("Desperate Housewives"), Walton Goggins ("The Shield"), Kelly McCreary ("Grey's Anatomy"), Alfred Enoch ("Harry Potter"), Danny McBride (Your Highness"), Kim Dickens ("Gone Girl"), director Jody Hill, and the Geffen's artistic director Randall Arney and executive director Gil Cates Jr. More cast members were Cherise Booth, Yvette Cason, Dale Dickey, Omar J. Dorsey, Kimberly Hebert Gregory, Travis Johns, Elyse Mirto and Heather Alice Simms.
Ellen Olivier is the founder of SocietyNewsLA.
---