At Wednesday's opening night preview at the Broad museum of "Cindy Sherman: Imitation of Life," singer Katy Perry and actress Jamie Lee Curtis had no trouble relating to the artist's intricately detailed photographs of herself in various guises.
Said Perry later in the evening at Otium, the restaurant next to the Grand Avenue museum, "It's amazing to see how much of a chameleon [Sherman] is. I think that's why I resonate with her. She's a chameleon and a creator of characters, and I create a lot of characters as well."
Then Perry added, "She's also inspiring and cool. She's the definition of a really cool woman."
Curtis called Sherman "a great actress," saying, "it's just that her work is in one frame. But I know everything about every one of those human beings in every one of those images, and she is everything in every image: the director, the writer, producer, costumer, makeup artist, hairdresser, art director, editor, transportation – everything."
The crowd
Edythe and Eli Broad welcomed 150 guests, including Perry and Orlando Bloom; Curtis and Christopher Guest; Los Angeles County Museum of Art Director Michael Govan and Katherine Ross; Hammer Museum Director Ann Philbin; Museum of Contemporary Art Director Philippe Vergne; and artists John Baldessari, Barbara Kruger, Elliott Hundley and Ed Ruscha, among others, to the invitation-only dinner and preview at the contemporary art museum.
The scene
Cindy Sherman arrived to warm greetings from the Broad's founding director, Joanne Heyler, exhibition curator Philipp Kaiser and others, as guests strolled the galleries.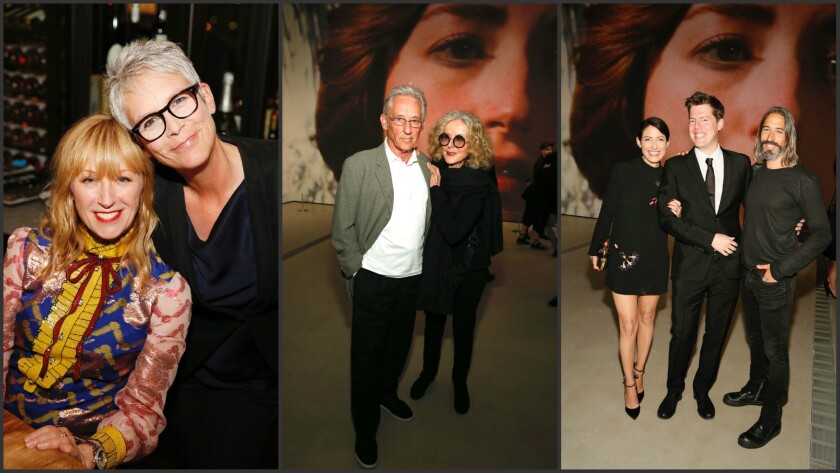 "Fresh," said Philbin. "That's the word that keeps coming to my mind. We've all seen Cindy Sherman's work many times over the years if we're in the art world. The work is familiar and beloved, but to see it in a way that makes you feel you don't know it is a great thing."
Guess co-founder Maurice Marciano pointed to Sherman's classic "Untitled Film Stills," calling them his favorites. "These, for me, are iconic of her work," he said. "So many very strong images - the way she transforms herself is unbelievable."
The show
Featuring more than 120 works, nearly all of them from the Broad collection and many never seen in Los Angeles, Sherman's show, which opens Saturday and continues through Oct. 2, is the museum's first special exhibition.
"We've never seen the collection all together before," said Eli Broad. "I'm delighted."
---