Camilla Fayed celebrates upcoming U.S. launch of her plant-based 'Farmacy Kitchen Cookbook'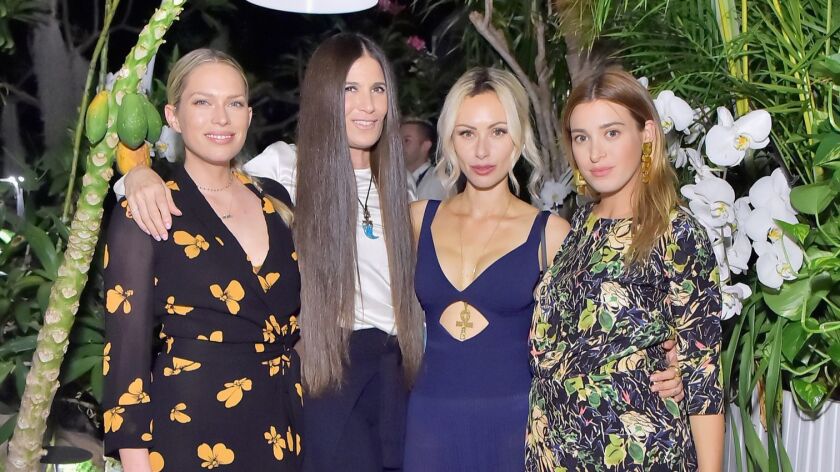 It was an unmistakably vegan affair at Schoos Design on Santa Monica Boulevard in West Hollywood. Chardonnay and ginger shots were served on the same trays. The air smelled of burnt sage, and the water wasn't just water. It was crystal botanical water, infused with geranium, chamomile and damask rose.
The plant-based party last Thursday was in celebration of Camilla Fayed's "Farmacy Kitchen Cookbook," out two years after the opening of her London vegan restaurant, Farmacy Kitchen.
Copies of the cookbook, available in the U.S. starting Aug. 7, were strewn throughout the design firm's labyrinthine patio, opened next to overflowing bowls of artichokes and radishes and stacked beside what appeared to be never-ending plates of cauliflower "popcorn" and chickpea fries with goji ketchup. Zen garden statues peeked from behind bonsais and orchids.
Waiters looked more like natural healers, wearing green Farmacy aprons as they served plant-based dishes from Fayed's book, supplement-rich cocktails and natural wines on wood platters. That was no accident — one of Fayed's philosophies is that food is medicine.
"I'm doing this for my kids and for them to understand what real food is — food that comes with soil on it, not food that comes with plastic bags," Fayed said about why she wanted to write the cookbook.
"Farmacy Kitchen Cookbook" (Aster: pp. 256, $29.99) features recipes, many of them from Fayed's restaurant, for vegan condiments, appetizers, main courses, desserts and home and beauty products as well as a 40-page introduction about the plant-based diet, sustainable farming and Fayed's take on conscious living.
Fayed, daughter of former Harrods department store owner Mohamed Al-Fayed, said the births of her two children inspired her to look more critically at where food comes from. The Farmacy Kitchen restaurant and cookbook are how she shares her passions for plant-based eating and environmental sustainability with others.
"There's vegan food, and then there's organic, vegan, biodynamic plant-based food. We are creating a new genre," Fayed said. "It's the most sustainable food movement that we've ever seen, and it's a way that we can heal the planet."
Fayed, who lives in London, enlisted the help of two Los Angeles friends, stylists Elizabeth Saltzman and Jamie Mizrahi — also the creative director at Juicy Couture — to host the launch.
Guests at the party included Angela Sarafyan, Maye Musk, Janie Bryant, Eric Buterbaugh, Jo Champa and Crystal Lourd. Mark Ronson deejayed behind dense foliage.
Fayed said she sees Farmacy as the "friendly face" of veganism, and she hopes the cookbook spreads enthusiasm for a Farmacy Kitchen in L.A., scheduled to open in 2019.
"We're not a church. We don't wish to convert people," Fayed said. "I wish to inspire people and share that [veganism] is really not such a hard journey. It's simple."
However, veganism is no new trend to Californians, and judging by how quickly the chilled tomato soup with cashew cream disappeared, the enthusiasm for Farmacy was already apparent.
---