Fashion and art come to the table at the annual Chloé x MOCA night at museum event
What do lumps of unfired clay, a French fashion house and a ping-pong table built around a miniature pond all have in common? At first blush, not much.
But during a private tour of the Museum of Contemporary Art on Tuesday night, director Philippe Vergne memorably made the connection between an exhibition of work by artist Anna Maria Maiolino (which included tables filled with the aforementioned clay), the luxury label Chloé and Gabriel Orozco's interactive sculpture "Ping Pond Table (Mesa de ping-pong con estanque)" (1988), which is part of MOCA's permanent collection.
"What amazes me about this," Vergne said pointing to Orozco's absurdly configured ping-pong table, "is how people will gather here and start playing and having a conversation. … And Anna Maria Maiolino's ["Untitled Clay Table Installation," (2017)] similarly brings people to the table — the place where people gather, where things happen, where there's intimacy. [Fashion] maisons are a little bit like that."
The private tour — and intimate dinner that followed — was part of an ongoing relationship between the Chloé label and the museum that began three years ago.
For this year's event, Vergne walked a handful of stylish guests, including Emma Roberts, Kelly Rowland and Aimee Song, through the recently opened Maiolino exhibition. He offered in-depth explanations of some pieces, showing how the artist's work was connected to other pieces on display starting with Daniel Joseph Martinez's "Who Killed Liberty, Can You Hear That, It's the Sound of Inevitability, the Sound of Your Death" (2012), which consisted of a replica of the Statue of Liberty brutally jammed sideways through a wall.
"There has been lots of talk about walls lately," Vergne noted before going on to explain the political bent of Maiolino's work. (The tour ended with Orozco's playful table.)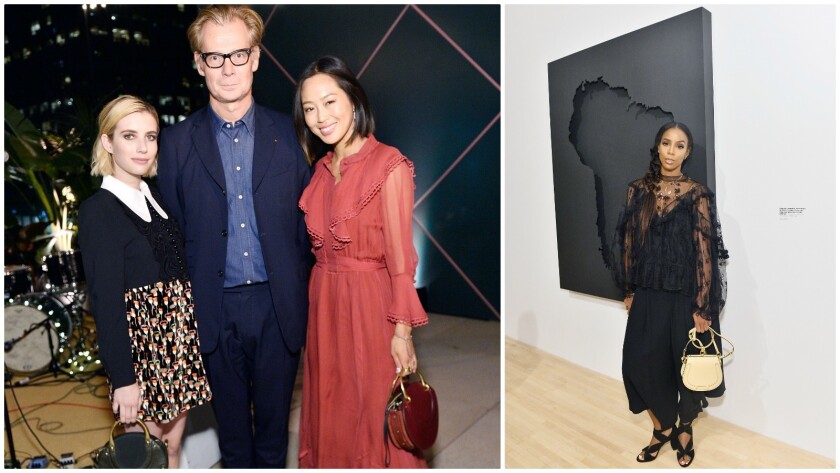 Then invitees were ushered to the rooftop terrace, where Dan Rothmann, Chloé's brand president for the Americas, and Vergne each spoke briefly. "I've used this Oscar Wilde quote the past two years," Vergne said, "but I'm going to use it again: 'You can never be overdressed or overeducated' — and that's why Chloé and MOCA came together."
After that, guests, including singer and chef Kelis, actor Thomas Jane, two-thirds of the band Haim, stylist Jessica de Reuiter and designer-stylist Brit Elkin, tucked into a dinner created by Chef Tess Ward, who had been flown in from London.
"I wanted to create a fusion of modern French and the great produce you have here on the West Coast," Ward said by way of explaining a menu that included fried zucchini blossoms in parsley oil, chicken, kale and chanterelle mushrooms.
A set by the L.A.-based band Winter drew the night to a close. One of Winter's songs, "Jaded," included the oft-repeated line, "I don't want to be jaded," and, while we can't vouch for the band, we certainly left MOCA's memorable night at the museum feeling anything but.
For more musings on all things fashion and style, follow me at @ARTschorn.
ALSO:
At Paris Fashion Week AW17, it's a swan song at Chloé and a menagerie at Balmain
2017 Emmy Awards red carpet: A sea of silver and a splash of the mermaid-tail hem
NYFW SS18: The top trends include bra tops, Americana and a school bus full of yellow dresses
---