Union, a 'best-kept secret' for men, mixes high-end European labels and current streetwear finds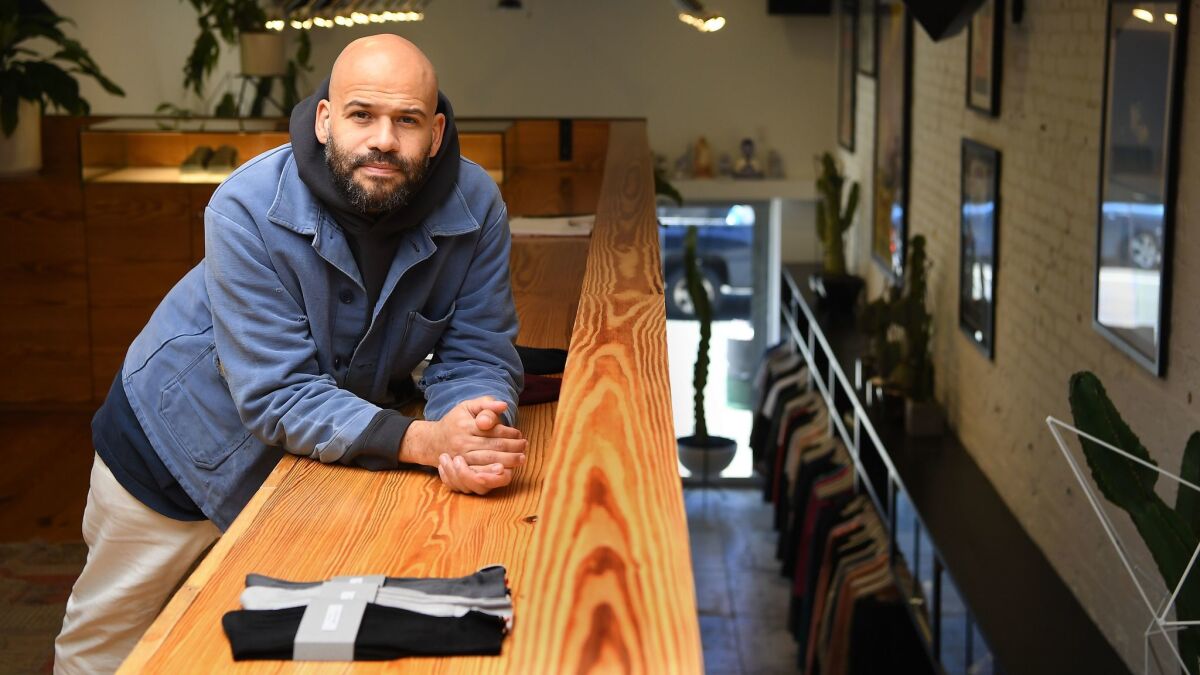 The menswear store Union is small, easy to miss if you don't know it's there, and tucked away on La Brea Avenue next door to Stüssy and across the street from Sugarfish and a Bonobos Guideshop.
This stretch of La Brea has quickly become a men's shopping destination with Steven Alan, Stampd and Unis all within spitting distance of each other, but that wasn't always the case.
On an overcast afternoon earlier this year, graphic T-shirts from a collaboration between Union and the skate brand Bianca Chandon were hanging on rack downstairs, while upstairs, higher-end items with a conceptual slant from labels such as Junya Watanabe, Thom Browne and J.W. Anderson were on display.
It's a funky, surprising mashup of luxury avant-garde and streetwear that is popular now at stores including Opening Ceremony and Dover Street Market, but it's a mix that Union, in many ways, predicted and helped popularize.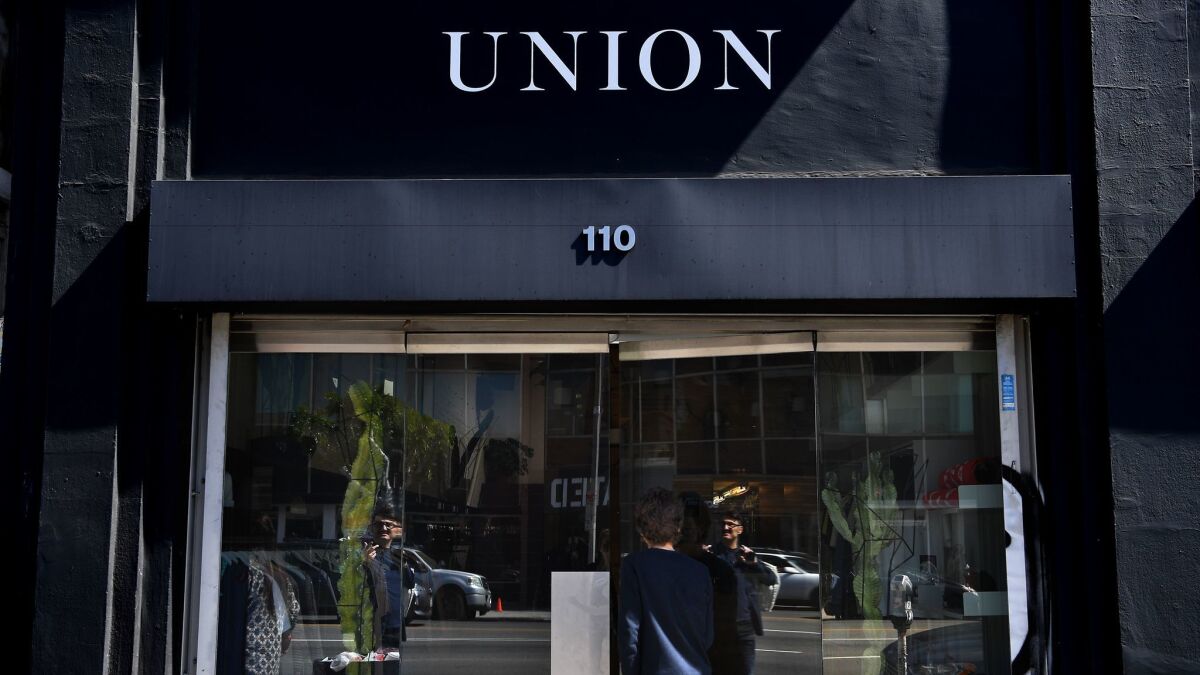 "We're the best-kept secret. And there's a gift and a curse that comes with that."
— Chris Gibbs, owner of Union
"One of the beauties of the store is that it's been able to change with every new era of fashion and retail," says Chris Gibbs, the store's current owner. "There are many iterations of what Union has been."
Gibbs sits in his office, in a second-floor space near the shop, wearing an oversize Marni trench coat, a side-zip hoodie from a forthcoming in-house collection, slim blue pants and Nike sneakers. Just outside, a young man takes product images of clothing for the store's website, where a majority of purchases now take place. Gibbs looks intimidatingly cool at first, with his shaved head and beard, but an approachable grin and relaxed disposition prove it's just for show (he's Canadian, after all).
To those in the know, Union is one of the longest-standing stalwarts on the menswear scene, a store that has a reputation for breaking many new designers into the mainstream. There was a time before anyone could peddle their goods online, when a store with cool-kid cachet would have to give you a retail platform before a place like Barneys New York would be willing to carry your line. For many, that place was Union.
"We're the best-kept secret," Gibbs says. "And there's a gift and a curse that comes with that."
Union has a long, twisty history, one that's intertwined with Gibbs' own. A New York location opened first, in 1989, with an L.A. outpost following in 1991. Gibbs arrived at the original location in 1996, working closely with the founders Mary Ann Fusco and James Jebbia (the founder of cult skate and streetwear label Supreme).
When Gibbs' wife wanted to make the move to the West Coast, he worked alongside Eddie Cruz at the La Brea location. Around the time of the Great Recession, Cruz, now of Undefeated, wanted to focus on his other projects (most notably the sneakerhead shop Undefeated, which is across the street from Union), and Gibbs felt ready to take on the store as his own.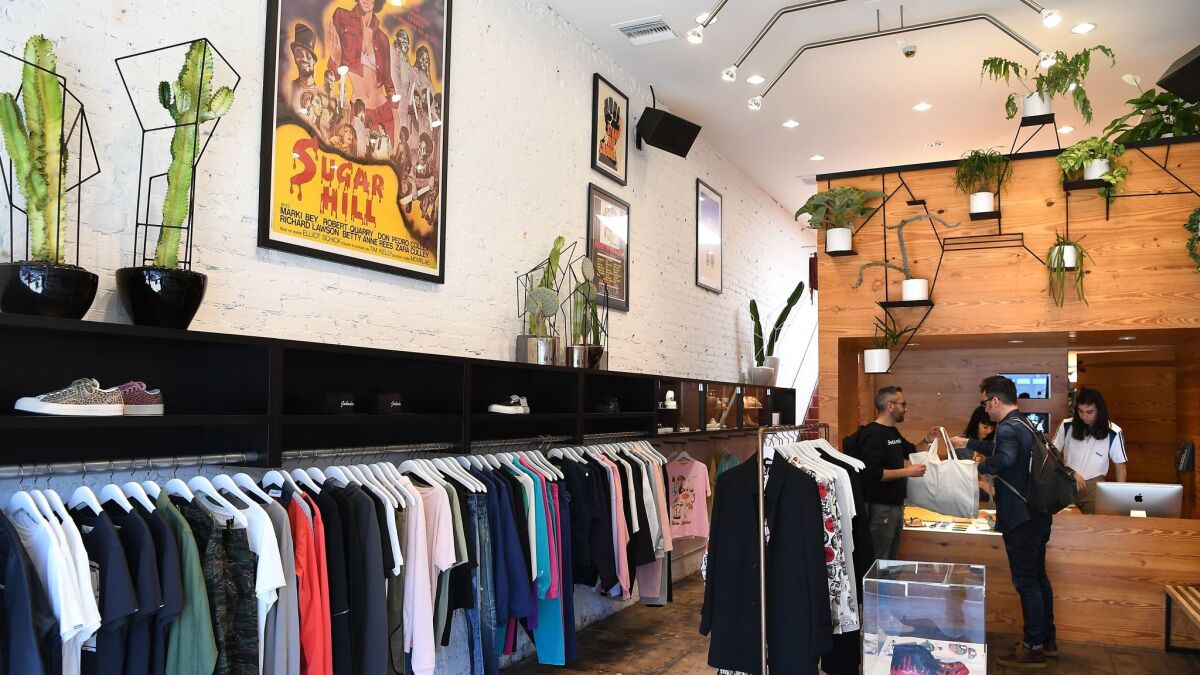 In the past decade, Gibbs has cultivated a vision of fashion where lines are blurred — highbrow European brands are hung next to mass-market finds with ease. The store's history also mirrors the recent ascent of menswear — from streetwear's dominance in the '90s and the Japanese boom of the early aughts to the current market, which is, in a way, an artful juxtaposition of all that came before.
"I'm proud to say we're a blend of all of the eras," Gibbs says of the store's current vibe. "I think we're still a rare place where all of those sit organically."
It's an approach the led Complex magazine to name Gibbs one of "the 25 Most Powerful People in Streetwear" in 2013.
Gibbs did all this, thereby continuing the store's original legacy, by trusting his gut. It doesn't hurt that, behind the cool facade, he's just a fashion nerd and retail addict.
"I'm a sucker for product," he says. "I'm still in love with our product."
It's why four times a year he hops on a plane to Japan to buy for the store — and to re-up on inspiration.
Still, there are realities that Gibbs is quick to make note of. He's a retailer at a time when retail is uncertain, and he expresses, quite candidly, how conflicting it is to want to maintain one's street cred and simultaneously grow a business.
"You want to make money. You want to be viable," he says. "It's hard to grow when, as soon as something blows up, it's not cool anymore."
Still, Union thrives, thanks to its embrace of e-commerce and social media, proving that more iterations will continue to occur. After all, fashion is a business obsessed with what's next and new.
As for the future, Gibbs has some collaborative products in the works and an in-house line he's toying with — the details of which he kept under lock and key — but there's one thing for certain: An Angeleno, be he skate rat or high-minded aesthete, likely will find something to wear at Union, a fact that Gibbs counts on.
"I still think we have the best customer," he says. "You've got the best guy walking in here, and he will make your brand look that much better."
Union, 110 S. La Brea Ave., Los Angeles. (323) 549-6950, unionlosangeles.com
Twitter: @latimesimage
ALSO
'In the Steps of Trisha Brown,' and the L.A. festival where dance and film collide
Style sightings: Hailey Baldwin celebrates with footwear brand Schutz at a Beverly Hills party
Why is Mr Porter serving up palm trees and surf vibes? To celebrate California style
---