Style sightings: Hailey Baldwin celebrates with footwear brand Schutz at a Beverly Hills party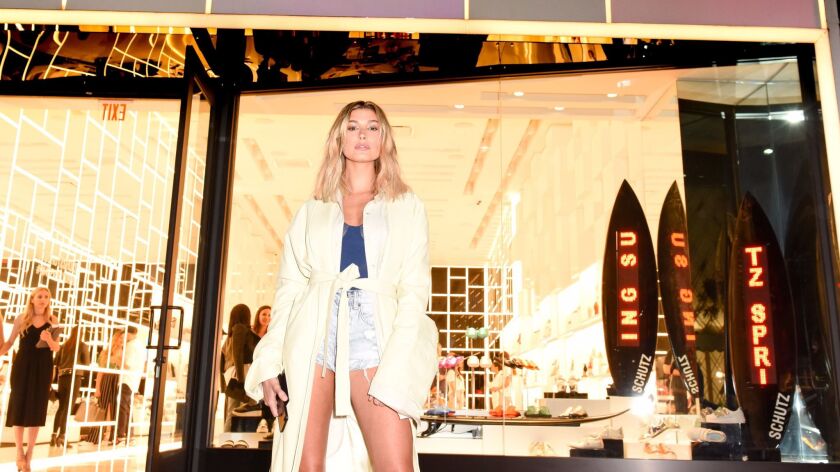 Hailey Baldwin looked down at her feet. She was wearing a delicate powdery blue suede shoe. "I love what I'm wearing," she said of the high-heeled Caiolea pump from Brazilian footwear label Schutz. "I've been a fan of the brand for a long time."
The 20-year-old fashion model and all-round Hollywood it-girl had just arrived at the party this week, celebrating the first-year anniversary of the Schutz store in Beverly Hills. She was posing in the VIP-room-turned-mirror-walled-art-installation at the rear of the store. (The installation, titled "Mirror Rorrim," was created by Los Angeles-based creative director Maria Rubin.)
In the main space, guests, who included model Delilah Belle Hamlin, daughter of Harry Hamlin and Lisa Rinna, nibbled on button-sized canapes and swayed to music from a set including Khalid and Ricky Blaze spun by DJs-du-jour, twin sisters Simi and Haze Khadra (together professionally known as SimiHaze).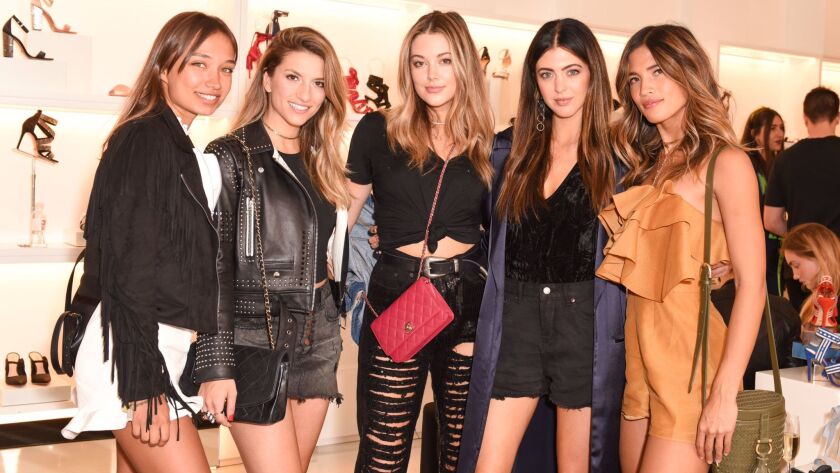 In addition to celebrating its first year of business in the 2,800-square-foot location, the party also was the launch event for a series of metallic beach slides, which will be available at the Beverly Hills store and online. That's fitting, given that the slides boast phrases such as "Malibu Baby" and "Cali Love."
"The phrases are super-fun," said Alexandre Birman, founder and chief executive of Schutz (the word means "protection" in German). "They're really very Los Angeles."
The slides, which come shades such as metallic copper and turquoise, retail for $125. Birman said the price point of the collection is part of its appeal. The majority of the all-leather, on-trend shoes sell for less than $200.
The City of Angels has a special significance for Birman. When he visited Los Angeles in 1995, he was struck by the high-stacked cork wedge shoes that he saw being worn by women on Melrose Avenue.
"I had the idea to start making ladies' shoes that had a natural feeling," he said. "Our brand is warm, Latin — there is a different type of vibration in everything we do, and we try to translate that to our stores and our shoes."
Now a company with annual sales of $200 million, Schutz, which has 84 stores in Brazil and a Manhattan outpost, has drawn avid fans including Baldwin, who said she feels a connection with the footwear label, partly because her mother is Brazilian.
"It totally matches my aesthetic," she said, wearing an oversized leather trench coat and shirt from Zimmermann and denim shorts from Ksubi. "I've known about it for a long time." (Earlier that same day, Baldwin shot her first official campaign for Schutz.)
"She wore our shoes many times without any sort of business relationship," Birman said. "We always try to work with people who really connect with the brand."
ALSO
Why is Mr Porter serving up palm trees and surf vibes? To celebrate California style
LGBT authors examine 'diversity of desire' in Flintridge Bookstore panel
Everything But Water swims into new Century City space; Joey Wölffer's boho bags land in Culver City
---