Q&A:: Christian Siriano hopes to see his work on the Oscars red carpet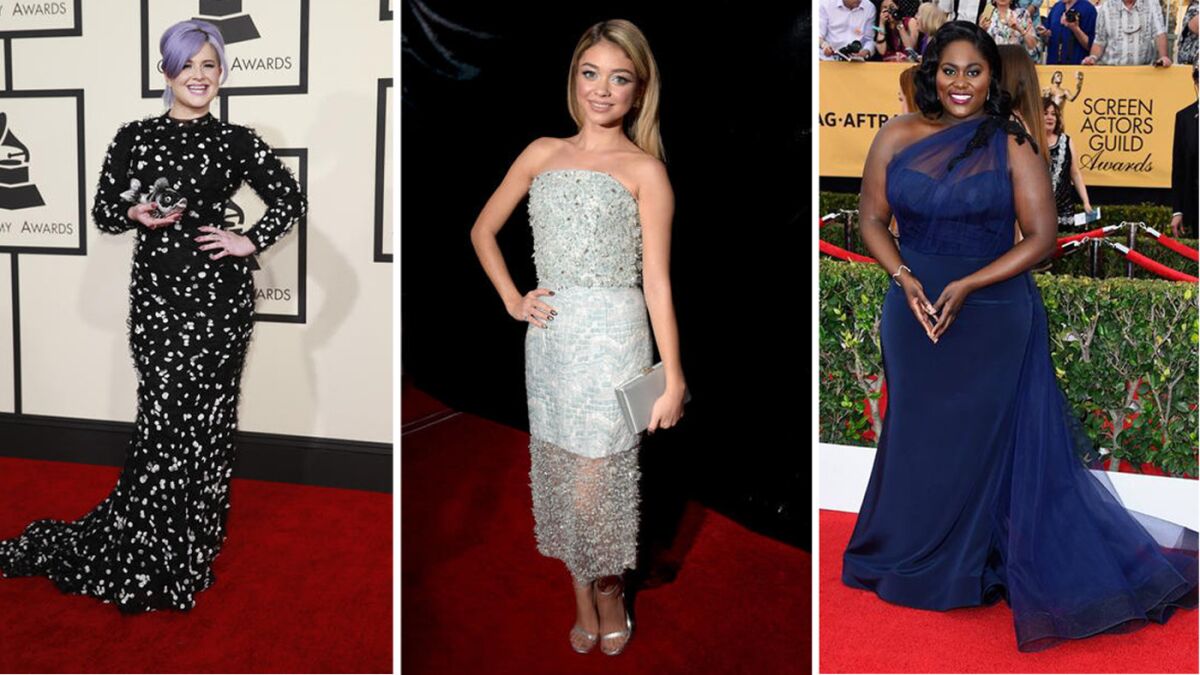 Christian Siriano's buzzy season on the red carpet kicked off just after New Year's at the People's Choice Awards, where winner Iggy Azalea wore a sparkly black neoprene crop top and flowing crepe pants he designed. There's been no letup since, as awards season has whirled through the Golden Globes, Screen Actors Guild and Grammy ceremonies, parties and premieres with Siriano's young Hollywood coterie including Sarah Hyland, Laura Prepon, several cast mates from "Orange Is the New Black," Naya Rivera, Isabelle Fuhrman, Maggie Grace and Jennifer Lopez. He's looking hopefully toward the Oscars red carpet on Sunday, as he sent several gowns for actresses to consider. It seemed like a good time to catch up with the fashion designer and "Project Runway" winner.
A lot of the sparkling young Hollywood girls gravitate to your things. Do you have them in mind when you design?
There's a lot of big brands out there that I'm hanging with at Neiman's and Bergdorf's — Oscar [de la Renta] and Valentino and Carolina [Herrera] and their stuff's so amazing. But I think there's a way to bring in evening-wear for the younger generation … as well as for the classic kind of woman. We'll dress someone like Patricia Arquette, who's stunning and beautiful, but obviously she and Sarah Hyland are totally different women. But that's what I love.
Seeing your work on the red carpet, does that influence your design process?
Sometimes I don't even realize that it influences things. I was working on what Sarah Hyland wore to the Emmys last year, and it kind of ended up in the [spring] collection as well. I didn't really think it was going to, but it happened organically and I realized, "Oh, it's really similar." But I'm never like, "Oh, what is she wearing, that has to go into the collection."
What kind of attitude do actresses need to take on the red carpet?
It's really hard because everybody has an opinion now and social media is such a big part of that. Anybody shows up to an event, and immediately there are good comments and there are bad comments. That's the biggest challenge, [knowing] that everyone's going to love it or hate it.... That's why I like dressing younger girls, because they take more risks. They'll kind of wear anything and that's exciting.
You bring up an interesting point. Maybe the younger generation is more used to social media and doesn't let it influence them as much?
These young actresses are kind of seasoned. They know how to pose, they know what photo to take, they know what's going to look good on people's Twitter and Instagram. That's what Hollywood is like right now and the music business too. I think Iggy Azalea's [People's Choice] look was cool for her but not everybody loved it. But she doesn't care, because she just is who she is, and that's her thing. I think the fans get on board too because it's almost like tricking them into thinking, "Oh, I really love this because she's taking such a risk." Or because it's cool or it's different.
For women who aren't actresses, what advice would you give?
That's kind of the biggest question in the world. A woman has to know what her "shape" is, to begin with. She has to know if she's great in A-line, if she's great in mermaid, whatever her look is. We've dressed Kelly Osbourne a few times, and Kelly is cool because she wears evening clothes that on a lot of people might look, I don't know, demure, because they have long sleeves or whatever. But she makes them look cool because she knows what shape works on her body.
Kelly was at your fall 2015 show in New York last week, along with Coco Rocha, Kesha and Zendaya. Your show had a lot of color. And feathers! What inspired you?
The deep, dark and mysterious creatures from the Congo jungle in the Central African Republic were my inspiration. Those animals echoed through sleek burnout wool dresses, bold animal-printed Jacquard coats and panther-like velvet evening looks. I wanted the collection to feel luxe and sophisticated but still playful.
And now, the Oscars. It must be crazy to think about right after your show.
It is always hard to jump from showing a collection and meeting with buyers and then custom-making something for the Oscars that might be worn but might not. We really never know until our client shows up on the carpet. It is stressful, but I have learned to just hope for the best.
Sounds like you deserve a break. Any upcoming plans?
No vacation in sight but I will be in Paris next week with my collection and I love that city. Then a week later I fly to Kuwait for a wedding and Qatar to host an event at one of my favorite retailers, the Closet, which will be an amazing and exciting adventure, and very warm. I can't wait!
---