Colette Jewelry returns to Melrose Place
At just 344 square feet, the new Colette Jewelry boutique on Melrose Place is barely bigger than an office cubicle. But, what it lacks in footprint, it more than makes up for in impact, a swirling organic world rendered in gold and precious stones; tiaras fluttering with bejeweled birds, diamond-encrusted antlers curving to encircle a wrist and all manner of flowers, leaves and bird wings studded with diamonds, sapphires and rubies — showcased against a backdrop that combines a black-and-white marble floor, antique gilt-edged picture frames, salvaged gold cabinet hardware and a vintage floral Murano glass chandelier so immense it had to be cut into two pieces to fit the jewel box of a space.
The store, which opened June 9, and the fine jewelry on display sprung from the mind of Colette Steckel, a designer with French Mexican roots who splits her time between Mexico City, where she has a flagship store, and Los Angeles, where the business she launched in 1995 is headquartered. And, right down to the leaf-shaped handle on the front door and the leaves curling across the wallpaper, the tiny space reflects a lifelong fascination with salvaging, capturing and repurposing the world around her to create beauty.
"As a little girl, I was walking on [Boulevard] Saint-Germain and I saw this horrible leaf that was almost destroyed," Steckel says by way of explaining the unusual door handle. "I was like: 'Oh my God! Everybody is stepping on this leaf, and it's so fragile!' I took it; I pressed it and knew it was going to be my logo."
SIGN UP for the free Essential Arts & Culture newsletter »
Steckel says as she grew older, the focus on flowers was joined by a new fascination. "We were living in Mexico, and my father would bring home these geodes. I remember taking my mother's tweezers to pull the [crystals] out of the geodes, stripping the covering off of our phone cables and using the copper wire to make jewelry."
She channeled that do-it-yourself creativity into her first business — hair accessories that combined ribbons and Swarovski crystals — at age 14. When she sold that business six years later, she used the proceeds to buy white gold and peridots. "That's what I used to make my first [jewelry] collection," Steckel says. "It was leaves."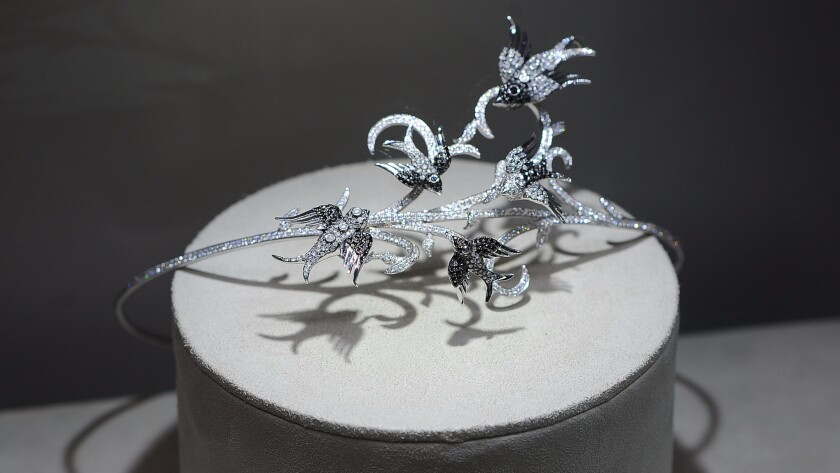 In 2006, she moved her business from Mexico City to Los Angeles after her husband was tapped to run the Azteca America network, and it has been based here ever since. Inspired by her trips around the globe (recent collections are inspired by jaunts to Africa and Istanbul, for example), the production of the jewelry is split between L.A. and Paris.
"This is from one of my latest collections," Steckel says, pointing to the delicate curve of antler-shaped white gold and diamonds in her left ear. "I spent a lot of time with the Maasai [people], understanding what antlers mean to them, what jewelry means to them, how different pieces of jewelry represent different stages of a Maasai woman's life."
In addition to the ear cuff ($10,500), the antler motif is reflected in a white gold-and-diamond headpiece ($24,500), and cuff bracelets (ranging from $5,200 to $12,900). Other members of Colette Jewelry menagerie include bejeweled dragonflies, ants, butterflies and scarabs (the Bestioles collection), soaring birds, wings and plumage (the Blue Drift collection). Retail prices can vary wildly based on the metal and stones used, but many of the earrings and ear cuffs fall in the $1,000-to-$2,000 range, bracelets in the $8,000-to-$12,000 range with the headbands and crowns locking in from $24,000 to $46,000.
Although Steckel's creations are already carried at a handful of local retailers (Neiman Marcus, Broken English and Maxfield among them) and she'd previously opened (and, a few years later, closed) a boutique on the same street back in 2007, she says a standalone store in her part-time hometown is important.
"Those stores sell the pieces that are our bread-and-butter business — the necklaces and the studs," Steckel explains. "But this is where we'll have those exclusive, over-the-top, one-of-a-kind pieces.… I need to have a store at this point in time. There's no one better to sell the product than the designer themselves and a team that is onboard with you.… Every piece has a story behind it."
And, since Steckel plans to spend a good deal of time at the new space, there's a pretty good chance that customers who give that leaf-shaped door handle a good pull will find themselves hearing those stories firsthand.
Colette Jewelry, 8463 Melrose Place, Suite 4, (323) 525-1738, www.colettejewelry.com
For more musings on all things fashion and style, follow me @ARTschorn.
ALSO
A feng shui-inspired fragrance house opens in West Hollywood
Retail Happenings: Rachel Comey comes to Melrose Place; General Pants Co. hits La Brea Avenue
---