Female trailblazers shine at the Elle Women in Hollywood celebration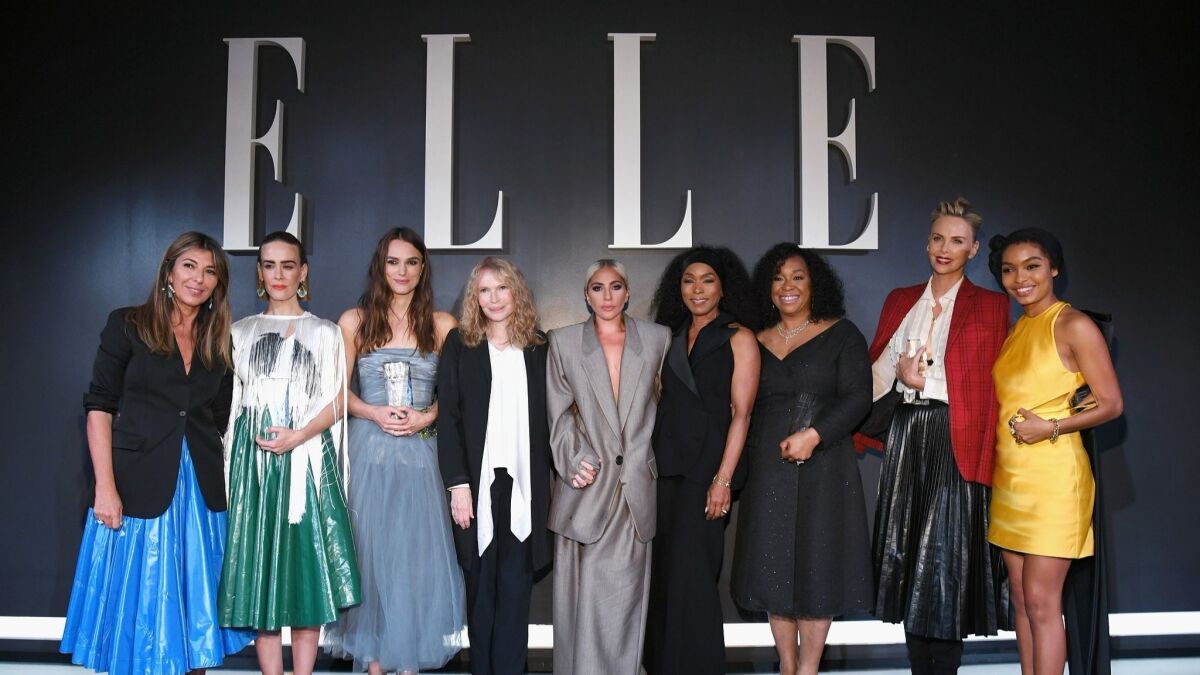 A show-stopping lineup of powerful women — Lady Gaga, Mia Farrow, Anita Hill, Shonda Rhimes, the female cast of "Black Panther" and more — hit the stage Monday night at the Four Seasons Hotel Los Angeles at Beverly Hills for Elle magazine's 25th annual Elle Women In Hollywood celebration. Presented by L'Oréal Paris, Calvin Klein and diamond jewelry company Hearts on Fire, the event honored women who have been creative forces in Hollywood and beyond.
At the start of the night, miniature bottles of Moët & Chandon bubbly were handed to guests, who were offered photo ops by Hewlett-Packard before doors opened for the dinner presentation.
The program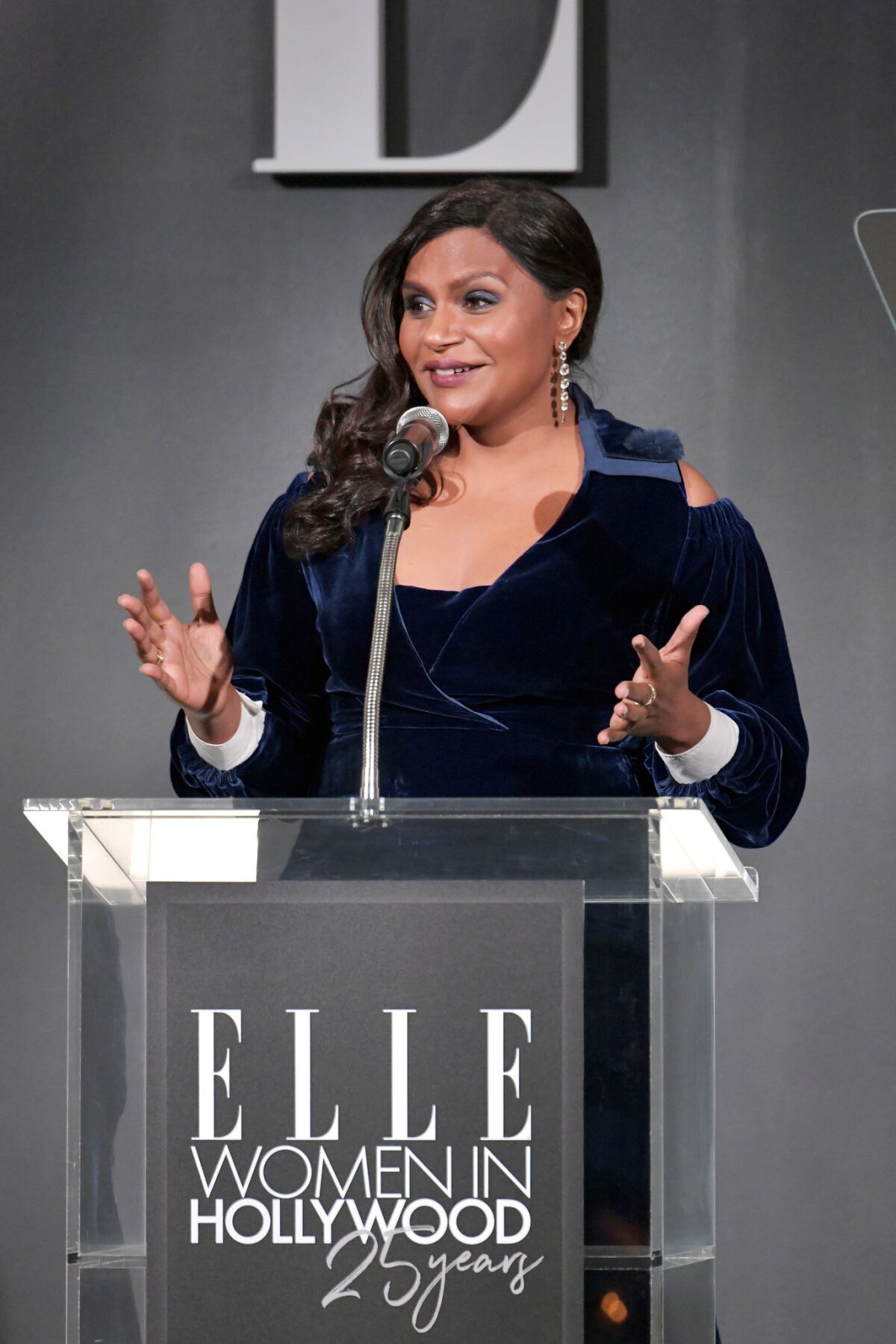 In welcoming remarks, Elle editor-in-chief Nina Garcia recognized Christine Blasey Ford's recent testimony before the U.S. Senate Judiciary Committee on sexual assault allegations against now-Supreme Court Justice Brett Kavanaugh as highlighting "the absolute imperative for women to be equally represented in positions of power." Garcia then announced a donation by Elle, on behalf of the evening's 10 honorees, to the Time's Up Legal Defense Fund to help provide legal support to those who have experienced sexual harassment or abuse at work.
Actress and writer Mindy Kaling took over as host of the affair that honored Lady Gaga, Sarah Paulson, Keira Knightley, Charlize Theron, Angela Bassett and her "Black Panther" costars Lupita Nyong'o and Danai Gurira. Actress and UNICEF goodwill ambassador Mia Farrow took home the Elle Legend Award, while 18-year-old "grown-ish" actress and activist Yara Shahidi received the Calvin Klein Spotlight Award and renowned television producer Rhimes walked away with the L'Oréal Paris Luminary Award.
The presentation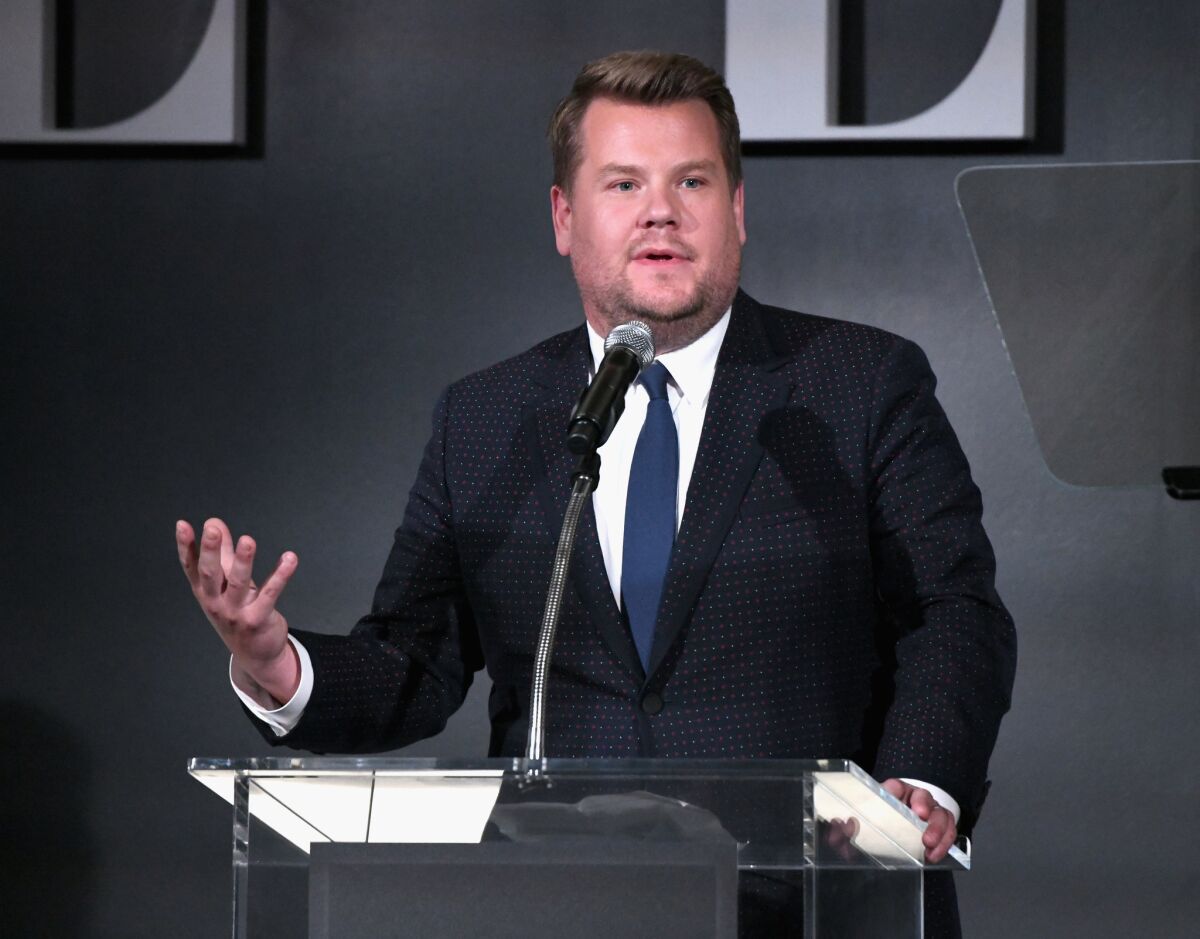 The festivities began with Lucasfilm President Kathleen Kennedy, founder of the Hollywood Commission on Eliminating Sexual Harassment and Advancing Equality, introducing the commission's leader, Hill, who noted in her remarks that she has been waiting 27 years for the current #MeToo and Time's Up movement.
"The Late Late Show" host James Corden presented fellow Brit Knightley, who spoke about the rule-breaking, Nobel prize-nominated French novelist Sidonie-Gabrielle Colette. (She plays her in the film "Colette," which is currently in theaters.) Kenya Barris, creator of television shows "black-ish" and "grown-ish," introduced Shahidi. The 18-year-old actress-producer, Harvard freshman and creator of voter registration campaign Eighteen X 18 uses any free time "having chats with Hillary Clinton and 'Super Soul Sundays' with Oprah Winfrey," said Barris, referring to her as a "McMogul." Then, Netflix mogul Rhimes, introduced by "Grey's Anatomy" star Ellen Pompeo, generated a standing ovation by saying, "I will brag — and saying this is harder than I thought — I am the highest-paid showrunner in television. How's that for girl power? And how's that for a little black girl magic?"
Pulitzer prize-winning journalist Ronan Farrow honored his mother, who said: "I want to live to see equality, not just progress, not just improvement, but true deep lasting unequivocal equality." Bringing the house down with laughter, Sandra Bullock listed all the things she hates about her friend Paulson, including her ability to enthrall on the red carpet in "things that look like a child threw a box of highlighters at her." Kennedy presented Theron, an advocate for pay parity in Hollywood who's known to play fiercely independent women on the big screen.
Lady Gaga, introduced by Jennifer Lopez, arguably stole the show with a tearful talk that mentioned her own sexual assault at age 19 by "someone in the entertainment industry," whom she has not yet named, and a push to prioritize mental health issues. The room was silent as the musician and "A Star Is Born" actress spoke. Her decision to wear an oversize Marc Jacobs suit to the event, after trying on more than 10 dresses, was intentional. "Today, I wear the pants," she said. "I had a revelation that I had to be empowered to be myself today more than ever, to resist the standards of Hollywood, whatever that means. To resist the standards of dressing to impress and to use what really matters — my voice."
After Bassett, Gurira and Nyong'o were honored for their work on the blockbuster Marvel Studios film "Black Panther," the show ended with honorees gathering onstage for a group photo with Garcia and Hill.
The crowd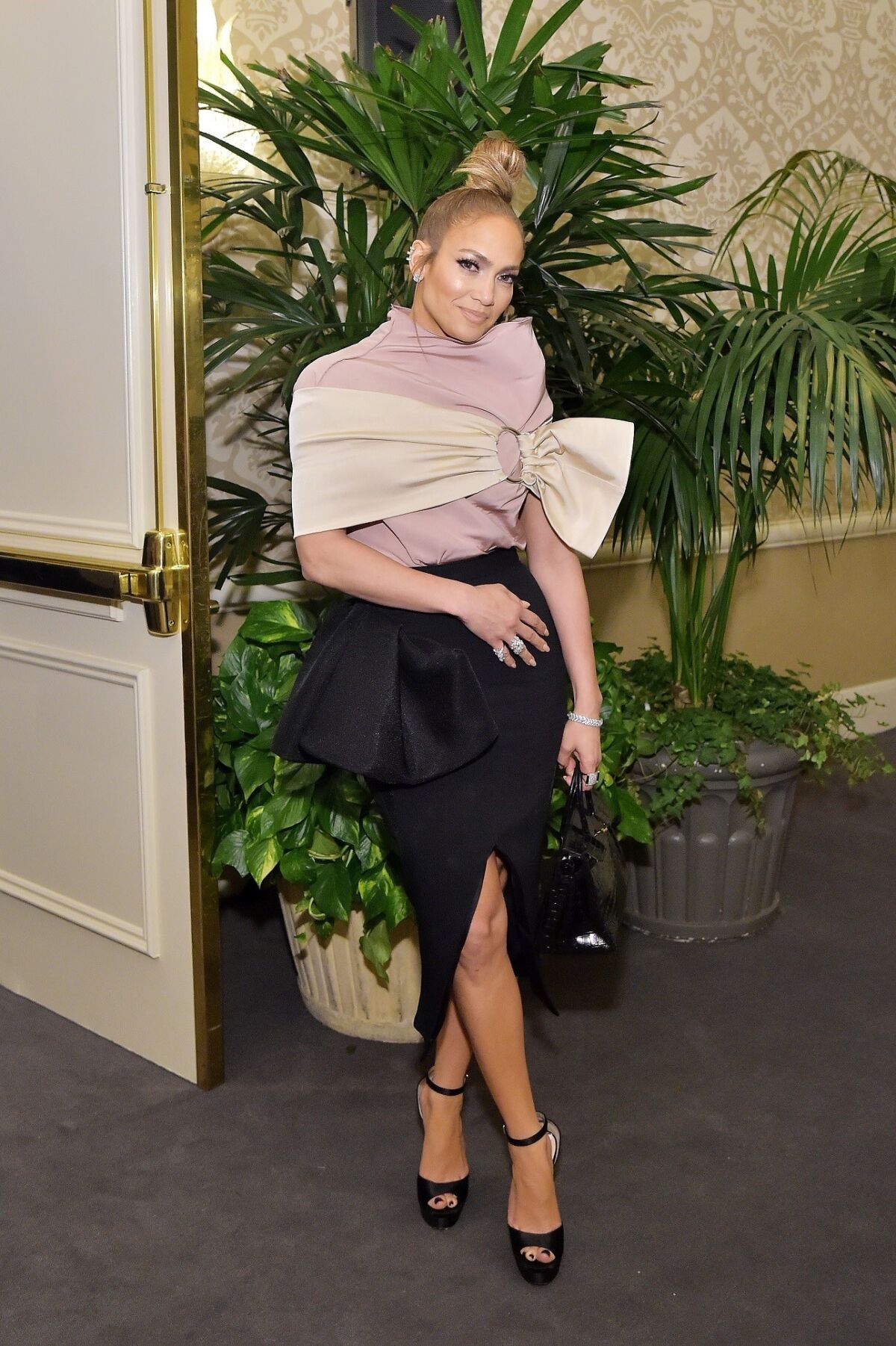 Among the A-list audience were Lopez's beau Alex Rodriguez; Lady Gaga's fiancé, Christian Carino; Paulson's girlfriend, Holland Taylor; Quincy Jones; Kate Beckinsale; Chloë Grace Moretz; Laverne Cox; Aja Naomi King; Juliette Lewis; Vanessa Hudgens; Malin Akerman; Rosanna Arquette; Cole Sprouse; Molly Sims; and Natasha Lyonne. At Farrow's table were Martin Sheen and his wife, Janet, who donned a T-shirt with the phrase "Trump Grabbed My ..." that she told The Times she had made herself.
The quotes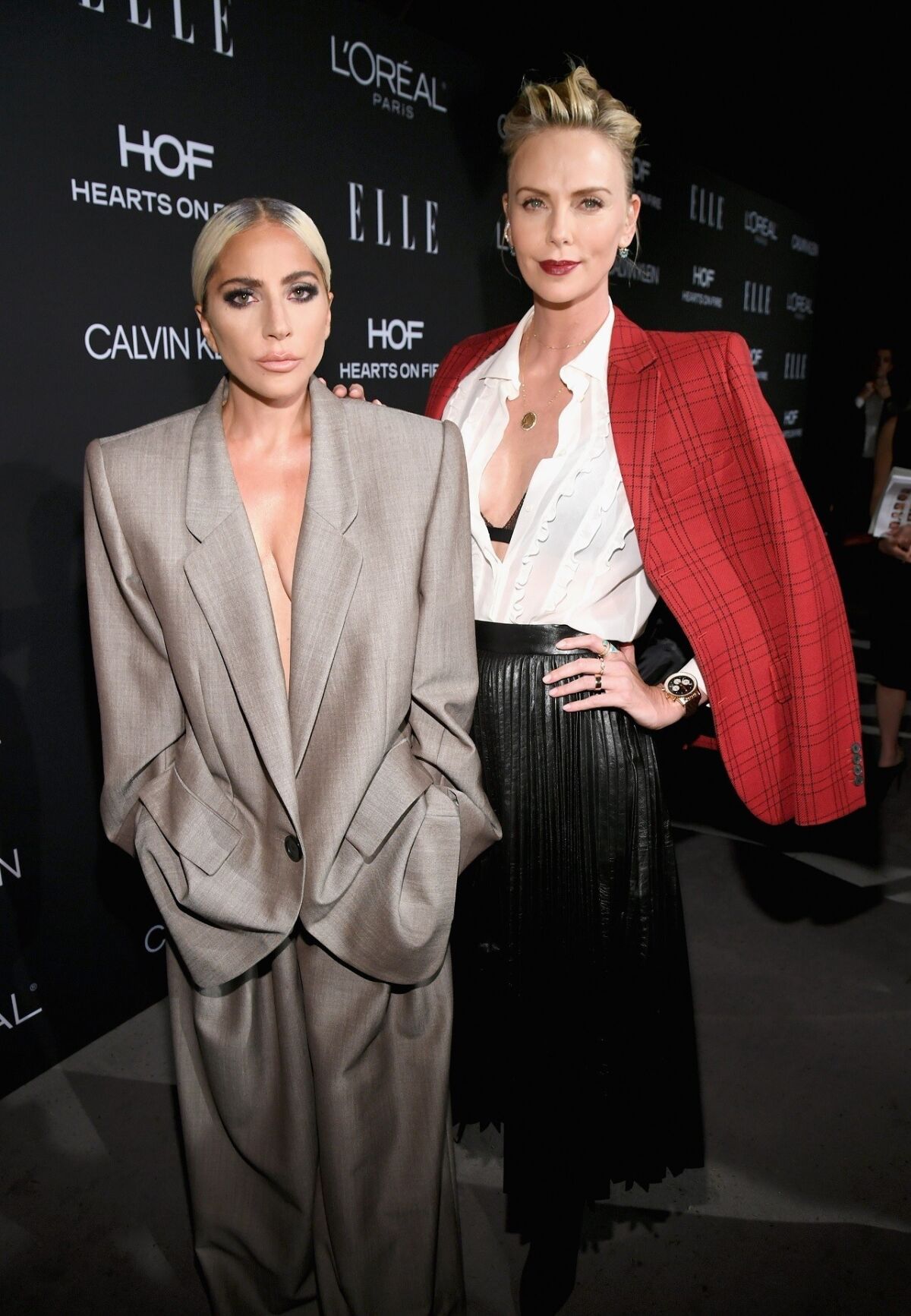 "I asked myself, 'What does it really mean to be a woman in Hollywood?'" said Lady Gaga. "We are not just objects to entertain the world. We are not simply images to bring smiles or grimaces to people's faces. We are not members of a giant beauty pageant meant to be pit one against another for the pleasures of the public. ... We have deep thoughts and ideas and beliefs and values about the world and we have the power to speak and be heard and fight back when we are silenced."
"I'm incredibly proud of my mom," Ronan Farrow said, speaking exclusively to The Times. "I watched her take a principled stand on issue after issue, even when she knew that powerful people were going to blacklist her and smear her. And I'm just so happy that we've reached a point where the industry is now celebrating and rallying behind women who went through that rather than shutting them out."
"Look how far our collective voices have brought us in just one year, from dressing rooms to hotel rooms to courtrooms," Knightley said. "We have only just started to yell."
For fashion news, follow us at @latimesimage on Twitter.
---