Escada is off to the races and back to its roots for its New York Fashion Week debut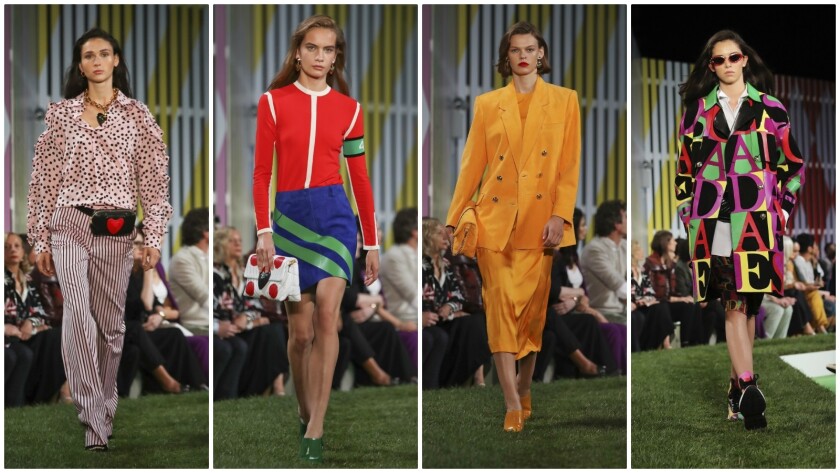 Reporting from New York —
German designer womenswear label Escada made its New York Fashion Week debut at the Park Avenue Armory on Sunday, which had been transformed into the kind of grassy, picket fence-framed paddock one might find at the horse-racing track.
The vibe of the backdrop was an intentional one, a nod to both the beginnings of the 40-year-old brand (which — fashion trivia alert — was named after a horse that founders Margaretha and Wolfgang Ley spotted at a racetrack while photographing one of their earliest collections) as well as the spring and summer 2019 collection paying homage to those horse-racing roots.
The first runway collection presented by the house's new global design director, Niall Sloan, was heavy on equestrian prints and the bold color and pattern combinations of jockey silks (think diagonal stripes, checkerboards and polka dots) and strong-shouldered "Working Girl"-era power suiting.
What wasn't pulled-together and belted-up — sometimes with metal chain-link belts dangling the letters of the label's name like a waist-encircling charm bracelet — was loose and laid-back. It was this latter silhouette — served up in easy-wearing menswear-inspired shirts and shirtdresses, wide-legged silk trousers and breezy skirts — that appeared less retro-cartoonish and keyed into that laid-back vibe that's been all over the runways this fashion week.
Several pieces in the collection were also in step with the week's big color story of pink, pink, pink and more pink. Here, the parade of pinkness included slouchy colorblocked silk shirts (one side black, one side bubblegum pink) paired with matching pink wide-legged trousers, hot pink jackets (one with silver buttons, one with red) and a shade of dusty rose that served as the backdrop to black polka dots on some pieces (including ruffle-trimmed shirts and strapless cocktail dresses) and a galloping horse-and-rider print on others, including calf-length shirtdresses and pajama-like pants.
Sloan also used his and the brand's New York Fashion Week debut as an opportunity to showcase a new house motif — a heart — that was sewn onto purses, dangled from chunky necklaces and buckled into trench coat belts, and, according to the show notes, it was plucked from a vintage bottle of Escada perfume.
Considering that the Friday Kate Spade show — another brand in reboot mode — made it a point of re-emphasizing its spade-shaped logo (also featured prominently on purse hardware), we've now got hearts and spades in the Fashion Week branding mix.
Which, by my reckoning means we're halfway to playing with a full deck. Diamonds and clubs, we're keeping our eyes peeled.
For more musings on all things fashion and style, follow me at @ARTschorn
---