Earth Day, which falls on April 22 every year, doesn't have to be marked with grand gestures. While beach clean-ups, tree plantings and petition signings might be some ways of honoring the day, it's also a time to think about what you buy and what its origins are.
From bottle-less shampoo to tees made from recycled beechwood pulp, fashion and lifestyle brands are creating products that have a minimal effect on the environment and giving back in other ways. Here are ideas for greening your wardrobe.
Hari Mari X Peter Millar
Flip-flop brand Hari Mari has teamed with fashion label Peter Millar for its latest spring offering, including this Cognac Woven style with a woven strap. The company uses natural hemp fibers and recycled rubber; send your old flip-flops from any brand to Hari Mari to recycle for a 15% discount. $125. Available at harimari.com.
Primal Elements
Huntington Beach-based Primal Elements makes shampoo and conditioner bars, so fewer bottles are dumped into landfills and oceans. The bars come in scents, including honey almond and rosemary mint, are not tested on animals and contain essential oils and botanicals. $9.50. Available at primalelements.com.
AG Jeans Adriano Goldschmied X Blanda
The Omaha jacket is part of a limited-edition capsule collection from AG Jeans Adriano Goldschmied and Swiss artist Blanda. AG recently announced initiatives to recycle water used during production in its Los Angeles and Mexico factories. Every purchase from the brand will also provide two weeks of clean water to someone in need. $325. Available at agjeans.com.
Marine Layer
Marine Layer, a San Francisco-based brand that uses recycled beechwood for its ultra-soft tees, applies its eco-conscious principles to this easy-wear jumpsuit. The sand-washed Tencel comes from wood produced during a closed-loop manufacturing process, so there is minimal waste. $125. Available at marinelayer.com.
Burton
Burton, known for its outerwear, has made it its mission to reduce carbon emissions by 20% and divert 75% of landfill waste by 2020. Sustainably produced pieces include this Crown Bonded Full-Zip Hoodie. $89.95. Available at burton.com.
Coco + Carmen
A new spring offering from Coco + Carmen includes these pouches made from 100% recycled cotton; available in totes and hobo-styles. The brand also makes animal-print totes from recycled plastic bottles. $25. Available at cococarmen.com.
Youth to the People
To celebrate Earth Day, L.A. skin-care brand Youth to the People has launched this special edition of its Superfood Cleanser. Made using kale, green tea and spinach, the cleanser is free of parabens, phthalates and sulfates. The 16-ounce glass bottle is designed to reduce waste. A dollar from every purchase will go to organizations working on environmental issues. $54. Available at youthtothepeople.com.
Outerknown
Culver City-based Outerknown, co-founded by champion surfer Kelly Slater and designer John Moore, has environmental sustainability as the heart of the brand. This women's Levi's Authorized Vintage Trucker Type III jacket is made using denim that dates to the 1980s and 1990s and has been restored. $298. Available at outerknown.com.
Sun Child
Topanga resident Elissa Kravetz founded Sun Child in 2015 after a trip to Goa, India. Her floaty, colorful dresses are fashioned from recycled Indian sari materials as well as leftover sari fabric, and they can be worn in multiple ways and fit sizes 0 to 16. Shown here is the Morrison dress. $375. Available iamsunchild.com.
SVNR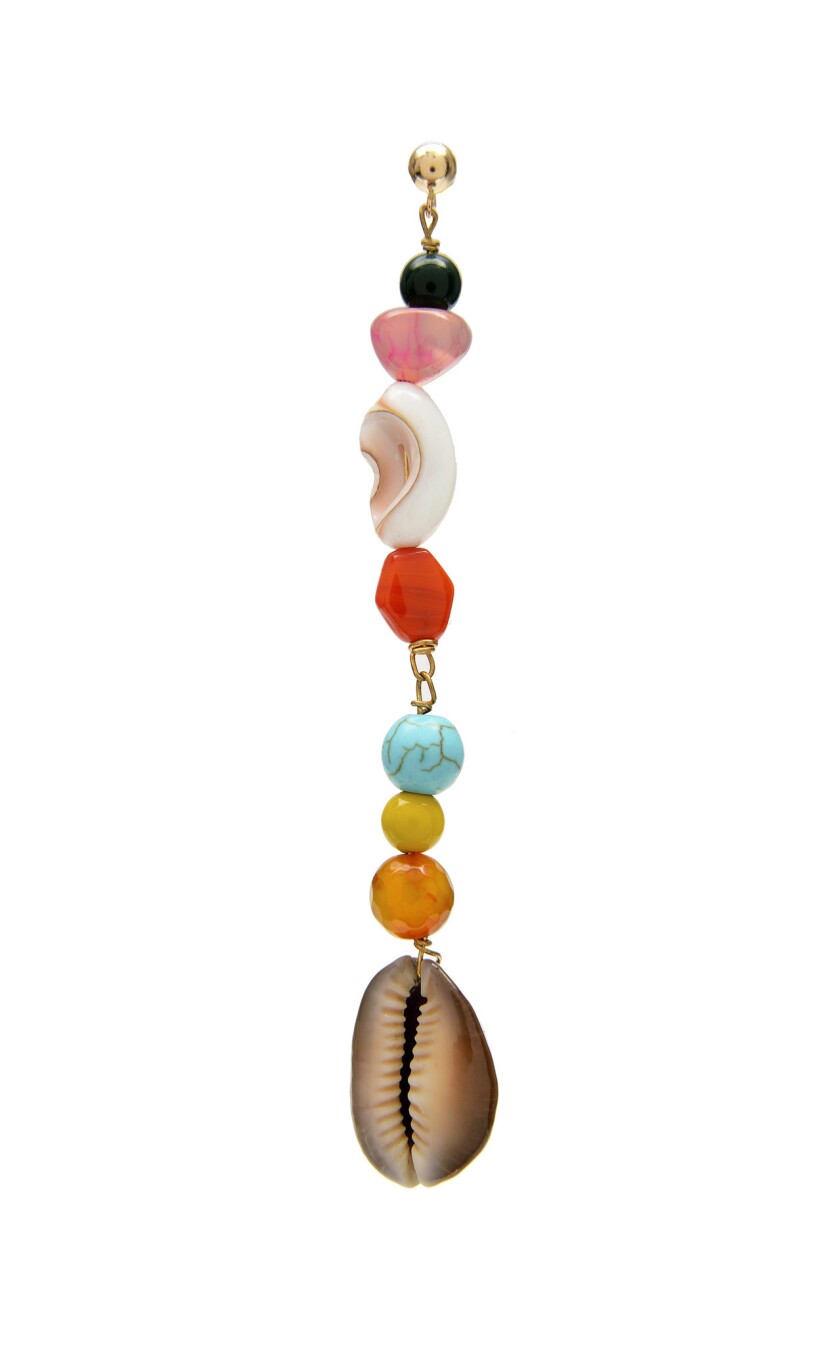 Jewelry from SVNR is created from stones that were found, repurposed and upcycled. This style, the Havana, has shells and stones such as jasper and quartz. (Earrings are generally sold as singles.) $95. Available at svnrshop.com.
For fashion news, follow us at @latimesimage on Twitter.
---