Faux fur has had a mighty comeback thanks to the fall/winter 2018 runway shows, where major designers and fashion labels eschewed real animal fur in favor of the fake stuff.
This season is filled with an assortment of faux-fur possibilities that are animal friendly, Instagram worthy and often brightly colored and designed with imaginative textures and styles.
Here are some fur-free offerings for the holiday season.
House of Fluff
House of Fluff's forest green, slightly loose-fitting faux fur Yeti coat is lined in soft cotton-jersey. $990. Available at Net-a-Porter.com.
Opening Ceremony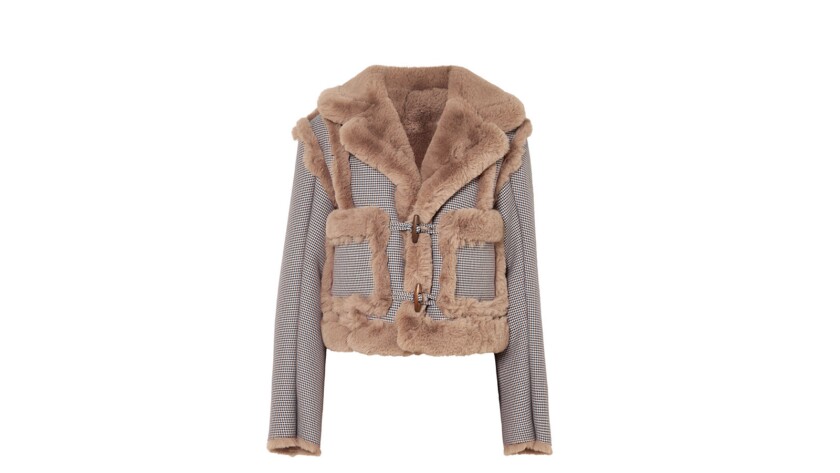 Opening Ceremony's Insomniac reversible jacket has soft beige faux fur on one side and a houndstooth cotton blend on the other. $625. Available at BergdorfGoodman.
Mary Katrantzou
Greek designer Mary Katrantzou's faux-fur Oates jacket has a signature bold geometric black, white and caramel tile design with matching waist belt and faux-leather double-breasted buttons. $1,265. Available at MaryKatrantzou.com.
Stella McCartney
Longtime faux-fur champion Stella McCartney's oversized loose-fitting brown fur-free Sugar Cane patchwork-inspired coat offers a dramatic feel. $2,195. Available at StellaMcCartney.com.
Vince
Los Angeles label Vince's shaggy, neutral-colored, knee-length faux-fur coat has an open front and a relaxed fit. $695. Available at BergdorfGoodman.com.
Shrimps
British-based faux-fur brand Shrimps' short, sand-colored, boxy fit Cullen faux-fur jacket has contrasting black hearts, elasticized puffy sleeves, a Peter Pan collar with black shiny faux-leather detail and aqua-colored lining featuring hand-drawn doodles by Shrimps designer Hannah Weiland. $695. Available at Shrimps.store/us/.
Max Mara
Max Mara's oversized camel Teddy Bear Icon wool faux-fur coat has a rich and luxurious vibe with lapels, low set-in sleeves, a double-breasted two-button fastening and welt pockets. $3,990. MaxMara.com.
Diane von Furstenberg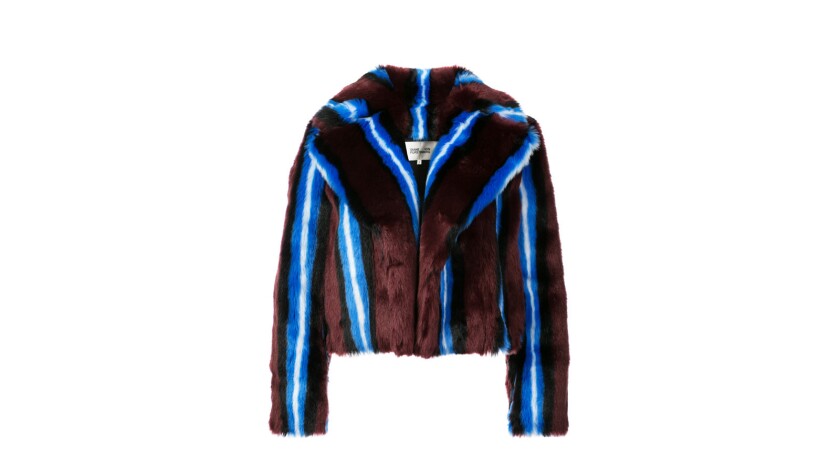 Diane von Furstenberg's brightly striped, structured faux-fur jacket has a bold blue and white print to lend some pop. $548. Available at DVF.com.
Tibi
Tibi's oversized faux-fur coat with a detachable belt comes in a tangy orange and a bold yellow. $695. Available at Intermixonline.com and Tibi.com.
For fashion news, follow us at @latimesimage on Twitter.
---