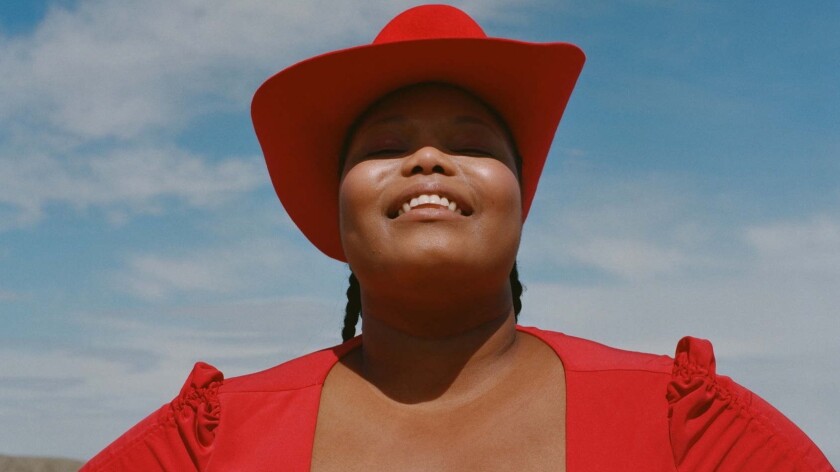 Los Angeles fashion label Rodarte is continuing to have a busy and buzzy year, after showing its fall/winter 2019 collection in front of a star-studded crowd (not to mention on its home turf for the first time) in February and then dressing lead actress nominee Yalitza Aparicio in a seafoam one-shoulder confection for the Academy Awards later that month.
And the latest? On Tuesday, it was the debut of a fashion collaboration between the L.A. luxury label and Universal Standard, a New York-based, size-inclusive brand started by Alexandra Waldman and Polina Veksler in 2015.
The four-piece collection consists of a blouse, dress, skirt and jumpsuit offered in shades of peony pink, fire-engine red, white and black, and features such signature Rodarte flourishes as romantic ruffles, ruching and undulating hemlines.
Keeping with the brand's core tenet of "clothing for all," the new Rodarte collaboration comes in sizes 00 to 40 (or 4XL), with prices from $150 to $240. The collection is available at UniversalStandard.com and at a New York pop-up shop.
The founders of Universal Standard want not only to provide stylish clothing for women of all body types, gender identities, ages and social classes, but also to reframe the entire idea of who can and can't participate in the notoriously exclusionary fashion industry.
The brand has worked on collaborations before, most notably with "Orange Is the New Black" actress Danielle Brooks, and has had a partnership with retailer J. Crew.
Waldman said on Tuesday that she and Veksler made a short list of brands they "loved, admired, were original and wanted to work with." Rodarte was at the top of the list.
When she and Veksler reached out last year, Waldman said, the sisters behind Rodarte, Laura and Kate Mulleavy, agreed right away. "The whole idea is to partner with brands that understand that fashion is for everyone and want to send that message out into the world," Waldman said.
The two brands worked on the project for about eight months, with Waldman and Veksler making multiple trips to the West Coast. Waldman, however, emphasized that the collaboration is a manifestation of Rodarte's signature style. "They're so aesthetically different from what we do, so we thought it would be a real treat to our consumer," she said.
In an email, the Mulleavys said: "Rodarte is all about the very special feeling you get from wearing the garments. Each collection is very personal for us, including this capsule with Universal Standard. It's such an amazing opportunity to be able to combine our design aesthetic with Universal Standard's ability to produce high-quality garments in an inclusive range of sizes."
The response has been positive, with Refinery 29 calling the collaboration "game-changing" and Vogue swooning that it's "full-fantasy territory." And on social media, effusive proclamations such as "The future of fashion" and "I'm in awe!" have been made about the collaboration.
Waldman, whose personal favorite item is the blouse, said sales for the collection have already been brisk.
"This is an expansion of the world that we're trying to create," Waldman said. "We're creating a new normal. And we're doing it one step at a time, with brands we believe in and who believe in what we're doing."
For fashion news, follow us at @latimesimage on Twitter.
---