Oscars 2019: How Rodarte became a part of Yalitza Aparicio's Academy Awards moment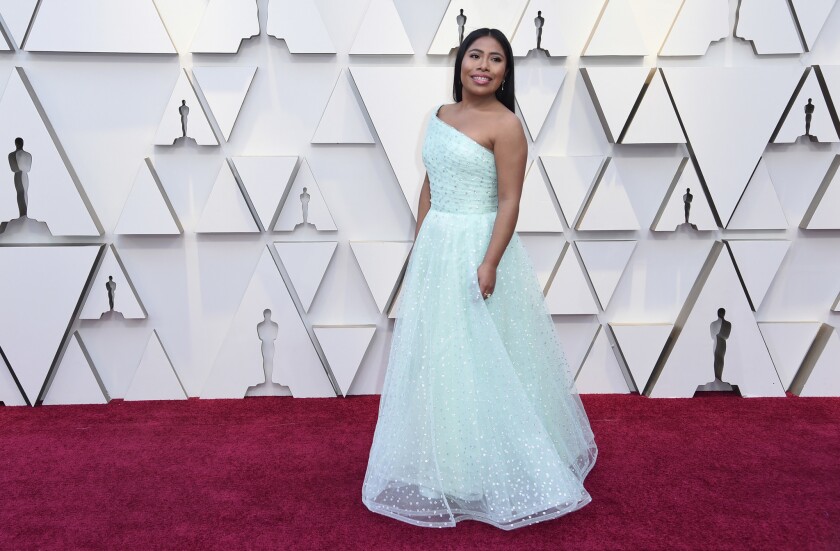 At 5 p.m. Saturday, Yalitza Aparicio, the breakout star of "Roma," and veteran L.A. stylist Sophie Lopez were in the homestretch. The 25-year-old lead actress Oscar nominee was having the final fitting for a custom Rodarte mint-green and silver metallic tulle draped gown that she'd wear to the 91st Academy Awards.
Less than 12 hours after the fitting, Aparicio, who made a splash on the January cover of Vogue México, was seen by tens of millions of viewers worldwide on the Oscars red carpet in a gown that turned heads and garnered praise on social media. ("She looks divine, one of my faves so far. Flawless," one admirer tweeted.)
Aparicio, the Mexican pedagogical student-turned-actress, was all smiles as she and her mother and "Roma" costar Marina de Tavira, who wore a red J. Mendel gown to the Oscars, strolled the red carpet in front of the Dolby Theatre in Hollywood. (De Tavira, up for supporting actress, was also styled by Lopez.) The stylist had been on a five-month sartorial run with Aparicio to promote Alfonso Cuarón's award-winning film, which picked up three Oscars on Sunday.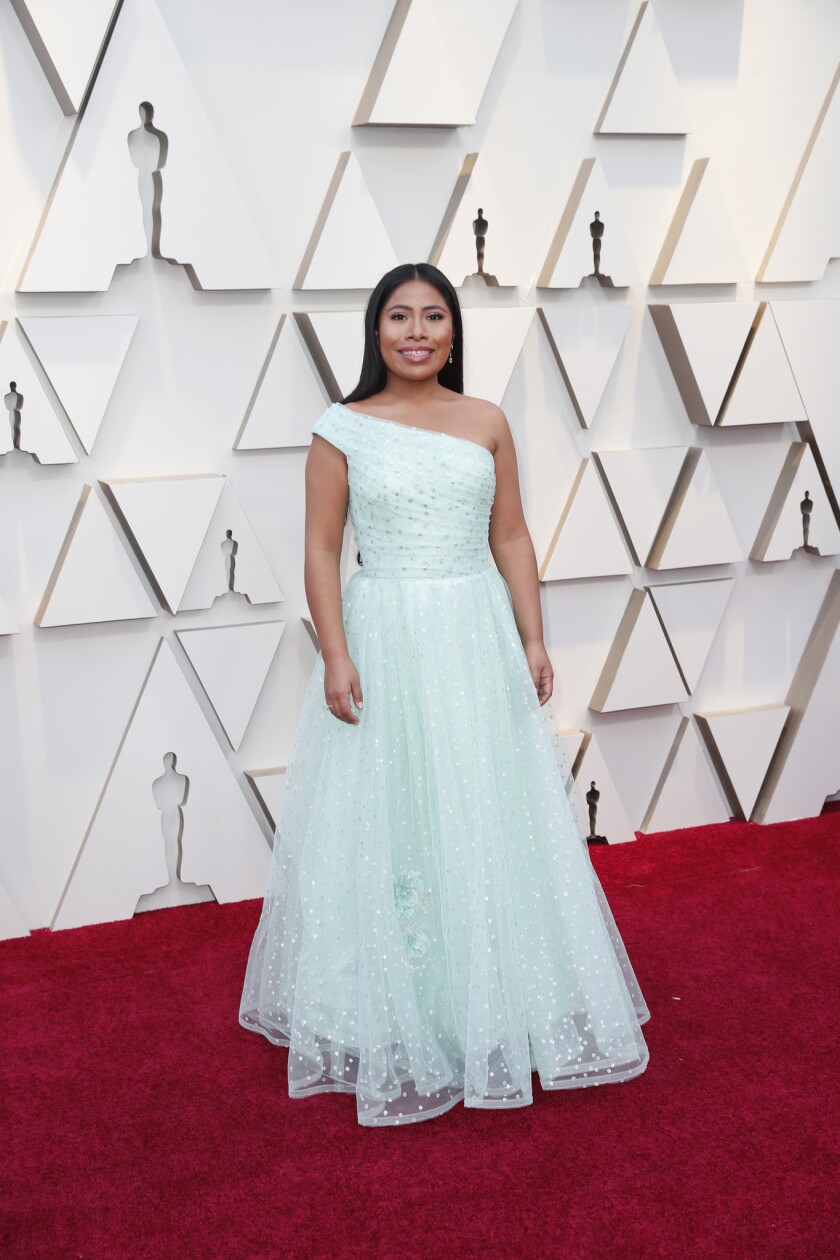 Check out our 2019 Oscars coverage now »
Aparicio's gown — five layers of hand-draped tulle for the bodice with four layers used for the bottom skirt — was also a win for Laura Mulleavy and her sister, Kate, founders of Rodarte, the L.A. fashion brand.
On the phone this week, Lopez said she first heard about "Roma," the black-and-white tale of a housekeeper dealing with personal loss and heartbreak as she cares for a family in 1970s Mexico, from a friend who saw the picture at the Toronto International Film Festival. She became so intrigued by Aparicio's story that she asked her agent to find out if she could work with the actress.
After a brunch last fall, Lopez and Aparicio started the long promotional haul for "Roma," which led up to awards season, the Academy Award nominations and eventually that moment when a stylist and nominee have to decide on what should be worn to the main event — the Oscars.
Check out our best- and worst-dressed Oscars photo gallery »
"Considering everything we've done so far in awards season," said Lopez, "the question when you get to the big moment is, 'What haven't we done now?'"
That's when Rodarte entered the picture. Lopez and Laura Mulleavy described the experience of creating Aparicio's gown as being more than just designing any red-carpet dress.
"We're both very emotionally attached to this dress," Lopez said. "The dress came about with us just opening up the conversation. … The girls DM'd me in mid-January saying they adored Yalitza, and they sent me ready-to-wear samples for my fittings."
"People were so excited to see her at the Oscars," Mulleavy said. "This was a monumental moment. Every time [Aparicio] was on camera, I was crying. ... It felt so groundbreaking."
"I'm kind of tearing up," said Lopez, who was born in Britain to parents of Colombian descent.
The story behind Aparicio's dress, though, is as much a Hollywood story itself as is her ascent to Oscar nominee.
It turns out the gown she wore was made as the Rodarte designers were putting the finishing touches on their fall and winter 2019 collection, which was unveiled earlier this month during the label's first-ever hometown show, a colorful, star-studded spectacle of bows and flowers staged at the Huntington Library, Art Collections and Botanical Gardens in San Marino.
Sounding like old friends on the phone, Lopez and Mulleavy said they chatted almost daily during the dressmaking process.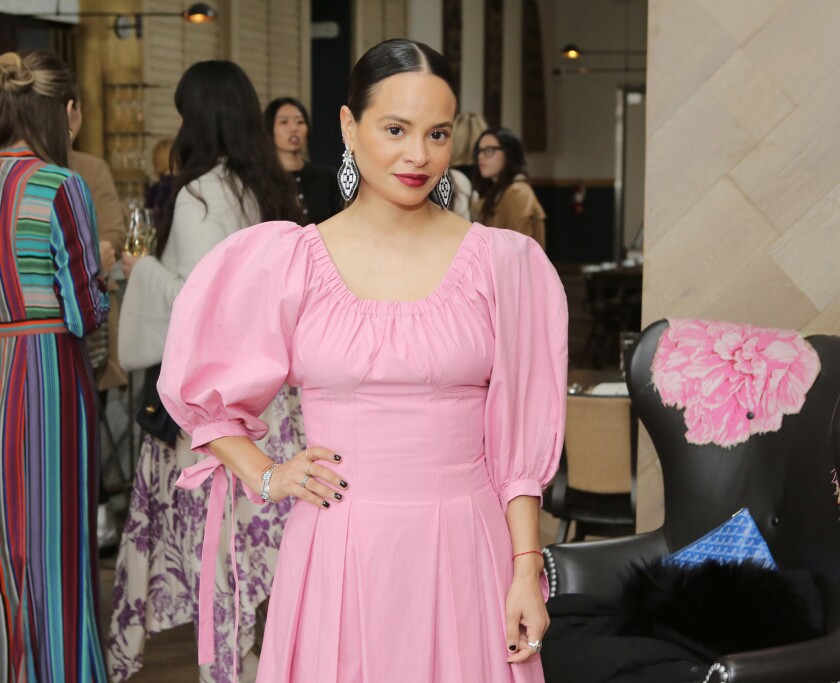 "I can't believe they had a show, and Laura was texting me [about the Oscars gown]," Lopez said, adding that she remembers thinking at the time, "Isn't your [fashion] show tomorrow? … We didn't know one another before. But I've always loved their work."
"I was so taken aback by the film and Yalitza as a person and her in the film," Mulleavy said. "I thought Sophie had done such beautiful work with her on the red carpet."
For the Oscars red carpet, Mulleavy said she, her sister and their team wanted to create something that could match Aparicio's personality and what she meant to "Roma" and means to her growing fan base.
"It takes quite a bit of time and thought," Mulleavy said, adding that she thoroughly enjoyed the collaborative process. "And you come to a place where you have a finished dress, and everyone loves it and think it's beautiful. … There's so much love that goes into making a dress. It's back-and-forth fittings. We want it to be perfect."
Mulleavy also credited Lopez with helping the Rodarte team during the design stages.
"The truth of the matter is, every direction came about from what I've learned from my now five months' worth of work and fittings with Yalitza," Lopez said.
A standout in a sea of pink, black and neutral-toned dresses, the Oscars gown had a striking color. "It's such a beautiful color because it is very light and airy," Mulleavy said. "I have such an attraction to that color. You don't see it a lot. It looked so beautiful on her skin tone."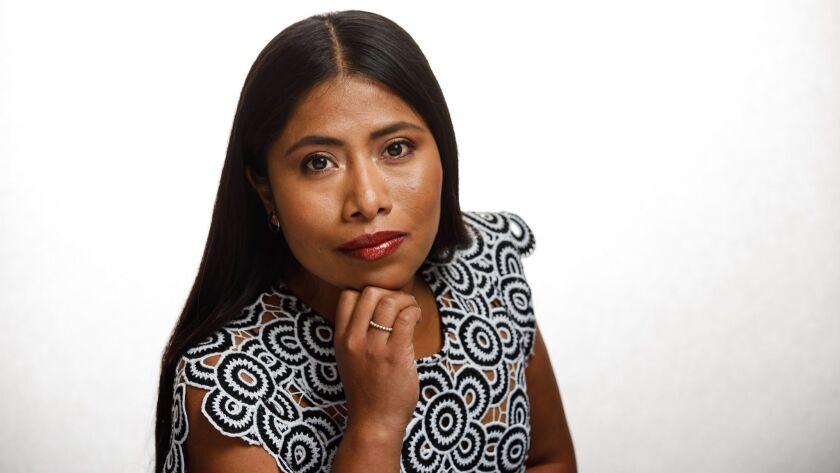 "We always kind of veered toward the softer colors," Lopez said. "I really love the element of surprise, and I thought that color was a surprise. … I've enjoyed the entire experience. It feels different when the dress has been custom-made for somebody as opposed to taking something from the runway."
With awards season now in the rear-view mirror, Lopez said she considers working with Aparicio and getting to know the actress an experience to treasure.
"This one has been different, because it's been a journey," said Lopez, whose list of clients includes Kate Hudson. "You do get journeys with other clients. … To see Yalitza, her confidence and the way she was walking [on the Oscars red carpet] — the growth over the last five months — it has been incredibly special. … [Also] she saw the journey of the dress from the sketch until the dress was on."
Follow me at @marquesharper on Twitter.
---