François-Henri Pinault lauds Alessandro Michele's Gucci turnaround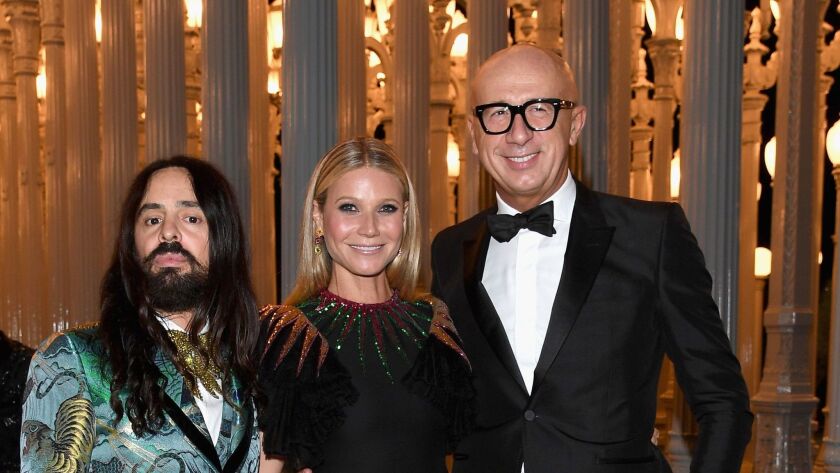 Saturday might have been Los Angeles County Museum of Arts' big night with its sixth annual Art + Film gala honoring Robert Irwin and Kathryn Bigelow, but Alessandro Michele's talents were on full display at the Gucci-sponsored affair. From the mossy green carpet to the riotous flower arrangements, the creative director put his full stamp on an event that originated with his predecessor, Frida Giannini.
Gone were the fitted sequined sheaths on glamour queens like Kate Beckinsale, Jennifer Lopez, Amy Adams and Kate Hudson, who were regulars at the event in Giannini's day. Now the star-studded guest list includes new guard style stars such as Brie Larson, A$AP Rocky, Jaden Smith and veterans like Gwyneth Paltrow and Demi Moore, who've eagerly embraced Michele's edgy style.
It didn't go unnoticed by Michele's boss, Kering chief François-Henri Pinault, who attended the event with wife Salma Hayek. "It's very joyful and it's very pleasant to look at all the dresses here tonight," he said. "Gucci is doing a great turnaround. Let's put it this way: when Alessandro arrived a year-and-a-half ago, he completely transformed the brand and the world of Gucci."
Pinault continued, "It's his world, his way of expression. It's not mimicking anything. He's just like this. He has his own personality, which he brought to another environment, which is Gucci, and it works so well. It's still Gucci, but Gucci, the new world."
He hinted that there would be more explosive fashion moments in the future. "It's just the beginning, let me tell you. [Michele] has so many good ideas. There are more good things to come." Pinault noted that he was also pleased with his other newly-installed creative directors, Balenciaga's Denma Gvasalia, whom he said "is doing an amazing job," and Saint Laurent's Anthony Vaccarello, who is "doing great."
"They have talent, all of them. What is difficult is to match their talent with the right brand," said Pinault. "My responsibility is to make sure that those amazing personalities make sense together, the brand and the designer. When you have the perfect fit like Gucci and Alessandro, it's a firework."
For his part, Michele said he was soaking up inspiration from the streets of Los Angeles. "What I love is just looking at the people in the street," he said. "They wear the craziest things."
---