Fred Segal returns to Malibu, looking both to the past and the future
Fred Segal has come full circle. A new Malibu store, which opened this weekend, is at 3900 Cross Creek Road, amid a cluster of retail spaces originally developed by Fred Segal himself between 1973 and 1980. From the front entrance, it is possible to look across the street to 3835 Cross Creek Road — today, the Malibu Country Mart — where the original Fred Segal Malibu sold denim, apparel and accessories for most of the 1970s.
For many, the retailer's Jeans Bar and shop-in-shop concepts have been a seamless part of the Los Angeles experience since Segal began selling denim from a 300-square-foot shop on Santa Monica Boulevard in 1961. So on Saturday afternoon, fans flocked to Malibu Village to celebrate the opening of the new Fred Segal outpost.
Many brought their dogs along — one woman even brought her chicken — and shoppers of all ages took turns snapping Instagram photos in front of the retailer's iconic ivy wall (which for this location had to be done indoors thanks to the city's building codes). Attendees inched their way through the packed space — the Malibu store is a fraction the size of the flagship Sunset Boulevard location, but still features the shop-within-a-shop concept, which divides apparel and accessory categories according to different vignettes.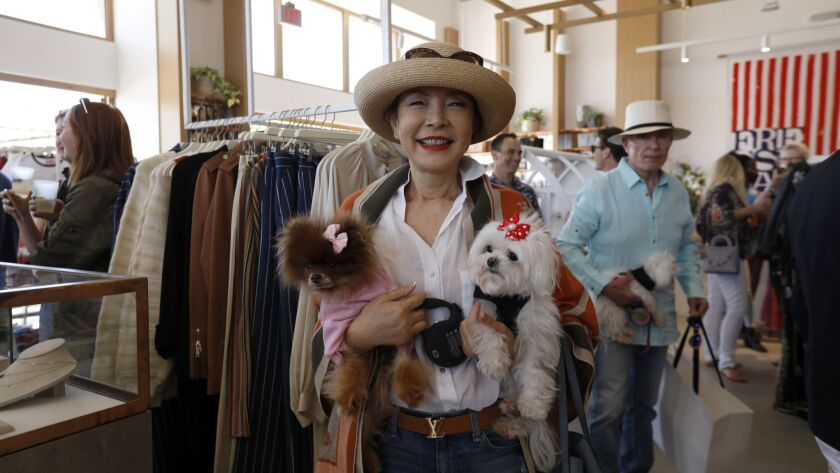 Whether to recall a fashion triumph or a fashion regret, many there were happy to share their memories of Fred Segal purchases. Insurance executive Mark Goldsmith, who drove from Calabasas, recalled visiting Fred Segal's original store on Santa Monica Boulevard in 1961 or 1962, when his mother purchased him a "pair of pants and vest that were kind of slim and tight. Crazily, it was this kind of short gaucho vest that had a zipper on the side, which isn't common for men to wear. I used to wear it to school. Nobody laughed at me because that was my style. It was either that or Ohrbach's, and I preferred the Fred Segal look."
Sharon Lee, a 34-year-old Los Angeles native and founder of the handmade wallpaper company Krane Home, also remembered shopping with her mother at Fred Segal. "My mom bought my sister an outfit," she said. "I was 14 and not old enough to fit into the clothes, but I was so jealous and mad because I wanted the same orange velvet bellbottom jeans. I made her turn around in the parking lot to buy me a pair because I threw such a fit — and that was my first purchase."
Several of Fred Segal's wholesale partners were in the mix as well. Coral Chung said Fred Segal Malibu will be one of the two bricks-and-mortar partners of her otherwise direct-to-consumer accessories brand Senreve. "Many of the brands they carry, such as ours, aren't widely available at other stores, so that makes their offering very special," she said. She too recalled her first Fred Segal purchase: "I was 11 or 12 and begged my friend's older sister to take us [shopping]. I didn't have a ton of allowance money and was obsessed with chokers; I bought my first choker there. I think I wore it every day for a whole year."
Segal's granddaughter, Molly Segal, was on hand. "I grew up going to Fred Segal Santa Monica," she said. "I got my first haircut there, and every single item of clothing that I can remember. But the one I remember most was when I was 9 years old, getting my first Juicy Couture matching sweats and sweatshirt. I wore it to school for a week straight."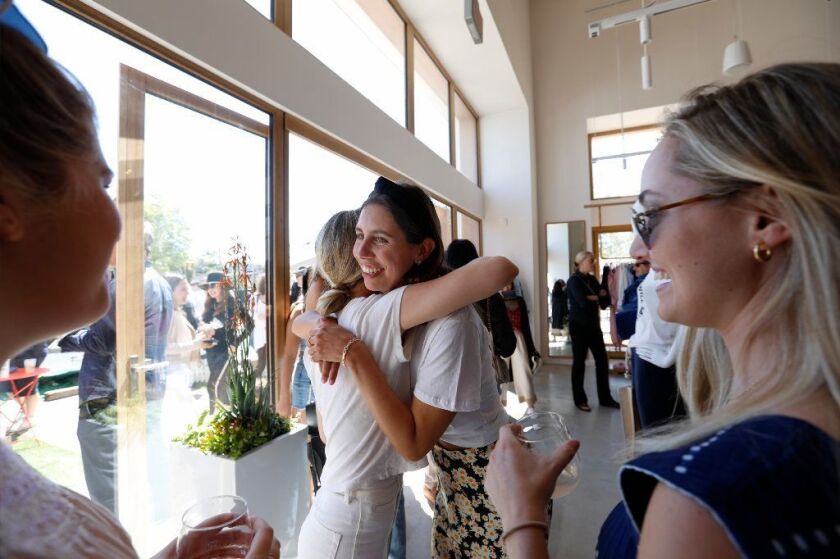 Today, Molly Segal is a brand manager at Maris Collective, the retail consultancy that operates the women's department at Fred Segal Sunset; she also oversaw the merchandising of Fred Segal Malibu's apparel, accessories, jewelry and gifts assortment. She said her grandfather's legacy of experiential retail still permeates the Fred Segal brand. "I see it everywhere. Everything I did from a branding perspective, from the interactions with customers to this opening celebration, is what he and my family represents," she said. "When he started the original Fred Segal Malibu [in 1975], there was no fashion retail here at the time. There was nowhere to get together except the beach, so when he built the first store, there was a playground so people and families could come together. It was never just about shopping. It was about how everyone comes together and wants to be together and create a wonderful experience."
When it was Segal's turn to pose with the ivy wall for an Instagram photo, a bystander approached her and said that while the new store might be in a different spot, it was easy to feel the similarities to what the original represented. "It's not always about what I'm going to sell, how much we can do, it's about creating a wonderful environment for everyone involved," said Segal. "I think the way forward for retail is customer experience. When you can really connect with the consumer, it can create a totally different environment."
Channeling and perhaps even condensing that legacy is what Fred Segal's new majority owners are banking on.
Jeff Lotman, chairman of Global Icons, the brand licensing firm that in March acquired a majority stake in Fred Segal, said by phone that the company's focus would primarily be on opening stores internationally as well as developing a private-label brand.
"We have a presence in Taipei and Malaysia, but we want to build up China and Korea," he said. "And for private label, we're going to start off with a tight athleisure collection available at the new Malibu store. The price point between Neiman's and Nordstrom is the sweet spot we're going for. Tees, tops, outerwear, shorts for men and women. Then we're going to license other categories around it. We're committed to creating a private-label brand."
Visitors to Fred Segal Malibu will notice that at 4,000 square feet, the store is about one-fourth the size of the retailer's Sunset location. There's also an even smaller shop inside LAX's Tom Bradley International Terminal. While some might see the smaller sizes as a problem, Allison Samek, chief executive of Fred Segal, feels otherwise, suggesting that they could be a way forward for the brand in an otherwise bleak retail climate.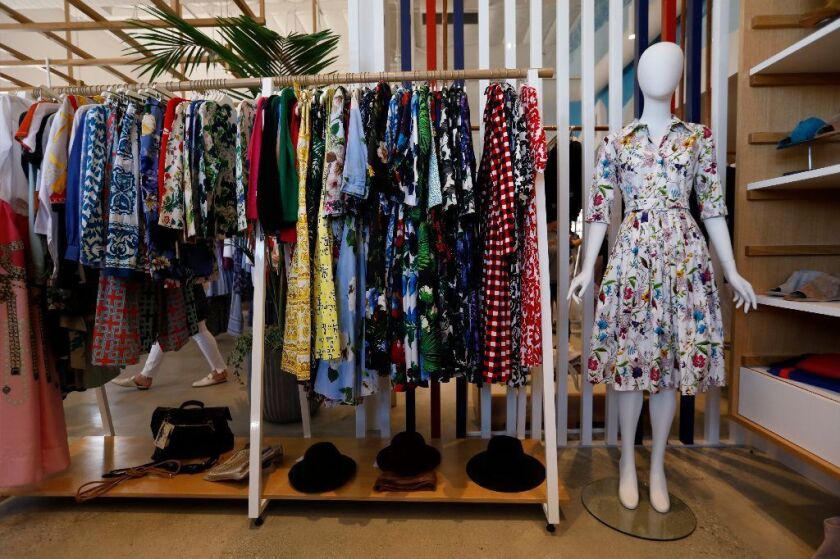 "We wanted to figure out how to put our story into a smaller footprint because we generally have only had very large stores," she said of the Malibu shop. "The LAX store doesn't have our signature shop-in-shops; it's just a multi-brand. Malibu is the first time we've done shop-in-shops in a smaller footprint. It's a great showcase for what we could potentially do internationally."
---