Frédéric Malle puts the finishing touches on a new perfume launch and Melrose Place store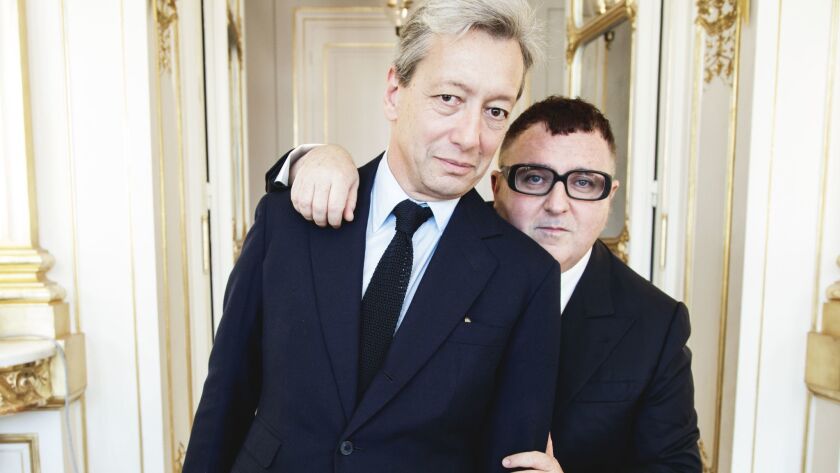 Last month, Frédéric Malle sat down at a terrace-side table at Sunset Tower Hotel's Tower Bar in West Hollywood. Here to finalize details for a new store, Malle wanted to talk about that and other plans for his fragrance house, Editions de Parfums, founded in Paris in 2000 and acquired by the Estée Lauder Cos. in 2015.
The brand's lineup now includes 25 perfumes and 16 candle scents, hair and body products, rubber sachets, design-wise diffusers and travel cases. April 1 marks the introduction of a collaborative fragrance with fashion designer Alber Elbaz, followed by shaving essentials in May, when the company's third U.S. outpost — the first on the West Coast — is scheduled to open on Melrose Place.
The expansion in L.A. ties back to Malle's heritage. His paternal uncle was film director Louis Malle, known for work such as "Pretty Baby," "Damage" and "Au Revoir les Enfants," and who was married to actress Candice Bergen.
Malle, who has lived in New York since 2006, carries on a family legacy of perfume-making. His maternal grandfather, Serge Heftler-Louiche, a childhood friend of Christian Dior, created the French label's first fragrance, Miss Dior, in 1947, thereby founding Parfums Christian Dior.
One should not be enslaved by style, trying to remake the same thing over and over, just because it was a success.
Frédéric Malle
"Christian Dior was my grandfather's childhood friend since they were 2 months old and grew up together in Normandy," Malle said. "He was my Uncle Louis' godfather. So when Dior decided to launch his own brand [in 1946], my grandfather said, 'I'm going to create the first fragrance for you as a present,' and Miss Dior was born."
Although Heftler-Louiche died three years before Frédéric was born, Malle's mother, Marie-Christine, continued the legacy by working at Dior for 47 years. As director of fragrance development, she was the force behind men's scent Eau Sauvage, the fragrance Poison and Dior's 1967 cosmetics launch with Serge Lutens. So Malle was pretty much born into the fragrance business. As teenagers, Malle and his brother, Guillaume, based an idea for the packaging design of the Dior men's fragrance Jules on a book cover.
"At 14, I was testing men's fragrances," Malle said. "The best were brought from America, and two caught my attention — Aramis and Halston Z-14. ... I understood the power of fragrance."
Since starting Editions de Parfums, Malle has wanted to focus on the world's preeminent, often unrecognized, perfumers by printing their names prominently on packaging.
"I thought it was so unjust to always hide perfumers like ghostwriters; I wanted them to be in the limelight," Malle said. "People probably still think that Opium was made by Mr. Saint Laurent himself and that Coco created Chanel No. 5. But it's the perfumers [behind them] who were full-fledged artists, expressing themselves with chemistry like absolute magicians. It was the most interesting story; they were the best-kept secret in town."
A self-described perfume publisher, Malle said he encourages self-expression. "Some perfumers work on their own; others use my ideas or ask me to smell every iteration of their creation," he said. "I smelled 690 trials of Carnal Flower [the top-selling, tuberose-based fragrance by Dominique Ropion], which took 18 months. We have a collection of very good fragrances that are very different from one another. [Like film], you can have an indie or a blockbuster, something like 'Gone with the Wind' or even '2001: A Space Odyssey.' … One should not be enslaved by style, trying to remake the same thing over and over, just because it was a success."
Superstitious, the collaborative perfume with Elbaz, developed by Ropion, is the fashion designer's first project since leaving Lanvin in late 2015, and boasts notes of Egyptian jasmine, Turkish rose, vetiver and amber and is accented with apricot, peach and clove.
"It's very much Parisian chic — a classic floral aldehyde revisited," said Malle, who collaborated with Belgian designer Dries Van Noten and footwear designer Pierre Hardy on other projects. "Elbaz told me that he wanted the smell of a dress. What he does is very free-flowing. A dress for him is more a woman than the costume. It's really like a silhouette."
As for his own favorite fragrance, Malle pointed to Editions de Parfums Vétiver Extraordinaire — it's also the scent of the brand's forthcoming Switzerland-crafted shaving products.
With Lauder backing Malle's brand, the sky is the limit on what projects are next. Malle said he hopes to spend more time in California.
While designing the Melrose Place boutique, Malle teamed up with L.A.-based artist Konstantin Kakanias, who illustrated the 2012 "Frédéric Malle: On Perfume Making" book and the brand's candle sleeves, to cover a room in frescoes.
"I sold to Lauder because my intention was never to stay niche," said the 54-year-old perfumer. "Small is not always beautiful. I started this company, like my grandfather started Parfums Dior, with the firm intent to become a very important and international brand."
ALSO
At the Grove, Nordstrom bets on Korean beauty and a safe space for emerging fashion labels
11 stylish 'Beauty and the Beast' collaborations worth singing and dancing about
Christina Hendricks, Freida Pinto, Courteney Cox and Moby attend eco-focused UCLA gala in Beverly Hills
---