Guns N' Roses marks 30th anniversary of 'Appetite for Destruction' with a high-end Maxfield pop-up shop
To mark the 30th anniversary of the Guns N' Roses album "Appetite for Destruction" (released by Geffen Records on July 21, 1987), music merchandising company Bravado and West Hollywood's Maxfield boutique have tapped a handful of of-the-moment designer brands — Off-White, Palm Angels and Enfants Riches Déprimés among them — to create high-end, limited-edition takes on concert-style merchandise to be sold at a GNR-themed pop-up shop that opened its doors today.
The Guns N' Roses Was Here shop has taken up temporary residence in the Maxfield Gallery space on Melrose that's just a guitar pick's toss across the street from Maxfield and has been home to a series of high-profile rotating retail installations for the last year.
For the next week (the pop-up pops down Aug. 18), it will be home to a smashed-up police cruiser, a pile of bent folding chairs, several stacks of amplifiers, a stripper pole (no word as to whether said pole will be staffed throughout, as it was for Thursday night's launch party) and a whole lot of GNR-themed merchandise ranging from $15 coffee mugs to $2,500 camouflage-print bomber jackets bearing embroidered applique patch versions (one on the back and another on the front) of the Celtic cross and skull design that appeared on the cover of "Appetite."
The bomber jacket was one of a handful of pieces from L.A.-based Amiri (the same label that was offering a $14,900 Swarovski-embellished motorcycle jacket through Mr Porter's Made in California collection earlier this year), others included a T-shirt ($325) and destroyed-and-patched denim ($1,490).
Another brand on hand, Off-White (which occupied the space with a pop-up of its own back in December), served up a range of pieces including T-shirts and sweatshirts inspired by GNR album artwork (like the sweatshirt bearing the cross-legged scribe image from the cover of "Use Your Illusion I") and others frontman Axl Rose had worn onstage over the years (including a T-shirt printed across the front with the declaration "Nobody Knows I'm a Lesbian," which also appeared on the back of some plaid Off-White long-sleeve button-fronts).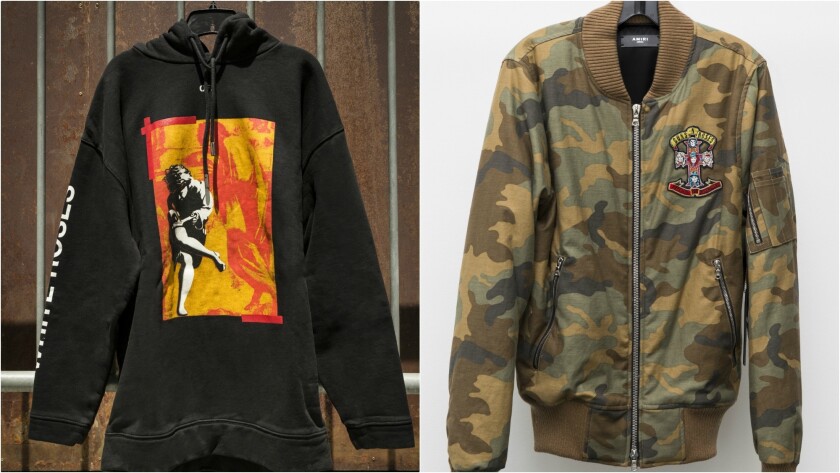 Other labels displayed on the racks against the graffiti-covered walls included L.A. labels Kelly Cole ($750 plaid long-sleeve button-fronts, $250 sleeveless T-shirts and $375 denim shorts) and MadeWorn, Blaine Halvorson's meticulously-crafted-to-look-vintage studded leather biker vests with Guns N' Roses patches ($1,500) and patch-covered denim trucker jackets ($300). (On Thursday night we didn't see anything on the racks from two additional labels in the mix — Enfants Riches Déprimés and Harley-Davidson — but a Bravado representative tells us surprise product drops will take place throughout the week.)
While fans of the band of a certain age will undoubtedly snap up most of the merchandise (well, except maybe the $18 GNR yo-yo — the assortment's real head-scratcher) and the Maxfield-brokered designer collaborations will likely be worn enthusiastically when Guns N' Roses' Not In This Lifetime tour rolls through L.A. in late November, there are a couple of items in the mix that left us with that "what were they thinking?" feeling.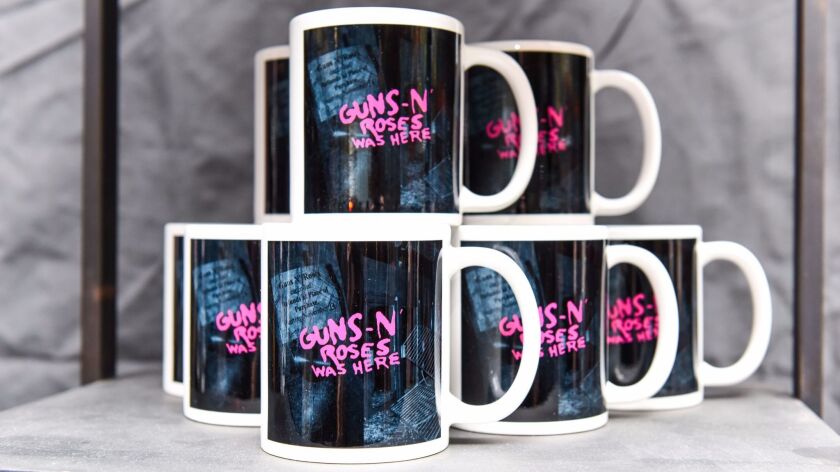 One was a Kelly Cole men's black sleeveless T-shirt with the words "I used to love her" printed on one side and the silhouette of a female form on the other, with the black-and-white concentric circles of a target over the chest and a red, heart-shaped bull's-eye in the center. It refers to the song "Used to Love Her," the first line of which is, "I used to love her but I had to kill her." It was squirm-inducingly misogynistic enough to listen to when it was released in 1988, but revisiting it in 2017 — with the bull's-eye graphic thrown in for good measure — glorifies violence against women in an unacceptable way.
The other bit of ugliness came by way of Palm Angels' T-shirts and hoodies screenprinted with "Guns N' Roses Was Here" in a graffiti-like tag next to the image of a woman who appears to have been sexually assaulted, her blouse ripped and undergarments askew. The graphic imagery is part of the 1978 Robert Williams painting "Appetite for Destruction," which, in addition to giving the album its name, was supposed to appear on the cover as well, but was moved inside in favor of the Celtic cross design to avoid controversy.
Authentically retro-offensive? Absolutely. An appropriate way to mark an album anniversary? Not in this lifetime.
Guns N' Roses Was Here at Maxfield Gallery, 8818 Melrose Ave., West Hollywood open 11 a.m. to 7 p.m. daily and noon to 6 p.m. on Sunday through Aug. 18.
For more musings on all things fashion and style, follow me at @ARTschorn.
ALSO:
At least 30 arrested at Guns N' Roses concert in New Jersey
Menswear forecast for SS18: Striped and relaxed, with stormy weather on the way
---