Hermès to stage an epic French-style celebration in L.A. for its classic silk scarf
In the style world, there are few things more iconic than an Hermès silk scarf. At once bold and simple as well as sophisticated and casual, it's a staple of fashion that defies trends — and sets them.
The first Hermès scarf was created in 1937, paying homage to the inauguration of the Paris bus line from Madeleine to Bastille. (Today there are more than 1,500 unique designs.) More than 80 years later, the Parisian house is staging a celebration of its iconic square scarf — the carré — with a Carré Club event. Think of it as a grandiose, interactive installation. It launches in Los Angeles with a VIP party Wednesday before opening to the public Nov. 8-11.
For the record:
10:50 AM, Nov. 04, 2018An earlier version of this story incorrectly stated the daily opening time of Carré Club. It is at noon Nov. 8-11, not 11 a.m.
The Carré Club premiered in New York before traveling to Toronto and Singapore and making its way to Southern California.
"It's been a long tradition to celebrate the Hermès scarf, as it is the fantasy, happy and fun side of Hermès — it's a lively ambassador to the brand," said Bali Barret, artistic director of Women's Universe at Hermès. "Hermès' Carré Club started with the idea of gathering Hermès scarf lovers and fans to experience a unique moment in the heart and soul of our creative studio. A club seemed the perfect way to bring a community together to discover, meet and play with our artists and illustrators."
The design of one can take several months to a year, requiring a dialogue between illustrators and artists that is followed by craftspeople in Lyon, France, engraving the silk before printing and coloring completes the creation.
"An Hermès scarf starts with an idea, a story, a collection, an object, a trip, a discovery, a talent, a hand, an eye, and then it comes to life in different steps," Barret said.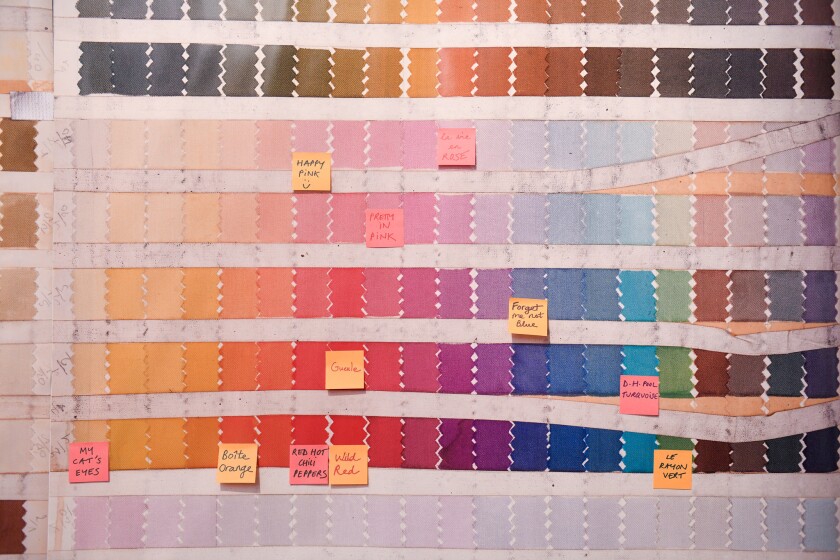 "It's a long and precise process that takes around two years to deliver a new scarf, but what a beauty when it finally comes to life," she added. "The Hermès carré is not only an accessory; it is the result of a magic chain of creation, imagination, talent and savoir-faire."
The Carré Club will take over a Melrose Avenue space, transforming it into an all-encompassing, multi-room Hermès experience exploring every element of the brand's classic silks.
The journey will begin with Hermès Click and Check, where guests check in, receive a membership card and have a portrait taken. Then it's on to the Carré Studio, where the artistic process is brought to life by an on-site atelier featuring artists and designers drawing Hermès scarves in real time.
The Carré Cafe serves coffee and candy, and at Carré Stories, the lore of the square scarf is celebrated using recorded messages that spill secrets, anecdotes and tales relating to the storied carré.
In the silk-paneled walls of Carré-OK (a play on "karaoke"), guests will be able to try out their performance skills by singing their favorite tunes. And last, at the pop-up boutique Carrémania, limited-edition scarves, including a $195 bandanna exclusive to the L.A. event, will be available for purchase. (Prices for scarves at the event will range from $195 to $595.)
"The message of the club is to convey a sense of inclusivity, fun and freedom across generations and cultures," Barret said. "We want to show the vibrant heart of the Hermès carré, inviting our members to watch as our designers sketch, and to listen to and share their own carré stories."
Hermès Carré Club, 8175 Melrose Ave., Los Angeles, noon to 8 p.m. Nov. 8-11, free admission, hermes.com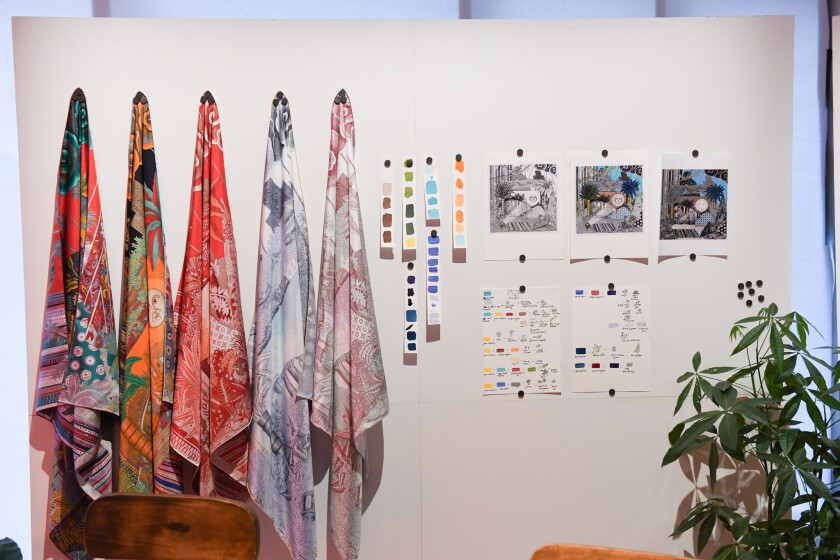 For fashion news, follow us at @latimesimage on Twitter.
---