Holiday party makeup tips from a makeup artist who's worked with Rita Ora and Pink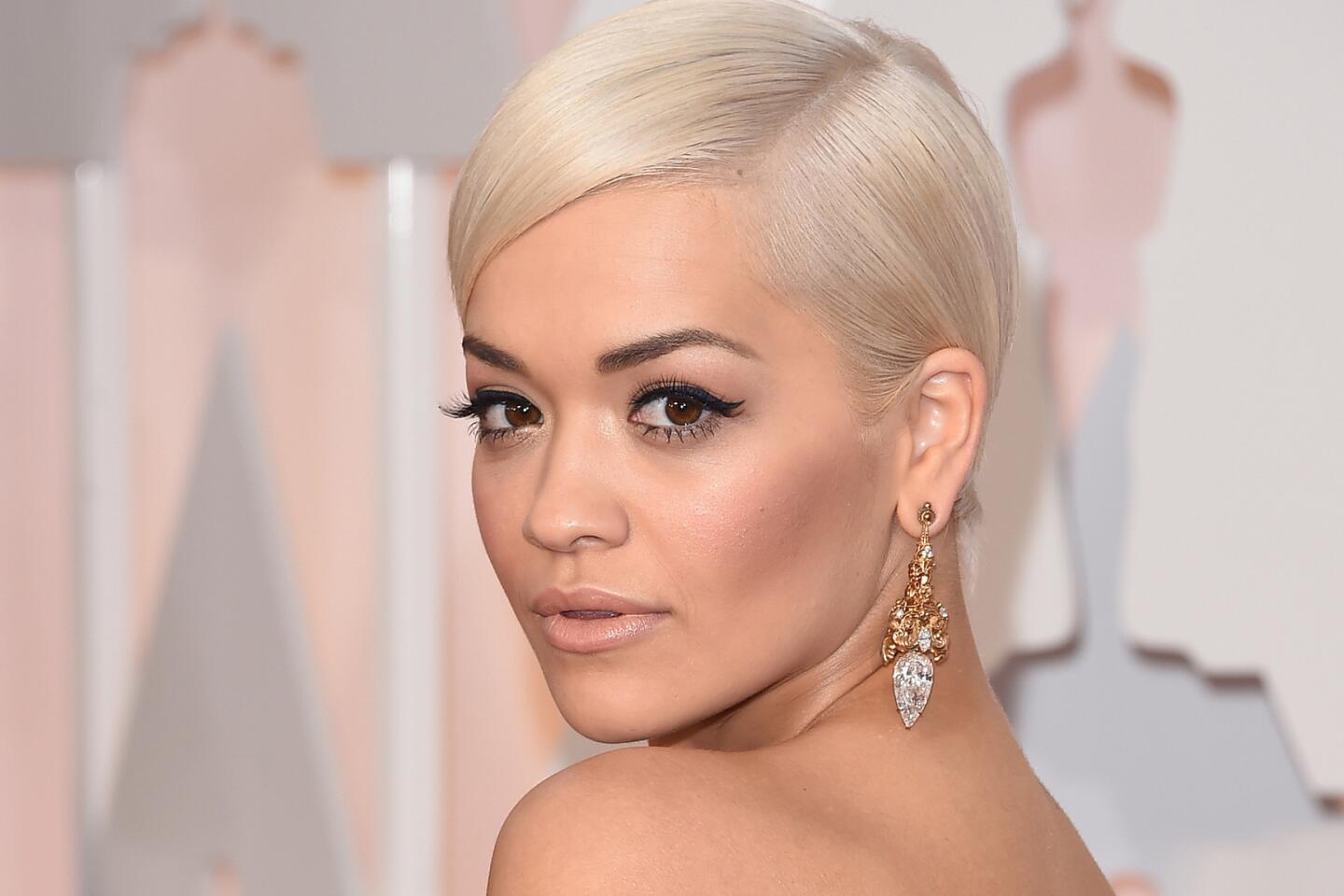 Rita Ora attends the 87th Annual Academy Awards at on Feb. 22, 2015.
(Jason Merritt / Getty Images)
Actress Rashida Jones at the 71st Annual Golden Globe Awards on Jan. 12, 2014 in Beverly Hills, Calif.
(Jason Merritt / Getty Images)
Rita Ora performs at The Unicef UK Halloween Ball on Oct. 29, 2015 in London.
(David M. Benett / Getty Images for Unicef)
With Thanksgiving less than two weeks away, the season of merry, bright and cool has arrived. Bold beauty looks are so slick, so chic right now that it's tempting to venture beyond the go-to, holiday party smoky eye and red lip.
Covet the seemingly born-with-it swagger of women like Gwen Stefani, Rihanna, Angelina Jolie and Rita Ora? We turned to makeup artist Kathy Jeung — who's worked with Rita Ora, Pink and others — for party makeup tips to take you through New Year and beyond.
"My theory is that what women with [the] 'cool' factor have in common is they completely own their beauty looks," says Jeung. "They wear the makeup and hair; it doesn't 'wear' them. Even if it borders on the unconventional, they carry the look with confidence and the looks are complementary to their unique personalities."
Deliciously daring
Jeung notes music stars are really influencing beauty, citing an "explosion" of people wearing blue, green and '90s lip color, particularly in England, where she's been recently on a job. "Looks are getting a bit crazier and more fun. People are dialing it up a notch. That doesn't mean it's always good but they love color. If you're that person who wants to experiment but doesn't want to look like a clown, you can do things that are subtle — unconventional but not outrageous," says Jeung. "Few people can do what Rihanna can do."
The graphic black eyeliner and metallic and bold colors seen on runways this season can look holiday party chic, but Jeung says using too much lip gloss, multicolored eye shadow, sparkly, glittery or heavy-handed makeup looks dated. "As if it's OK, because it's the holidays," says Jeung. Not many want their holiday party makeup to look as tongue-in-cheek cheesy as a 1980s-era, purposefully over-the-top Christmas sweater.
"Work a daring element into a holiday look by choosing one feature to emphasize so you don't look too cheap or too hard, and give the rest of the makeup a soft-focus feel," says Jeung. A good rule is the simpler your hair and outfit, the bolder you can be with your makeup.
"For those who want to integrate color in an unexpected place, try using a bit of navy blue or deep teal on already dark eyebrows or sweeping gold or bronze into blond brows," she says.
Rather than basic black smoky eyes, "try layering jewel tone powder eye shadow over eyeliner to add dimension and help the powder adhere. Staying power is important for a party," says Jeung, who recommends Dior 5 Couleurs Eye Shadow Palette #096 Pied-de-Poule($62, dior.com).
Also, "I'm an eyelash freak," says Jeung, who likes Eve Pearl Black Eyelash Glue ($15, evepearl.com). "A lash can change a look entirely.... Cut strip lashes or buy half-lashes. They're much easier to apply than a full lash, and add them just to the outer corners."
For bold lip color, Jeung suggests Kat Von D Studded Kiss Lipstick($21, sephora.com); Lime Crime Velvetines Liquid-To-Matte Lipstick ($20, limecrime.com); Smashbox Be Legendary Matte Lipstick ($20, smashbox.com) and Illamasqua lipsticks ($26-$31, illamasqua.com).
For bold color eye shadows: Viseart Professional Preview Palette #08 Editorial ($80, sephora.com); Nars Powder and Cream Eyeshadows (about $25-$35, narscosmetics.com); Make Up For Ever Powder Eye Shadows and Aqua Liners (about $21-$42, makeupforever.com); and Illamasqua Powder and Cream Eye Shadows (about $23-$48, illamasqua.com).
Classically fresh
For a less dramatic go-to look, "a great red lip, a little eyeliner and highlighter really can work in any situation and it's a great after-work look you can throw on quickly," says Jeung, adding that a deep berry lip color can be a fresh alternative to red. "Strong lip color can totally transform your look into something special, even if you're not wearing any other makeup … wearing a matte red lipstick rather than a gloss is more practical if you're eating and drinking. Pair it with longwear lip pencil to keep your lipstick in check."
She says balance and restraint are keys to a classic beauty look. "Keep it tasteful by blending well," she says. "[Be] careful not to make eyeliner too thick or wing length too long or overdraw the lip line."
For a fun touch of bold color or metallic eyeliner, Jeung recommends Inglot Waterproof Gel Eyeliner($14, inglotusa.com); Stila Stay All Day Waterproof Liquid Eyeliner and Smudge Stick Waterproof Eye Liner (both $22, sephora.com); and Urban Decay 24/7 Glide On Eye Pencil ($20, urbandecay.com). Longwear lip pencil recommendations are MAC Pro Longwear Lip Pencil ($20, maccosmetics.com) and Make Up For Ever Aqua Lip Liner Pencil ($19, makeupforever.com).
Glowing and gorgeous
"Using a primer with rose or golden iridescent sheen or adding a small amount of an illuminating liquid to your foundation gives skin a subtle metallic glow," says Jeung. "Another way to add metallic shine to your holiday party look: cream eye shadow on eyelids or iridescent powder on the inner corner of eyes."
She says using highlighter on the center of the eyelids or tops of cheekbones gives glow and enhances bone structure, "But use restraint with iridescence, especially products with large-sized glitter," says Jeung."Shine doesn't have to be metallic. A touch of Elizabeth Arden Eight Hour Cream Skin Protectant ($21, elizabetharden.com) applied with a fingertip is what I love best to add shine over existing eye shadow or on bare lids."
Jeung also recommendsNARS Radiance Enhancing Pro-Prime Light Optimizing Primer ($34, narscosmetics.com); Charlotte Tilbury Wonderglow ($55, charlottetilbury.com); Armani Fluid Sheer ($62, giorgioarmanibeauty-usa.com). She also likes what she calls "high shine highlighters": Make Up For Ever Undetectable Face Contour ($39, makeupforever.com);Too Faced Cosmetics Beach Bunny Custom Blend Bronzer ($30, toofaced.com); and Smashbox Cosmetics LA Lights Blendable Lip & Cheek Color in Hollywood & Highlight and Venice Beach Bronze ($29 each, sephora.com).
For metallic eye shadows she turns toTom Ford Eyeshadow Quads in Golden Mink, Cognac Sable and Titanium Smoke ($80 each, tomford.com); Charlotte Tilbury Luxury Palette The Dolce Vita ($52, charlottetilbury.com); and Chanel Illusion D'ombre Long Wear Luminous Eyeshadow ($36, chanel.com).
Also try Nars limited edition nail polish in shimmery Black Fire and Hard To Get ($20, narscosmetics.com). "If you want to do something really wacky, nails are kind of a free for all," says Jeung. "A fun place to get your glitter on."