Moschino creative director Jeremy Scott, who has been staging memorable star-studded Coachella-weekend parties for more than a dozen years, once again decamped to the desert, this time using the event to showcase a new capsule collection with the Sims video-game franchise.
Held at a sprawling Indio estate not far from the Coachella Valley Music and Arts Festival, the Saturday-evening bash (which stretched well into Sunday morning) attracted a deep bench of celebrities, including Kiernan Shipka, Erika Jayne, Winston Duke, Lizzo and Diplo (the latter two on the festival's official lineup), and featured a roller-skating rink, a giant carnival slide, cocktails by Cîroc, burgers and Redbull slushes from Sonic Drive-In, DJ sets and a special performance by rapper Saweetie whose set list included a memorable version of her 2018 debut single, "Icy Girl."
Saweetie took the stage clad in a figure-hugging black and gold pixel-print tank dress and over-the-knee pixel-print boots from the Italian fashion brand's collaboration with Electronic Arts' long-running, life-simulating video-game franchise.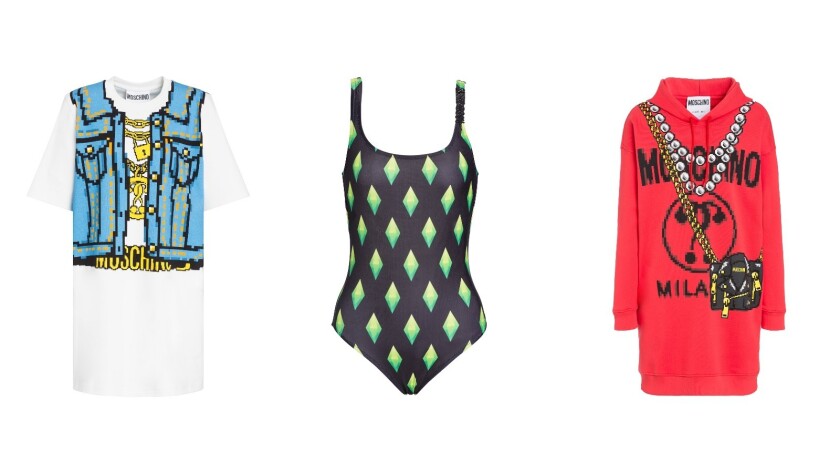 Other pieces from the partnership flashed on the screen behind the stage, including heavily pixelated biker jackets, sweatpants and hoodies, as well as a black swimsuit featuring an allover print of a green diamond shape that fans of the game will instantly recognize as the plumbob. (It functions as part character indicator and part mood ring as it hovers over in-game characters.)
That collection, which also includes dresses, T-shirts, hats, jewelry and accessories, retails from $85 (for an iPhone case) to $1,295 (for a leather backpack), started dropping at Moschino's website and select bricks-and-mortar boutiques (including the 8933 Beverly Blvd. store in West Hollywood) the same day.
At the party, Scott said the capsule collection was the first step in a partnership aimed at eventually making Moschino-designed clothes available to in-game Sims characters. "The goal is that you and your Sims can wear the same thing if you want," he said, adding that although it was his first foray into the video-game arena, he sees it as an organic step to building out his fully realized universe. "It speaks fully to my philosophy about wanting to bring my designs everywhere. That's why I do baby strollers. That's why I do makeup," Scott said. "So the idea of having clothes available in an alternate world aligns with everything I love."
Speaking of makeup, the Moschino X the Sims collection wasn't the only bit of brand-awareness synergy unspooling at Scott's shindig either. Two metal briefcases full of cosmetics — carried by male models with chiseled physiques — were toted through the party, popping up in photo after photo throughout night, highlighting an upcoming second collaboration between Moschino and Sephora that Scott had teased on Instagram just a few days earlier.
That collection pays homage to the working woman by mimicking the look of ubiquitous office supplies. Among the offerings are a set of brushes that resemble yellow No. 2 pencils, chunky sponges that look like erasers, a nail polish in a liquid-paper bottle, and an eyeliner pen that easily could be mistaken for a permanent Sharpie marker (a mistake you'd make only once, presumably). The Sephora + Moschino collection is scheduled to roll out to Sephora's website and stores at 9 a.m. Pacific time on April 25.
For more musings on all things fashion and style, follow me at @ARTschorn
---