Kim Kardashian West teases future plans for new KKW Beauty line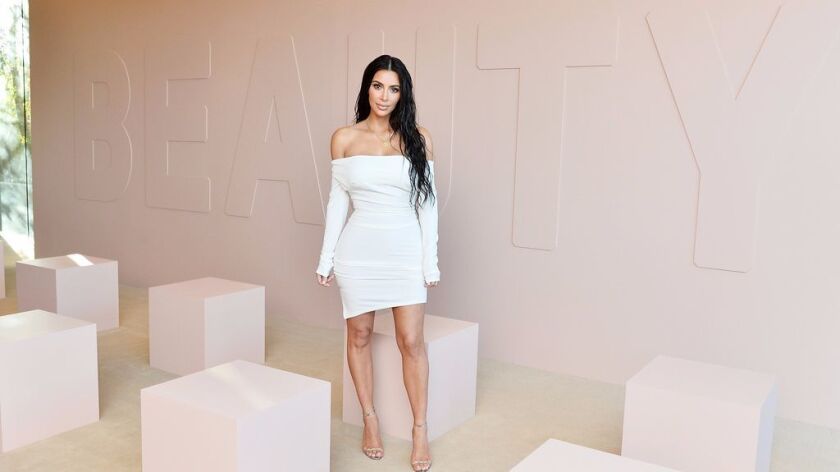 Reality star Kim Kardashian West, who has more than 101 million Instagram followers, has been ringing up sales of clothing, pool floats, apps, a mobile game and more, according to Forbes, to the pretax tune of $45.5 million in the last 12 months.
Her entrepreneurial spirit has continued to expand — this time, with the launch of Kardashian West's new KKW Beauty line, which debuted Wednesday. The day before the launch, she met with reporters and hosted a party for influencers at her Bel-Air mansion.
"Everything I love is in this collection, and I'm so excited," Kardashian West said.
No stranger to the beauty arena, the 36-year-old launched a line of fragrances in 2009 and a collaborative KKW by Kylie Cosmetics set of four pinky-nude Créme Liquid Lipsticks with sister Kylie Jenner's powerhouse cosmetics brand in April. (They reportedly sold out in 15 minutes.)
There are also the licensed Kardashian Beauty products (known initially as Khroma Beauty when introduced by Kim, Khloe and Kourtney in 2012). It has been the subject of legal wrangling for years as the Kardashians have fought to gain back control of the rights to their name.
At long last, Kardashian West is finally cashing in on her hallmark "no-makeup makeup" look (glossy nude lips, flawless skin with meticulous contouring and defined brows) with a cosmetics brand of her own.
"I want it to be simple and clean," Kardashian West said. "And we're really focusing on skin to start."
KKW Beauty kicked off with a relaunch of Kardashian West's lip kits ($45) and a Crème Contour and Highlight Kit with two double-ended cream sticks and a dual-sided blending brush ($48), all at kkwbeauty.com. (The four shades of the kit sold out within a couple of hours.)
However, before the launch, some social media commenters felt that the reality icon's skin looked particularly dark or that she was in "blackface" in the promotional imagery that Kardashian West had posted on Instagram.
"No one around me or the team thought of that, and it certainly wasn't my intention," she said. "I think it was the mix of the spray tan — I love to be tan — and the contrast of the images. … Regardless, if one person thought that, I would never want to offend that one person. So we made the necessary changes. We fixed the contrast. And we're just going to move on."
Tapping into the anticipation for her beauty line, Kardashian West, who appeared relaxed and excited while talking to journalists, also teased plans for a fragrance, contouring powder and under-eye concealers.
"I feel like I have completely perfected the under-eye circle," said Kardashian West, wearing a white tank-dress from her husband Kanye's Yeezy line during her media sit-down. "I'm Armenian so, no matter what, even if there are no bags, there are dark circles. I've mastered this system we're going to be putting out, and it's really cool."
As for the initial focus on contouring, Kardashian West credits a decade of work with makeup artist Mario Dedivanovic, who she frequently consults.
"We have totally mastered what we love in contouring," she said. "We've changed my look so many times, but our contouring has really stayed the same. … I feel like the way I personally do makeup has been a little bit lighter, so I wanted to start with cream contour because it's so buildable. It is my go-to product that I put on if I want to look tan or want a little bit of something to make me look alive. … I think contour can be a scary thing, and it doesn't have to be. I do contour my nose but mainly I use it just to warm my face up."
The mother of two noted that the versatile product, which doubles as eye color, lip liner, concealer or primer, can appeal to on-the-go moms. "With kids, you really aren't your No. 1 priority anymore," Kardashian West said. "You have five minutes to hurry up and get ready. So I've definitely adapted."
Her 4-year-old daughter, North West, is a makeup fan and enjoys playing with cosmetics. "She loves makeup!" Kardashian West said. "Every day it's, 'Mommy, can I please have on some makeup?' She loves all the fun, wild colors and sparkle. And she loves makeovers. I don't think she really wants makeup. It's more about the play stuff. When you go to Disneyland, they do those princess makeovers and give you a set of glittery stuff."
While produced by Seed Beauty, the Oxnard manufacturer behind Kylie Cosmetics, KKW Beauty has a different look and product focus, said Kardashian West, adding that she doesn't see the beauty lines as competitors.
"It's taken me a long time to do something on my own, but I'm so glad I waited because I feel like I have the right partners, the right team, the right manufacturers," she said. "I have a say in everything, and that's really empowering."
Please consider subscribing today to support stories like this one. Already a subscriber? Your support makes our work possible. Thank you. Get full access to our signature journalism for just 99 cents for the first four weeks.
Fashion Videos
ALSO
Model Georgia May Jagger rides the waves into a new Volcom fashion collaboration
Catch of the day: Funboy snags artist Donald Robertson for some whimsical pool floats
It's all about celebrating Hollywood's wonder women (and a few guys) at Women in Film's Crystal + Lucy Awards
---