Hand-painted dials give that old Rolex a bold new spin. Colorful leather straps lend an L.A. look to the heirlooms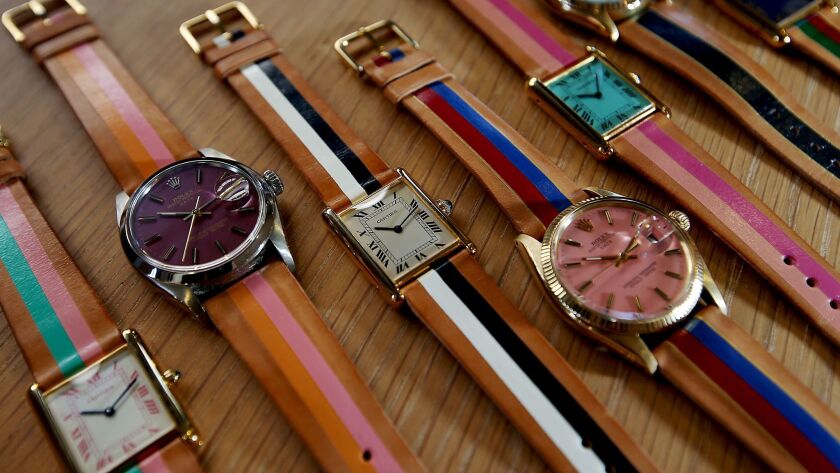 If vintage Rolex and Cartier watches have become a status symbol among the well-heeled, LaCalifornienne's take on the timepieces might be the epitome of how chic Californians do it.
Launched late last year by husband-and-wife duo Courtney Ormond and Leszek Garwacki, LaCalifornienne is an L.A.-based custom-watch company that restores and modifies these timepieces, rendering them in color combinations that would appeal to even the most seasoned of watch collectors.
The duo hand-paints and hand-prints each dial before pairing it with a handmade leather strap, sometimes left plain and other times adorned with stripes (think: light blue face with navy and white stripes or a pink face with pink and gold stripes).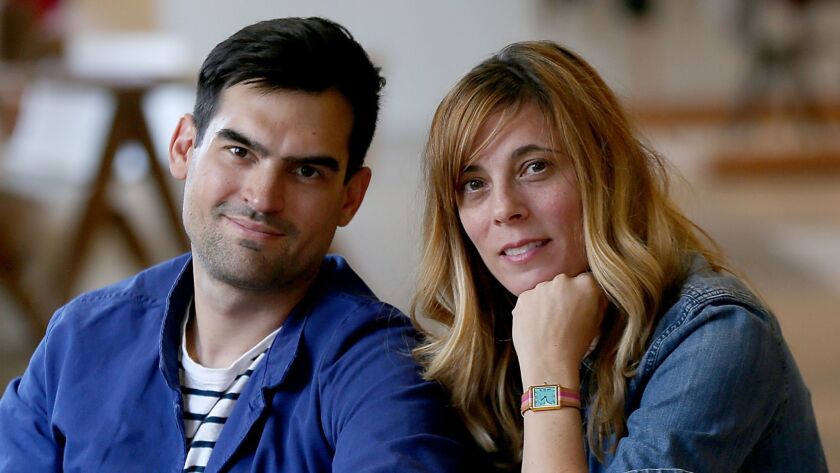 With all the options to choose from, the watches become a little more personal.
Courtney Ormond
While some of the combos feel divinely feminine, there are masculine options.
"We love to discover how people respond differently to the colors of our creations. With all the options to choose from, the watches become a little more personal," says Ormond, who cites the city of Los Angeles, the Beverly Hills Hotel and palm trees as just some of their inspirations. "Leszek and I believe L.A. is a very special city with an energy not found in many other places. I think being here drives us as a young company and certainly influences our designs."
The couple came upon their fashion venture naturally: Ormond was a commercial stylist, and Garwacki was an entrepreneur who dealt in classic cars and vintage watches.
Their combined experience coupled with an anniversary gift gone awry led to what is now a burgeoning business.
"Years ago Leszek gave me a watch as an anniversary gift," says Ormond. "He chose a Cartier Tank because he thought it was the most standard-issue watch to get — a classic that would last. But the reason why he loved it was the same reason I grew tired of it.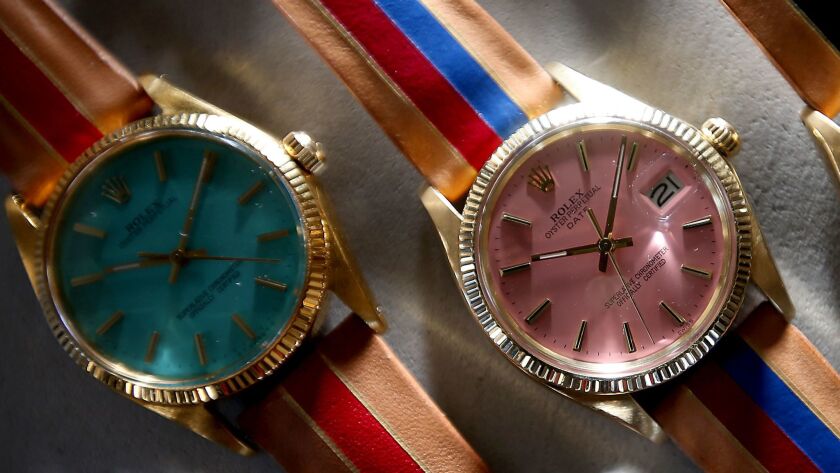 "I started looking into buying a more interesting leather band, but there were no options for women's watches. It struck us that we could design our own leather band with hand-painted stripes to brighten up the watch and make it unique. We then decided to refinish the dial — what resulted was our first watch."
The watches are sold on the brand's website as well as in select stores.
Prices for the made-to-order watches range from $3,250 for a small Cartier to $10,500 for a gold Rolex.
"Even the retailers pick the color combinations for each watch for their stores," says Ormond. "We create a seasonal palette that we work off of, but the watches on our website are merely suggestions."
For the couple, LaCalifornienne is about more than a beautiful piece of arm candy — each watch comes with its own history, its own story.
"A vintage watch is never so much about the watch itself but about the idea of the life it lived throughout the decades," says Garwacki. "We chose to work with Rolex and Cartier Tank models because of their iconic status and the beautiful simplicity of their design. I like to think the watches we select were loved and admired by their original caretakers in the same way we appreciate their existence when we acquire them. By re-imagining them we give them second lives."
ALSO
L.A.'s Meghan Markle is poised to give the fashion world a royal flush
Reebok jumps into the dude's romper arena with the ReeRomp
Kate Hudson and Demi Lovato collaborate on a sporty new collection for Fabletics
---