At Paris Fashion Week, Lacoste walks in the woods, goes golfing and tries to save some species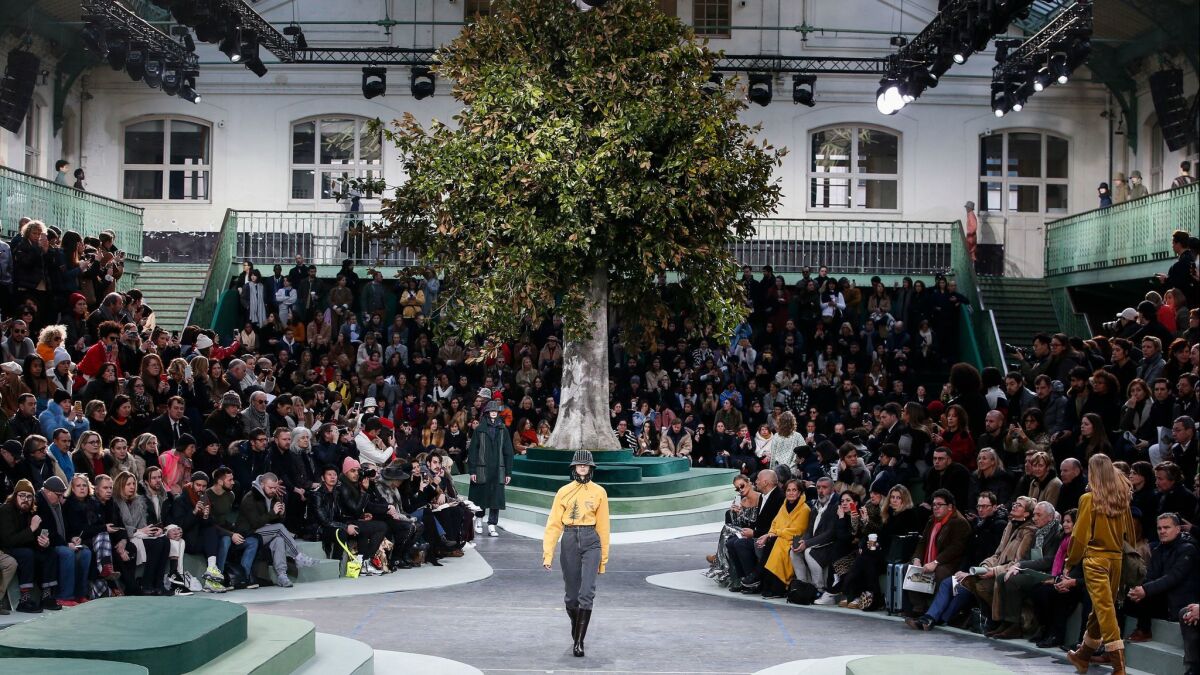 Reporting from Paris —
Lacoste's design team took a walk in the woods, played a few rounds of golf and then ginned up a perfectly serviceable fall and winter 2018 collection filled with cozy intarsia knits (autumnal leaves filling a voluminous poncho here, retro-looking golfers teeing-up there), threw in a couple technical outerwear pieces and called it a day.
At least that's how it appeared when the first few looks came down the runway during the label's Feb. 28 men's and women's runway show here. To mark the brand's 85th anniversary, designer Felipe Oliveira Baptista had actually taken a deep dive into the Lacoste archives and history and had come up with an improbable-sounding (but completely true) story that involves World War II, Nazi Germany, tree planting and yes, golf.
According to the show notes, the inspirational starting point for the collection was Golf de Chantaco, a tree-lined course in St.-Jean-de-Luz that was owned by the label's namesake founder, René Lacoste, and his wife, Simone Thion de la Chaume. The trees that grew throughout the nearly 125-acre course — some 50,000 in all — were planted by a handful of groundskeepers in the family's employ during the German occupation of France during World War II. The ambitious tree-planting project was undertaken to take advantage of a curious German law, which exempted forestry workers from being sent off to perform forced labor in Germany.
It's the foliage of those life-saving trees — pine needles and oak leaves, to name just two — that made their way into the fall and winter 2018 Lacoste collection, along with a range of golf references, some inspired by the course itself and others plucked from Lacoste's golf-wear collection archives of the '80s and '90s. (Lacoste's wife was apparently a golf champion of some renown as well. If you weren't aware of the tennis-centric brand's links to the links, you weren't the only one.)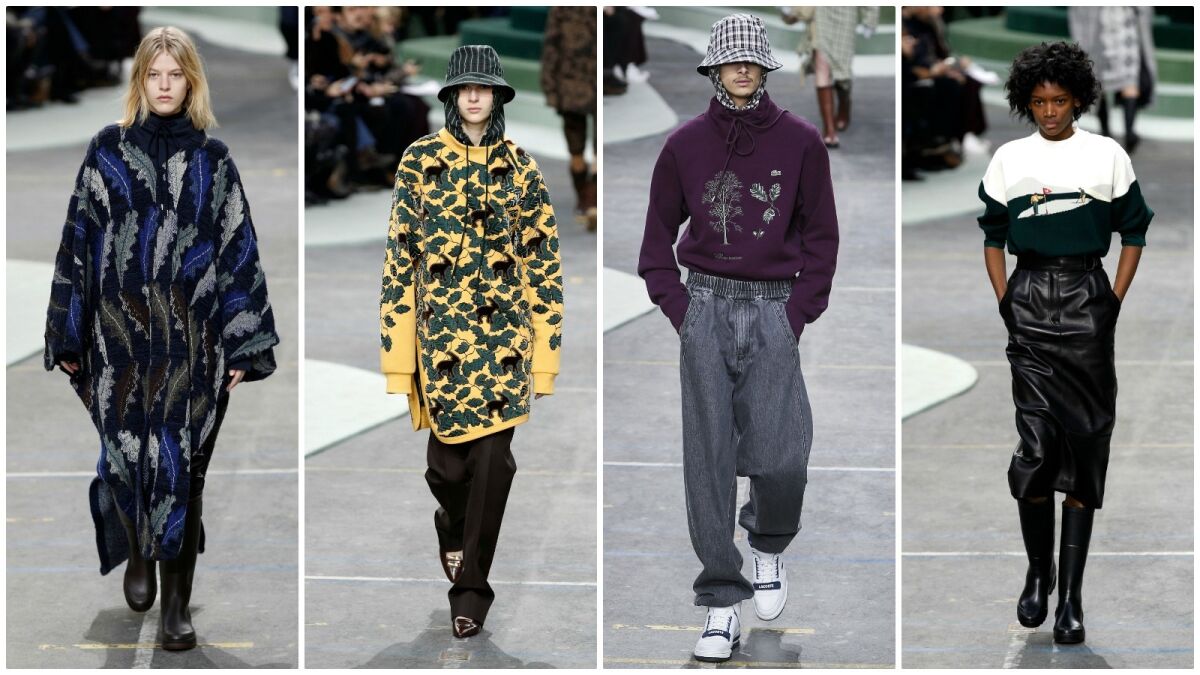 The nature-by-the links vibe could also be seen in the color palette — grassy, leafy greens rusts and shades of hazel — many of which turned up in cable-knit sweater dresses, billowy nylon capes and were paired in tartan patterns and Prince of Wales checks. The collection was outerwear heavy, particularly in the sweater, pullover and poncho department; the standout in the last category was an all-over printed with vintage photographs of the golf course.
As if that weren't poignant enough, Baptista managed to fit one more tug at the heartstrings into the last 10 runway looks. There were silhouetted images of 10 threatened animal species, the vaquita, an endangered species of porpoise across a check pattern on a zip-front hoodie and matching track pants; images of the Burmese roofed turtle mingling with oak leaves on a cozy turtleneck sweater dress (we didn't get the turtle/turtleneck connection until long after it came down the runway). Eight additional looks followed, each showcasing one of the following animals cavorting across a garment or garments: saolas; Sumatran tigers; California condors; kakapo parrots; northern sportive lemurs; Javan rhinos; Anegada ground iguanas; and Cao-vit gibbons.
But that's not the only place these endangered critters can be found; in support of the International Union for Conservation of Nature's Save Our Species program, Lacoste has decided to kick its iconic embroidered appliqué logo crocodile to the curb for an extremely limited-edition run of its polo shirts, replacing it with one in the shape of one of the aforementioned animals. And when we say extremely limited, we mean it. According to the show notes, the number of each shirt offered will correspond to the conservation group's estimate of the remaining population in the wild. For example, only 30 of the vaquita-logo shirts will be offered, while the number of Anegada ground iguana polos will top out at 450.
The white, unisex cotton piqué polo shirts became available here several hours after the Wednesday runway show here and are retailing for $185 each. As of this writing, the only animal polo that's extinct from the website is the one bearing the vaquita logo, but that's sure to change as word gets out. So if you're game to pounce on an endangered-species polo, you better go get 'em, (Sumatran) tiger.
For more musings on all things fashion and style, follow me at @ARTschorn.
---